Last game of the season for Quaker Women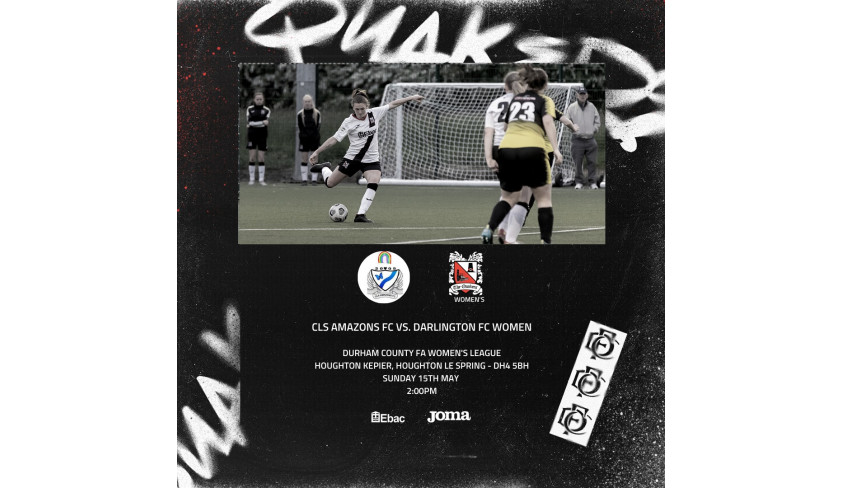 Away to Chester-le-Street
Darlington Women play their last game of a successful season when they go to Chester-le-Street on Sunday.
In their debut season, the Women have achieved plenty, and have a good foundation to build on next season, no matter which league they're in (they have applied for promotion to the next tier).
They go into Sunday's game guaranteed of a top four place, and could even finish second or third still, but they would need other results to go in their favour.
The game, which is at Houghton Le Spring DH4 5BH, kicks off at 2pm
Here's the league table as it stands
https://fulltime.thefa.com/table.html?league=901345664&selectedSeason=85293540&selectedDivision=371387182&selectedCompetition=0&selectedFixtureGroupKey=1_97264698
We'd like to thank our kit sponsors:
Hattie Raine (sponsored by Krystal Sells), Emma Carter (The Cheese and Wine Shop), Emma Doudican (Winroths Hairdressers), Sarah Frew (Chic Beauty Academy), Martina Cuccunato (Premier 1 Filtration), Caisey Lee (Engage to Learn), Olivia Whitworth (Terry Farley MBE), Natalie Peart (RA Dalton Ltd), Toni Upton (Dawn Fire Safety), Alice Wearmouth (Direct Flooring), Chloe Bright (Jordan Hanratty Personal Training), Chloe Tinkler (Glen and Mary Bowes), Millie Garnett (eco Hair Salon), Aimee Dagnall (Andrew Scullion), Gabrielle Padurianu (John Vickerman), Lily Large (Arthur Wharton Foundation), Katie Sheridan (Arthur Wharton Foundation)