League fixtures for the 2021-22 season -- Telford at home first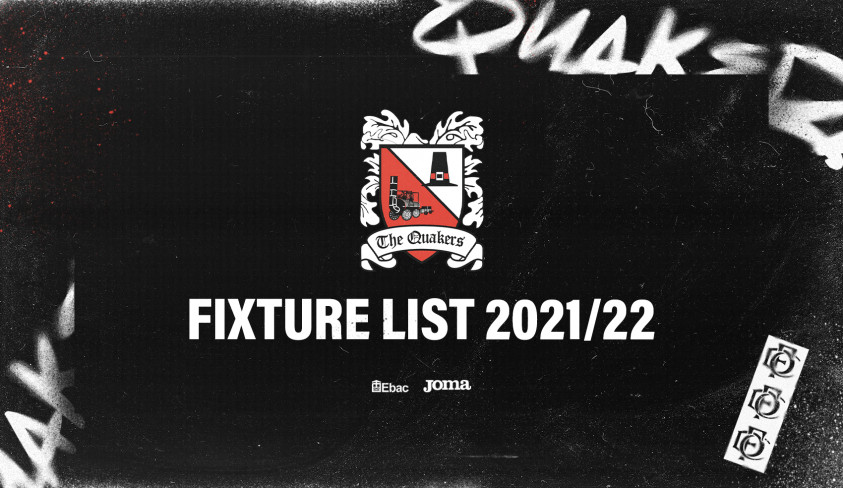 The full list of fixtures
Our fixtures have been announced for the new season, and we're at home to AFC Telford United in our first game on 14th August.
This will be the first time that we've played in front of our fans since March 2020, and manager Alun Armstrong said; "Everybody is really looking forward to the new season, it was very strange playing in empty stadia last season. We definitely missed the fans. It will be great for everyone to be together again."
Our first away trip will be to Brackley on 21st August, while our Boxing Day and New Year Bank Holiday games will be against our neighbours Spennymoor.
Apart from the August Bank Holiday Monday trip to Curzon Ashton, we only have one scheduled midweek game before Christmas, against Southport on 26th October. Of course, if we have an FA Cup run similar to last year, then we will have to re-arrange some games for midweek dates.
Why not buy a season ticket to watch the lads play in front of fans this season?
https://darlingtonfc.co.uk/news/season-ticket-sales-approaching-900
Here are our fixtures for the 2021-22 season.
Sat Aug 14 AFC Telford United H
Sat Aug 21 Brackley Town A
Sat Aug 28 Alfreton Town H
Mon Aug 30 Curzon Ashton A
Sat Sep 4 Bradford (Park Avenue) H
Sat Sep 11 Blyth Spartans A
Sat Sep 18 Emirates FA Cup 2Q
Sat Sep 25 York City H
Sat Oct 2 Emirates FA Cup 3Q
Sat Oct 9 Hereford H
Sat Oct 16 Boston United A Emirates FA Cup 4Q
Sat Oct 23 Leamington H
Tue Oct 26 Southport A
Sat Oct 30 Guiseley H
Sat Nov 6 Kettering Town A Emirates FA Cup 1
Sat Nov 13 Chester A
Sat Nov 20 Gloucester City H
Sat Nov 27 Buildbase FA Trophy 2
Sat Dec 4 Chorley A Emirates FA Cup 2
Sat Dec 11 AFC Fylde H
Sat Dec 18 Buildbase FA Trophy 3
Sun Dec 26 Spennymoor Town A
Tue Dec 28 Gateshead H
Sun Jan 2 Spennymoor Town H
Sat Jan 8 Farsley Celtic A Emirates FA Cup 3
Sat Jan 15 Kidderminster Harriers H Buildbase FA Trophy 4
Sat Jan 22 AFC Telford United A
Sat Jan 29 Kettering Town H
Sat Feb 5 Guiseley A
Sat Feb 12 Chester H Buildbase FA Trophy 5
Sat Feb 19 Gloucester City A
Tue Feb 22 AFC Fylde A
Sat Feb 26 Chorley H
Wed Mar 2 Emirates FA Cup 5
Sat Mar 5 Blyth Spartans H
Sat Mar 12 York City A Buildbase FA Trophy 6
Sat Mar 19 Hereford A
Tue Mar 22 Southport H
Sat Mar 26 Boston United H
Sat Apr 2 Leamington A Buildbase FA Trophy Semi-Final
Sat Apr 9 Alfreton Town A
Fri Apr 15 Curzon Ashton H
Mon Apr 18 Gateshead A
Sat Apr 23 Brackley Town H
Sat Apr 30 Bradford (Park Avenue) A
Mon May 2 Farsley Celtic H
Sat May 7 Kidderminster Harriers A
Sun May 22 Buildbase FA Trophy Final
Saturday and Bank Holiday games kick off at 3pm, midweek games at 7.45pm.
Why not buy a season ticket to watch the lads play in front of fans this season?
https://darlingtonfc.co.uk/news/season-ticket-sales-approaching-900