Luke Charman agrees extension to his current contract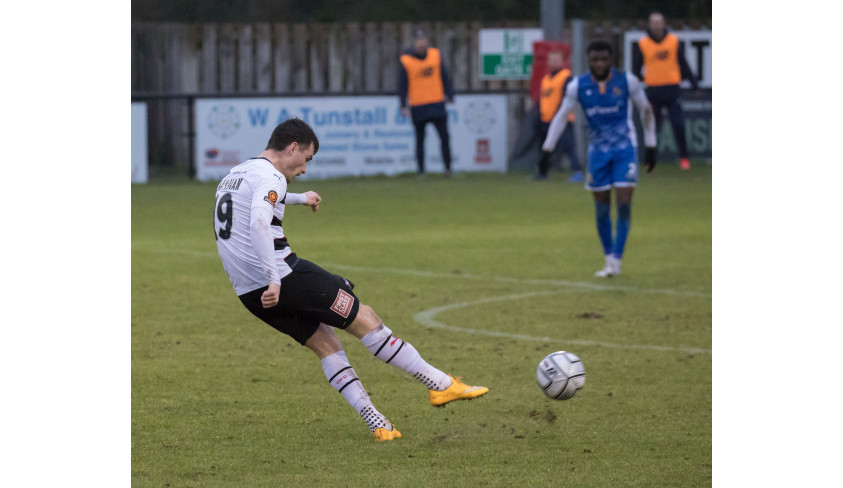 Striker happy to stay at the club
Darlington striker Luke Charman has agreed an extension to his current contract with the club.
Luke, who signed for us last summer from Newcastle United, was named in the Team of the Round in the first round of the Emirates FA Cup for his fantastic performance in our giantkilling 2-1 win at Swindon Town, and in total he scored six times for us in 14 matches, some of them spectacular efforts.
Check them out here (thanks to Simon for putting the clip together):
Manager Alun Armstrong said; "Luke got stronger and better as the season went on, and he scored some fantastic goals for us, as everybody has seen. I'm sure that there are more to come.
"He's proved that he's got plenty of talent, and we believe that we can help him return to full time football."
We're sure that everyone would like to wish Luke every success in his continued stay with us!
Meanwhile, six players have left the club:
David Atkinson
Sean Reid
Jordan Watson
Dan Maguire
Michael Liddle
Adam Campbell
Alun said; "Those lads are leaving for other clubs, and we'd like to thank them for their service.
"However, their departures have now given me a great opportunity to look at bringing other players in – I have been talking to several players in recent weeks. We're looking to move forward now as a club. I also expect the Football League clubs to be releasing more players than normal soon because the finances of most clubs are very tight.
"I am also in talks with other players at our club about extending their contracts."
You can contribute to Boost the Budget for season 2021-22 here -- you can pay as little or as much as you want.
https://fundraising.darlingtonfcsupportersgroup.org/pitches/boost-the-budget-21-22