Matchday Admission Gate Prices season 2022/23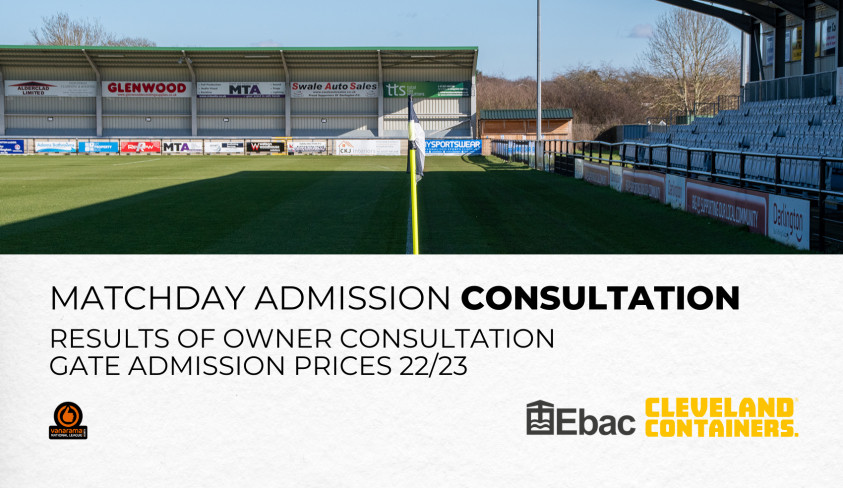 Owner consultation results
As a fan owned club, we asked our owners, the supporters, to guide us on the proposal to increase the "on the day" matchday admission for two of our key pricing categories - Adult and Concession.
The proposal from the DFC Board was to raise the Adult and Concession prices by £1 for the 2022/23 season for those buying a single "on the day" match ticket. Based on projections this is anticipated to deliver an extra £11,800 revenue over the course of the 2022/23 season, all of which would be used to support the running costs of the Club.
Adult tickets are applicable to those aged 25-64 whilst concession prices are Young Adults aged 18-24, Seniors aged 65+, Students and Registered Disabled.
We launched the consultation last week and had 226 responses from DFC Owners. The results are summarised below.
Key findings
Overall 85% of owners were in favour of increasing the Adult admission price by £1 and 71% of owners were in favour of increasing the Concession admission price by £1
Non- season ticket holders were slightly more in favour of an increase (87%) than season ticket holders (83%) in the Adult admission price
71% of both season ticket holders & non-season ticket holders were in favour of a £1 increase for Concessions next season
Of those that said they would be personally affected by any increase in admission price a majority voted in favour of increasing prices. 84% in favour of increasing the Adult admission price and 54% in favour for increasing Concession admission
Thank you to all supporters who responded to the consultation and all individual comments have been shared with the DFC Board.
Conclusion & decision
Given the majority of owners are in favour of increasing both Adult and Concession prices by £1 each for next season, the DFC & DFCSG Boards have decided to proceed with the price increase for both Adults and Concessions.
This is the first rise in our gate admission prices since July 2017. In the intervening five years we have expanded both our child age range and junior age range, plus introduced a young adult concession category up to the age of 25 as we strive to offer good value across all our matchday ticketing pricing.
Going forward we remain fully committed to offering unrivalled flexibility and value to fans across the whole range of our ticketing products. You can attend all our home games with one single monthly payment – see our Pay Monthly ticket, buy discounted blocks of 5 or 10 game tickets with our Flexi Ticket or buy upfront with our traditional Season Ticket. All these now offer even better value versus our on the day gate prices.
Admission prices for 2022/23 Season
Adults: £15
Concessions: £11 (Young Adults aged 18-24, Seniors aged 65+, Students and Registered Disabled)
Juniors: £5 (U18)
Child: Free (U12) – must be accompanied by a responsible adult
Seating: £2
Match tickets will be available to purchase in advance online or on the day with cash or contactless at our turnstiles.
Ticket prices for our home pre-season fixtures are £10 Adults, £8 Concessions, £5 Juniors, £0 U12s.
You can buy tickets for the friendlies here: