Memory Match -- Doncaster 1962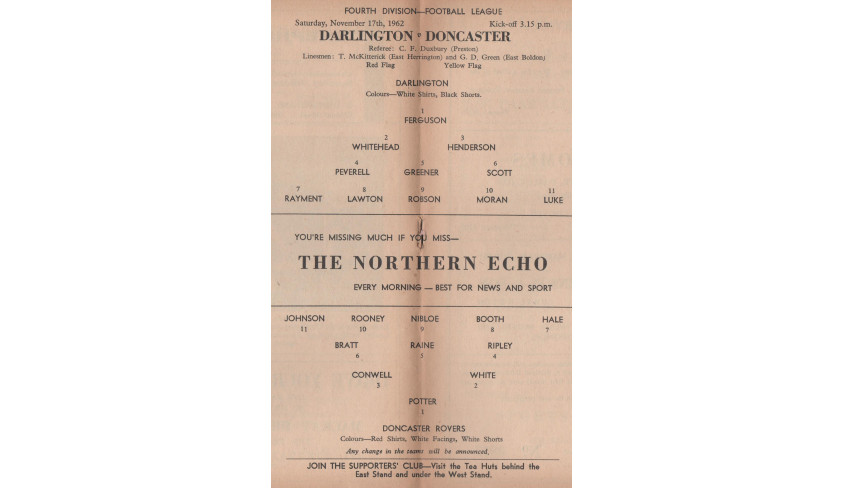 A walk down Memory Lane with Simon Weatherill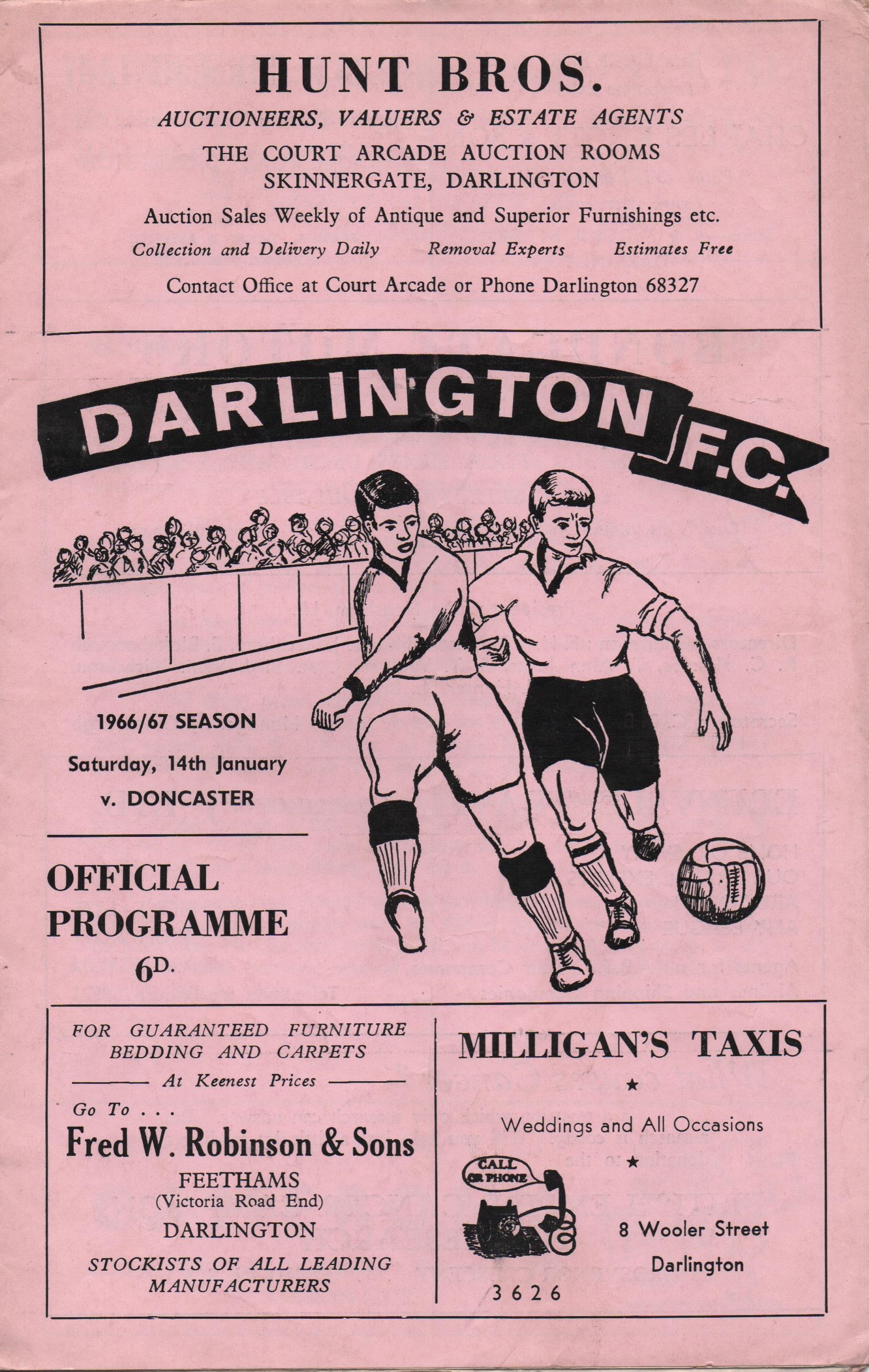 Simon Weatherill continues his Memory Match series with the 6-1 home win over Doncaster Rovers on 17th November 1962.
The 1962/63 season kicked off with Darlington in great form. Four wins and two draws from their first six games saw them joint top of the Division 4 table, trailing Mansfield only due to an inferior goal average. They'd scored eleven goals in those six matches of which centre forward Lance Robson had contributed six. Manager Eddie Carr had made five new signings in the close season, and four of those quickly established themselves as first team regulars – goalkeeper Jim Ferguson, right back Bob Whitehead, inside right Jimmy Moran and inside left Derek Weddle. The good form couldn't be continued though and no wins in the next eight meant that the Quakers slipped down towards mid table. By the time Doncaster Rovers visited Feethams on 17th November the Quakers were sat in 17th place in the table with 17 points from 17 games. In an incredibly tight league, their opponents sat five places above them in12th but had only one more point.
Lance Robson's impressive six goals in the first six games had actually been bettered by a young centre forward in the reserve team. 20 year old Jim Lawton had played in the first five reserve team fixtures and notched an amazing twelve goals. His superb form had earned him a first team call up to form a potent strike force alongside Robson. In his six appearances to date Lawton had scored five goals. Keeper Jim Ferguson had missed eight games through injury but he was fit again for the Doncaster game and replaced his deputy Mike Peacock. Derek Weddle was unavailable due to tonsilitis and right back Bob Whitehead failed a late fitness test and was replaced in the side by George Mulholland, who played on the left with Brian Henderson switching flanks.
Constant rain and snow in the build up to the game turned the Feethams pitch into a soggy mud bath, and because of the miserable weather, by far the lowest crowd of the season, 2422, turned out for the game. Despite the conditions the opening play was fast and open. Two early Doncaster raids broke down with players failing to keep their feet on the treacherously muddy surface. The Quakers adapted better to the conditions and looked the more likely to score. George Luke created an early chance when he drove the ball across goal and Jim Lawton just failed to reach it with a long slide. On seven minutes Luke met a right wing corner with a glorious header that was superbly turned over the bar by visiting keeper Fred Potter. A minute later Potter saved his side again when Lance Robson fired towards the bottom corner and the keeper got down well to turn the ball round the post. Robson tried a snap shot that went just wide, then Lawton was chopped down from behind just outside the box as he advanced towards goal. The rain got worse and the pressure intensified on the Rovers goal. The goal that their attacking play had deserved finally arrived on 30 minutes. Rovers left half Harry Bratt attempted a back pass to his keeper that stuck in the mud on the edge of the box. Robson got to the loose ball first and stroked home his first goal for eleven games. Half time: Darlo 1 Donny 0.
Darlington went straight back into the attack as soon as the second half started and increased their lead on 53 minutes. Joe Rayment crossed beyond the far post from the right wing. Lawton headed the ball back across goal and Luke headed home. Two minutes later it was 3-0 as Luke returned the compliment by crossing perfectly for Lawton to head home from close range. On 57 minutes it was four, with a great solo effort by Luke who raced through a static Rovers defence and crashed an unstoppable shot past Potter. Three goals in four minutes had decided the game but the visitors kept fighting. In a rare attack Colin Booth (an £11,000 buy from Nottingham Forest) hit a superb shot that was turned over the bar by Jim Ferguson. The Quakers made it five on 65 minutes, Robson scoring his second of the afternoon with a terrific shot, after being set clear by a brilliant Jimmy Moran back heeled pass. It could have been six but Potter capped an impressive man of the match performance with the best save of the afternoon to deny Lawton. Rovers scored a consolation goal on 80 minutes through left winger Alfie Hale, who rounded Ferguson and slotted the ball home with the entire Darlington defence having stopped, expecting an offside flag that never came.
The 5-1 victory lifted the Quakers above Rovers in the table. Darlington up to 13th, Doncaster dropping to 16th. They maintained their mid table position up until Christmas when bad weather ensured that everyone got a mid-season break. Darlington travelled to Barrow on Boxing Day and were soundly beaten 4-1, a result that left them in 10th place in the table with 25 points from 24 games. That was to be their last game for nearly two months as one of the worst winters on record took hold and their next ten games were postponed. Snow began to fall at Christmas and freezing temperatures and heavy snowfalls continued throughout the next two months, affecting the whole country. The Quakers played one game in January and February (a 3-1 win away to eventual champions Brentford) before returning to regular action in March. Not surprisingly, because of the bad weather, every club had a backlog of games and the season had to be extended. Even the FA Cup Final had to be rescheduled. Originally set for May 4th the final eventually took place three weeks later, on the 25th. League games were taking place right up until this point. Darlington played 8 games in March, 8 more in April and 5 in May. They eventually finished the season in 12th place with 44 points from their 46 games. Lance Robson top scored with 21 goals from 49 league and cup appearances, Jim Lawton scored 19 goals in 31 appearances, including a run of scoring in nine consecutive games – still a club record.
The programme for the 1962/63 season consisted of 12 pages and cost 3d. The front cover showed a drawing of two players competing for a high ball and was printed in a variety of colours including blue, pink, green or yellow. Inside was Club Jottings (with news of what was happening around the club), an action photo from a previous game, team line-ups, half time scoreboard and fixtures and results from first and reserve teams.
Team v Doncaster: 1 Jim Ferguson 2 Brian Henderson 3 George Mulholland 4 John Peverell 5 Ron Greener 6 Malcolm Scott 7 Joe Rayment 8 Jim Lawton 9 Lance Robson 10 Jimmy Moran 11 George Luke.