Memory match -- Doncaster 1967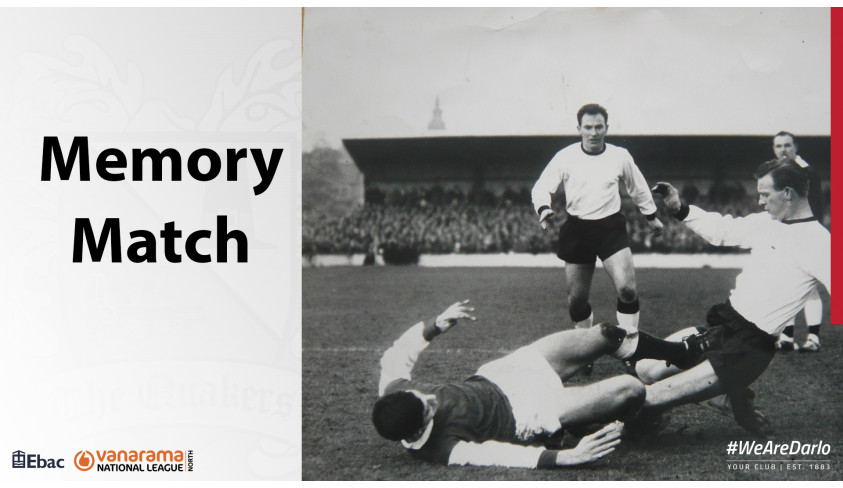 A wander down memory lane with Simon Wetherill.
Now that we have an enforced break on our hands because of Coronavirus, we're going to catch up on some historical stuff.
Today, we kick off our Memory Match series (which is compiled by Simon Weatherill) with the home Division Three game against Doncaster Rovers on January 14th 1967.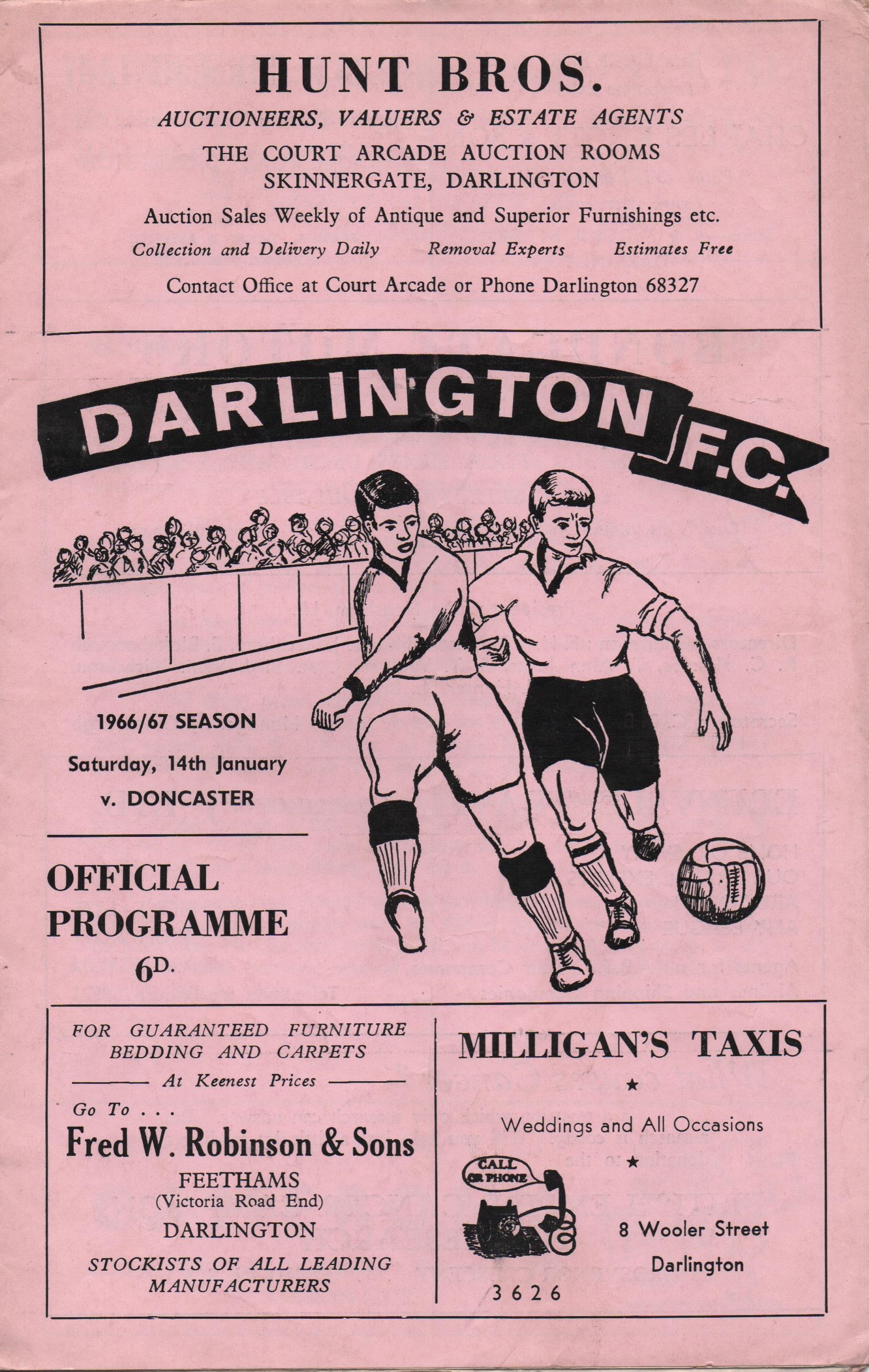 May 21st, 1966 had been a red-letter day for fans of Darlington FC. The Quakers won promotion for only the second time in their history and would kick off the 1966/67 season in Division 3. Manager Lol Morgan had left the club to join Norwich in the summer and been replaced by Jimmy Greenhalgh. The new manager kept the previous season's successful squad intact and there were high hopes that they could consolidate their position in the higher league.
The club made a solid, if unspectacular start to the new campaign. With 18 games gone, they sat just two points below mid table, and actually two points ahead of Middlesbrough, but serious injuries to three key players changed the course of the season. Left winger Les O'Neill broke a bone in his ankle in September and missed three months of the season. Then, two games later, centre forward Bobby Cummings broke his leg and missed nearly six months, only returning for the last four games of the season. Cummings had been the top scorer in the promotion season and had made a good start to the new campaign. Of the team's first nine league goals scored in 66/67, Cummings had contributed seven. The absence of his goals would prove to be a massive loss to the team. Then in October right winger George McGeachie injured his knee in a home game with Gillingham, an injury so severe that it finished his career.
A 3-1 win over Brighton in mid-November had the Quakers in 13th place in the table but then a disastrous run of six straight defeats (1 goal scored, 18 conceded) dropped them into the bottom four relegation places. By the time Doncaster Rovers visited Feethams on January 14th the Quakers sat fifth from bottom with 19 points from 26 games. Doncaster were three points better off and were one of the clubs that Darlington were trying to catch. Les O'Neill had recovered from his ankle injury and was back in the side. Goalkeeper Tony Moor was missing with a dislocated elbow, so John Hope continued to deputise. Greenhalgh made two changes to his forward line in a bid to find more goals. Keith Webster and Les Massie were left out of the side and replaced by Keith Smith and Denis Fidler. Centre half Ron Greener would be making his 500th first team appearance for the club against Doncaster.
A crowd of 5963 were at Feethams for the game. They witnessed an untidy opening from both sides on a heavy pitch. Rovers were first to go close in the 6th minute. From a corner Trevor Ogden fired in a shot which was blocked by Brian Keeble and from the rebound Keith Webber crashed in another shot which was deflected for a further corner as the Quakers' goal came under early pressure. Darlington began to find their feet and Alan Sproates smashed a shot from 35 yards that skimmed the crossbar, then Darlington went close again on 10 minutes. After Keith Smith was brought down just outside the box, Don Ratcliffe fired in a great free kick, but Rovers keeper David Cromack replied with an equally fine save, flinging himself to his right to save at full stretch. A minute later the young keeper made another great save, this time from Fidler, after Ratcliffe had found him with a superb defence splitting pass. Bryan Conlon and Les O'Neill both had shots blocked as the pressure mounted and Cromack continued his great form as he dived desperately at O'Neill's feet. A goal had to come for the home side, and it arrived after 24 minutes. Sproates broke away down the right and pulled the ball back from the by-line. Smith met the cross but sliced his shot straight to Conlon who made no mistake from 8 yards out. On the half hour Cromack made a great double save to keep the score at one. Conlon intercepted a back pass, but the keeper bravely dived at the centre forward's feet. The ball rebounded to O'Neill but Cromack was on hand again. The young keeper was playing out of his skin, but he could do nothing on 35 minutes as the home side increased their lead. A bad mistake by Rovers right back Brian Kelly left Fidler free down the left. The winger carried the ball 40 yards before firing across goal. It was met beyond the far post by his opposite winger O'Neill who squared it back into the goalmouth where Conlon made no mistake from close range.
Half time: Darlo 2 Donny 0.
The visitors began the second half in more determined mood and reduced the arrears in the 49th minute. Tony Coleman hit a cross-cum-shot from wide out on the right that caught Hope unawares. The ball sailed over his head and dropped just under the bar by the far post. Rovers were on top for a spell now and went close to equalising. First, centre forward Ogden headed just over from a Bob Gilfillan corner then, on the hour, the home goal had an incredible escape. Left half Graham Ricketts fired past Hope but Greener got back to clear off the line. The ball ran straight to Jimmy Watson who, with the goal at his mercy, fired yards wide from close range. It proved to be a costly miss because ten minutes later Conlon completed his hat trick. Smith sent Fidler away down the left and his hard, low cross into the box found Conlon who slid it home. The Quakers went looking for a fourth but were kept out by Cromack who made several fine saves. Rovers grabbed a consolation goal in the 88th minute although Watson looked suspiciously offside when scoring it.
The 3-2 victory raised hopes that the club could escape relegation but a poor end to the season meant that they finished third from bottom with 37 points. The club's journey into Division 3 had lasted only one season.
Ron Greener was surprisingly released at the end of the season. He still holds the club appearance record, although he was never a full time professional. In his early years he worked as a colliery blacksmith at Easington and later became a car salesman. He played 439 League, 34 FA Cup and 17 League Cup games giving him an official total of 490 appearances, but his Durham Senior Cup games took him to well over 500 for the club.
The programme for the 66/67 season consisted of 16 pages and cost 6d. Inside were Programme Notes (with news of what was happening around the club), an action photo from a previous game, team line-ups, half time scoreboard, Star Spot (profiling one of the players), fixtures, results and tables from first and reserve teams, and pen pictures of today's opponents.
Team v Doncaster: 1 John Hope 2 John Peverell 3 Brian Keeble 4 Trevor Atkinson 5 Ron Greener 6 Alan Sproates 7 Les O'Neill 8 Keith Smith 9 Bryan Conlon 10 Don Ratcliffe 11 Denis Fidler Sub Les Massie (not used)