Post AGM Update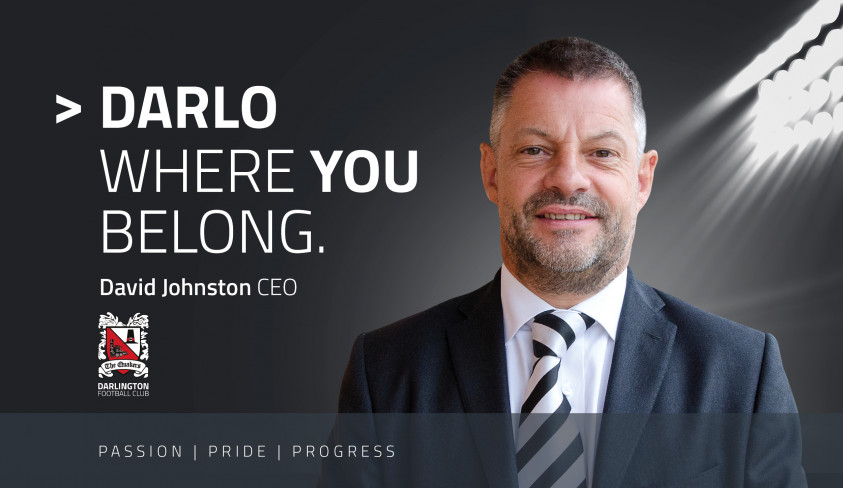 Report of last month's Annual General Meeting
Darlington FC are pleased to provide a post AGM update to all supporters on the performance of the team, the business and outlook for the remainder of this financial year and beyond.
Overall
On-field performances have been mixed so far this season -- below our pre-season expectations for a playoff campaign. With 1/3 of the league campaign remaining our priority now is to secure our NLN status as soon as possible and a top half finish.
Club finances are very tight, and the disappointing playing performance has contributed to a shortfall in matchday revenues. Additionally, commercial revenues are behind our initial plan. Unlike many of our competitors, as a supporter-owned club, we need to run a balanced budget. Therefore, the playing budget has been reduced during the season to help offset revenue shortfalls and having received acceptable offers, two player sales have generated transfer fees. However, additional actions will be needed to balance the budget through to the end of the season.
Despite a reduced playing budget, the board believes the current playing spend, based on the benchmarking information shared by the National League, is set at a competitive level for the National League North.
John Tempest stepped down as a director at the AGM, we thank him for his time and dedication during his time on the board. We recently announced the appointment of John Woolnough as our new Finance Director and the recruitment process for additional directors is ongoing.
Behind the scenes we remain in dialogue with Darlington Borough Council and the Sporting Village development team and we will update all supporters when appropriate. There is extensive scoping work, both logistics and financial planning, taking place to evaluate the best path forward for the Football Club. Any decision on the future direction will be up to our owners, the Darlington FC Supporters Group and all members, plus the other two hundred or so individual shareholders. As a reminder, DFCSG Supporters Group holds over 80% of the football club, and so by joining the Supporters Group as a member you get the opportunity to have your say. If you are interested, please visit www.dfcsg.co.uk.
Matchday
There are two factors behind matchday revenues being lower than forecast.
Pre-season attendances for our matches against Sunderland and the Legends game were disappointing plus one other high profile home friendly failed to materialise.
We planned for a small increase in aggregate home league attendance this season, approx 5% due to improved season ticket sales and expectations of improved league form. With 1/3 of our home games remaining we now estimate our aggregate league attendance will be circa 6% lower than last season (2017/18: 30,576).
We have reduced matchday costs this season and continue to work with our suppliers for further reductions for next season.
Our partners, Darlington RFC, supply all our matchday food and drink services at Blackwell Meadows and we remain in dialogue with them to improve the levels of service and quality they provide to all supporters on a matchday.
Commercial
We were delighted to secure Ebac as our main club sponsor for this season and the 2019/20 season. We also recently signed Nice Network as back of shirt sponsors. We really do appreciate this significant support from local businesses.
Nonetheless revenues were significantly below forecast in the first quarter of this financial year (July to September 2018) with pitch side advertising and matchday sponsorship all underperforming. Additionally, two significant commercial opportunities that we budgeted for are yet to be received by the Football Club.
We appointed Craig Morley as full time Commercial Director in November 2018 with a remit to increase sales and engagement with the local business community. Consequently, we have seen an uplift in our revenues alongside an increase in matchday hospitality sales. We expect to continue to build on this into next season.
Retail
This is our first season with Puma Genesis Teamwear as our kit supplier. We currently forecast retail revenues to be flat year on year. Many thanks to Lynn Jasper and the Quaker Retail team for all their efforts on an entirely volunteer basis in running the retail operation.
We launched the home kit designs for the 2019/20 season for our annual supporter's vote last week and next month will open the vote on the away kit selection.
Academy
The DFC Academy is a full-time education and football development programme for talented 16-18 year olds, providing all the skills required to go on to University, Apprenticeships, Coaching, careers in sport, and - of course - Professional or Semi-Professional football.
Launched in September 2018, thanks to the extensive work led by Tommy Wright, we are running with a single academic year intake this season which we expect to generate a small loss. With the number of students forecast to double from September 2019 this should become a profitable activity for the club alongside providing a potential pathway to first team football for our students going forward.
Finances
We entered this financial year with an oversized creditor position due to past overspending on both the footballing budget and cost overruns on the construction of the seated stand extension. We have utilised the receipts of exceptional income from transfers in summer 2018 plus the Marathon Bet prize money to reduce the creditor position.
The season to date has been challenging financially. The board have taken actions to reduce the playing budget whilst remaining supportive of the football management team and retaining a competitive playing spend. Consequently, we still have a budget gap to close through to the end of the season. We will shortly launch a limited extension to the 500 Club and Early Bird Season Tickets will go on sale in March. These two revenue opportunities plus a renewal of the Boost The Budget campaign are key going forward and will go towards supporting as competitive as possible a playing budget next season.
We aim to close out the financial year with an improved creditor position to provide a more secure platform for the 2019/20 season.
Outlook
Next season we will operate with a reduced, but still competitive football budget. We plan to make more extensive use of the loan market to supplement our own contracted players. The board remain supportive of Tommy Wright. Whilst improved first team results are the main priority the work that Tommy and Alan have done across the whole football club should not go unrecognised. Developing the academy plus improving young players with subsequent transfer fees generated have been major positive factors.
Overall we believe we can drive a step change in commercial and academy revenues in 2021 and beyond, alongside a decision on where our playing future lies and development of additional revenue streams which will ultimately allow additional investment in the playing budget. Until these various opportunities come to pass, we will focus on prudently managing costs whilst providing our management team with as competitive a footballing budget as we believe we can.
Thanks for your continuing support.
The board of Darlington Football Club.