Preview: Alfreton v Darlington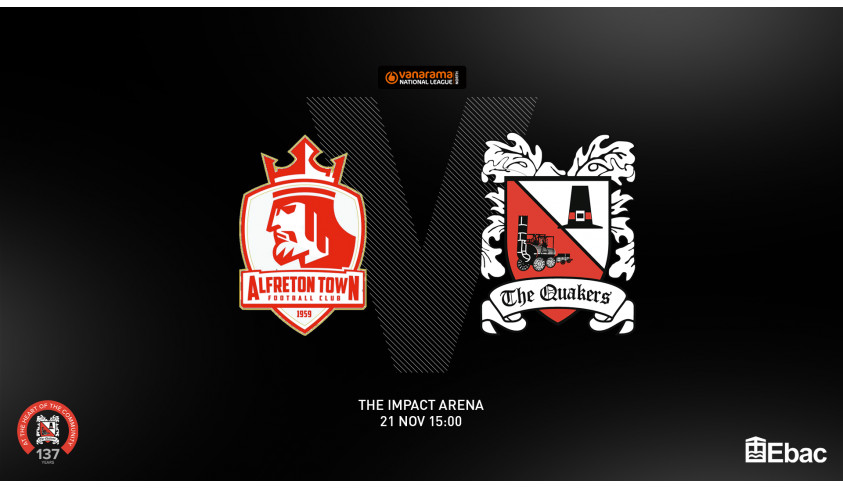 Can we make it four away wins in a row?
We're looking for our fourth successive away win in league and cup when we go to Alfreton on Saturday.
In our last three away games, we've won at Curzon Ashton and Guiseley in the league by 3-0 and 4-1 respectively, and Swindon by 2-1 in the FA Cup.
But mixed in with those results is a 2-1 home defeat by Telford last Saturday, which is why manager Alun Armstrong is looking for more consistency.
Hopefully, new signing Tyrone O'Neill, signed on loan from Middlesbrough, will make a big difference.
Alfreton had a match to forget in midweek – they were 3-0 up at half time against Leamington, but lost 4-3.
Darlington:
Team News:
Tyrone O'Neill is included in the squad after signing on loan from Middlesbrough
Nicky Hunt is out, recovering from a head injury.
Luke Charman will have a fitness test on an ankle injury.
Michael Liddle is out because of a hamstring injury.
Omar Holness will have a fitness test on a thigh injury.
Sean Reid will return after being unavailable for the win at Guiseley in midweek in midweek.
Here's what Alun thinks of the game:
https://darlingtonfc.co.uk/news/video-alun-looking-to-build-on-guiseley-result
Quakers form (League and cup): WLLWWWWLW
Leading scorers in all comps: Adam Campbell 4, Luke Charman 4, Jarrett Rivers 3,
League position in National League North: 15th played 5, won 2, drawn 3, goals scored 9 against 7, points 6
Recent matches
17th November v Guiseley (away) won 4-1 Sousa, Campbell, Maguire 2
Highlights
https://darlingtonfc.co.uk/news/video-highlights-from-away-win-at-guiseley
14TH November v Telford (home) lost 1-2 Sousa
10th November v Boston United (home) abandoned after 86 minutes
7th November v Swindon Town (Away) won 2-1 Campbell 2
31st October v Curzon Ashton (away) won 3-0 Campbell, Reid, Rivers
24th October FA Cup 4Q Cambridge City (home) won 2-0 Charman 2
13th October FA Cup 3Q Tadcaster (home) won 6-1 Donawa 2, Storey, Liddle, Rivers 2
10th October Kidderminster (home) lost 1-3 Penny og
6th October Fylde (away) lost 0-1
3rd October Prescot Cables (home) FA Cup 2Q drew 2-2 won 5-4 on penalties Charman 2
Alfreton
Manager: Billy Heath
Last five results: dllwl
17th November: Leamington (away) lost 3-4 They were 3-0 up at half time
https://www.youtube.com/watch?v=XiZQqmXM_Ak
Here's the match report from Alfreton's website
https://www.alfretontownfootballclub.com/news/report-reds-blow-three-goal-lead-in-astonishing-de-2585426.html
Willis, Clackstone, Fox, Branson, Lees, Jones, Smith (Lund 58), Bradley (c), Day, Reeves (Walker 78), Atkinson (Johnson 83).
Subs Not Used: Unwin-Marris, Williams.
Highlights:
14th November Farsley (home) won 3-1
10th November: Brackley (home) lost 0-2
7th November Bradford PA (away) lost 0-2
3rd November Fylde (home) drew 1-1
League position: 10th (played 8. Won 2, drawn 3, lost 3, goals scored 10, against 12, points 9)
Last meetings;
Last season:
https://www.youtube.com/watch?v=JZ51QdsCCMM
at Alfreton
https://www.youtube.com/watch?v=ML2pjiWh8V0
18th January 2020 Darlington 3 (Campbell 2, Donawa) Alfreton 0
28th September 2019 Alfreton 1 Darlington 2 (O'Neill, Donawa)
1st September 2018 Darlington 0 Alfreton 1
12th January 2019 Alfreton 0 Darlington 0
13th January 2018 Alfreton 1 Darlington 1 (Styche)
12th August 2017 Darlington 4 (Caton, Ferguson, Gillies 2) Alfreton 1
15th April 2017 Alfreton 0 Darlington 3 (Cartman, Gillies, Galbraith)
27th August 2016 Darlington 3 (Gillies 2, Purewal) Alfreton 4
Connections between the two clubs:
Former Darlington striker Reece Styche also played for Alfreton, as did Wembley winner Chris Senior.
How to follow the game:
Alfreton TV https://tv.alfretontownfootballclub.com/ price £6.99
Darlo Fans Radio
Official Twitter @official_Darlo
Official website