Putting skills at the heart of your recovery as we prepare for the end of lockdown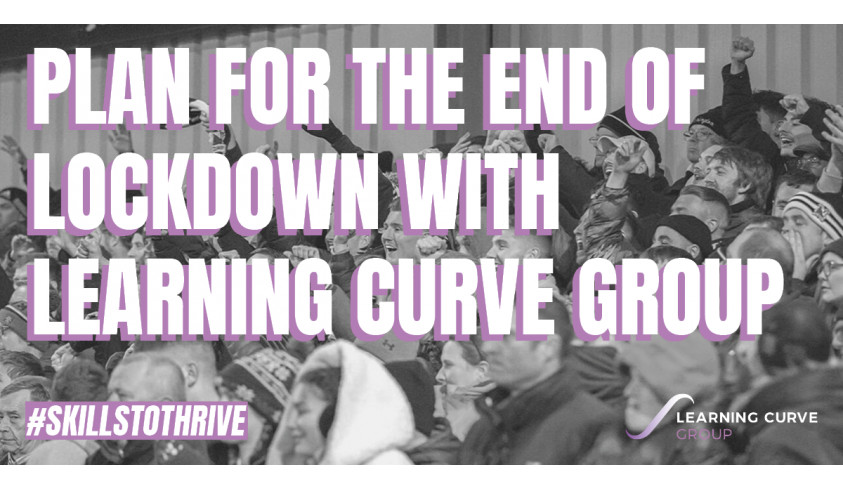 From Learning Curve Group
Putting skills at the heart of your recovery as we prepare for the end of lockdown
March is the month that we have all been waiting for as the UK begins the roadmap out of lockdown. The end of lockdown brings much excitement but also some worry for businesses that are still trying to recover from the first lockdown of 2020. It is more important than ever to ensure that the focus is on improving the skills and knowledge of both yourself and your workforce.
Our level 2 courses are a great way to prepare yourself or your staff for returning to work post lockdown. These courses are available fully funded by the Government for people over the age of 19. They can be completed fully online with the support of a specialist tutor. We have courses available in multiple sectors including business and management, customer service, health and social care and fitness and well being. With the hospitality, leisure and fitness industries set to reopen in the coming months it is a great idea to ensure staff are refreshed and gain some new skills before returning to work after they have been furloughed for such a long period of time. We also have a level 2 certificate in cleaning principles which will help employees have a better understanding of hygiene and how to keep the workplace a COVID safe environment. This will ensure that businesses can operate at their best ability to ensure a successful 2021.
This month, Learning Curve Group have launched a range of brand new level 3 courses which are available fully funded to anyone over the age of 19 who is yet to complete a level 3 qualification which is equivalent to 2 full A Levels or an advanced technical certificate or diploma. This funding for level 3 qualifications is part of the Government's Lifetime Skills Guarantee, which aims to remove the age constraints and financial barriers for adults looking for their first level 3 qualification to develop their careers. If you have already completed a level 2 qualification, then moving onto a level 3 is the perfect next step to continue growing your understanding of certain topics. Completing a level 3 is a great way to build on your knowledge in an industry you wish to begin a career in or advance your skills for career progression.
We have a range of courses available including, Understanding Mental Health, Dementia Care, Care and Management of Diabetes, End of Life Care and Understanding Autism all of which are available from the 1st of April 2021. We are experiencing a high demand so be sure to join our VIP waiting list to ensure you do not miss out on this amazing opportunity. You can sign up here.
There are so many benefits to ensuring your staff continue training and education throughout their career, no matter what level. It is even more important in today's world as so many staff have been away from their role and their workplace for so long. Ensuring you constantly improve your employees' skills and understanding of key aspects of your industry will lead to improved moral, a dedicated and loyal workforce and of course an improvement of productivity.
In March we have also seen the introduction of the new Government Cash Incentive Grant for businesses hiring an apprentice. Businesses are now eligible for up to £4,000 for every new apprentice they take on. Learning Curve Group have amazing candidates waiting to be placed on to apprenticeship programmes across the North East. Hiring an apprentice is a great way to future proof your workforce by giving an individual the specific skillset tailored to the needs of your business. Apprentices bring fresh ideas, enthusiasm, and loyalty to your organisation. Our recruitment team will not only take on all the hard work of finding an apprentice that suits your business, but we also offer our recruitment services free of charge. 2021 is the perfect year to expand your workforce with an apprentice. Your business will benefit from bringing a talented young person into your workforce, up to £4,000 cash incentive and free recruitment from LCG.
If you are interested in any of our level 2 or level 3 courses, or our apprenticeship recruitment services please follow the links below or email us with any queries you may have, and a member of our team will be in touch.
Level 2:

Level 3:
lcgonline.co.uk/level3-EOI
Apprenticeship Recruitment:
learningcurvegroup.co.uk/employers/apprenticeships
advanceacademy@LearningCurveGroup.co.uk