Quakers arrange Sunderland friendly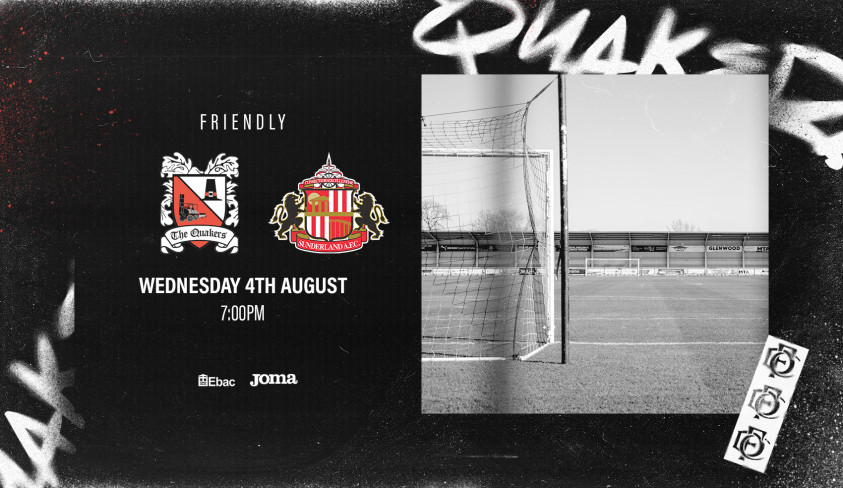 Under 23s to visit BM
We have arranged another pre-season friendly in our preparations for the new league season.
We have arranged to play Sunderland Under 23s in a pre season friendly on Wednesday 4th August, kick off 7pm, at Blackwell Meadows.
Covid permitting, this will be another great opportunity for fans to see the team in action as we prepare for the start of the 2021-22 season.
We would like to thank Sunderland for their help and co-operation in organising the game.
Our friendly schedule is:
(All games are subject to Covid restrictions)
Tuesday 6th July: Newton Aycliffe (away, kick off 7.00pm)
Tuesday 13th July: Tadcaster Albion (away, kick off 7.30pm)
Tuesday 20th July: Northallerton Town (away, kick off 7.30 pm)
Saturday 24th July: Newcastle United Under 23s (home, kick off 3pm)
Tuesday 27th July: Harrogate Town (home, kick off 7.30 pm)
Sunday 1st August Middlesbrough (home, kick off 1pm)
Wednesday 4th August Sunderland (home, kick off 7pm)
Saturday 7th August: Whitby Town (away, kick off 3pm)
The National League season kicks off on Saturday 14th August.
Keep an eye on the official club media channels for updates!