Quakers hoping to beat the giantkillers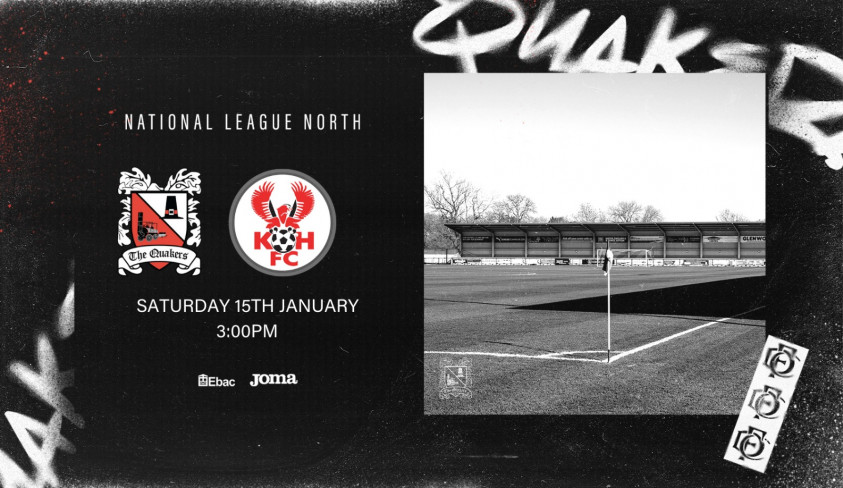 Darlington v Kidderminster preview
Darlington are hoping to build on last week's record breaking away win at Farsley when Kidderminster visit Blackwell Meadows on Saturday.
Quakers moved up to tenth place last weekend, but Kidderminster are going well in fifth and have lost just once on their travels in the league this season.
Jack Lambert was the hero last Saturday, scoring the first away hat trick by a Darlington player for over three years in the 6-0 win at Farsley.
The matchball for Saturday's game is being sponsored by Paul and Jen Hodgson.
Team News:
Luke Charman is suspended, his second in a four match ban
Junior Mondal is on loan at Marske
Joey Hope is on loan at Northallerton
Danny Rose and Jake Lawlor are back with their respective clubs following the end of their loans.
League position: 10th (played 21, won 7, drawn 6, lost 8, goals scored 38 against 31, points 27) two points behind the play offs
Latest results:
January 8th Farsley (away) won 6-0 Lambert 3, Dos Santos, O'Neill, Rivers
Highlights: https://darlingtonfc.co.uk/news/highlights-from-win-at-farsley-celtic
January 1st Spennymoor (home) drew 1-1 Charman
December 28th Gateshead (home) lost 1-3 Charman
December 26th Spennymoor (away) drew 1-1 Charman
December 11th Fylde (home) won 1-0 Charman
November 27th Trophy Southport (away) drew 1-1 Charman lost 5-4 on penalties
November 23rd Boston (away) lost 0-2
Kidderminster
Kiddie grabbed some of the headlines last weekend when they beat Reading 2-1 at home in the FA Cup, and now they have a plum tie at home to West Ham in the fourth round
League position: 5th (played 17, won 10, drawn 4, lost 3, goals for 37, against 17, points 37) (away from home Played 9, won 4, drawn 4, lost 1)
Recent results:
11th January Farsley (home) won 2-1 Carrington, Freemantle
8th January FA Cup 3: Reading (home) won 2-1 Austin, Morgan-Smith
Highlights: https://www.youtube.com/watch?v=1u5XgRCQZ8Y
18th December FA Trophy 3 Boston (away) lost 1-4 White
14th December Curzon Ashton (away) drew 1-1 Cameron
11th December Boston (away)won 2-1 Penny, Hemmings
Recent matches between the two clubs:
October 2020 Darlington 1 (Penny og) Kidderminster 3
Highlights: https://www.youtube.com/watch?v=UFp_4xwNLzM
February 2020 Kidderminster 1 Darlington 1 (Hatfield)
https://www.youtube.com/watch?v=8cC-dGTKRog
October 2019 Darlington 1 (Rivers) Kidderminster 0
January 2019 Darlington 3 Nicholson, Thompson, Smith Kidderminster 0
August 2018 Kidderminster 5 Darlington 2 (Ainge, Nicholson)
February 2018 Darlington 2 (Heaton, Thompson) Kidderminster 1
Highlights: https://www.youtube.com/watch?v=9W_PkzodUB8
November 2017 Kidderminster 3 Darlington 3 (og, Galbraith, Syers)