Quakers hoping to bounce back at Farsley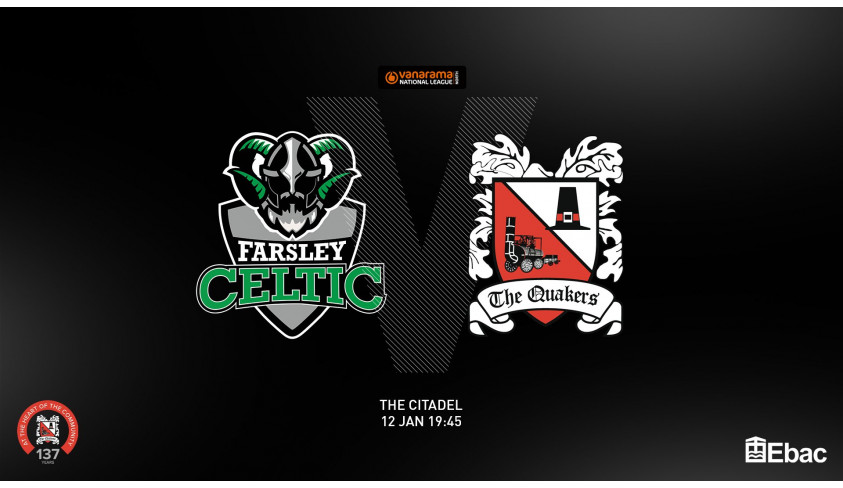 Players return to the squad
We're heading to West Yorkshire tonight to face Farsley Celtic, and hoping to bounce back from the defeat at Brackley last week.
Two players are expected to return and bolster the squad, but unfortunately defender Louis Laing will miss the game.
Hopefully, the game will go ahead, as Farsley's game against Guiseley was postponed because of a snow-covered pitch last Saturday. Latest indications are that the pitch will be playable.
Here are Alun's thoughts on Tuesday's game -- the interview was recorded before we knew about Louis Laing's injury.
https://www.youtube.com/watch?v=u4udXXMuwBU
Team News:
Louis Laing suffered an ACL injury against Spennymoor (the same sort of injury as Jamie Holmes) and is out for several months.
Michael Liddle and David Atkinson both return to the squad after missing the game at Brackley
Omar Holness has recovered from a thigh injury and could be included in the squad.
Ben Hedley has a groin impact injury.
League position 19TH Played 10, won 4, drawn 1, lost 5, goals for 17 against 10, points 13
Points per game position: 13th 1.30 per game
Quakers form (League and cup): WLLWWWWLWWLLWWDWL
Leading scorers in all comps: Adam Campbell 6, Luke Charman 5, Jarrett Rivers 5
Recent matches
5TH January v Brackley (a) lost 0-2
28th December v Blyth (h) won 6-0 O'Neill 2, Sousa, Rivers, Maguire, Campbell
Highlights:
https://www.youtube.com/watch?v=xZQ7SDFgoko&t=37s
26th December v Spennymoor (h) 0-0
19th December FA Trophy 3 v Telford United (home) drew 2-2 Rivers, Hatfield, won 5-3 on pens
16th December FA Trophy 2 City of Liverpool (home) won 2-0 Charman, Sousa
29TH November v Bristol Rovers (away) FA Cup 2 lost 0-6
24th November v Bradford PA (home) lost 0-1
Farsley
League position: 12th Played 4 drawn 6 lost 5, goals for 18 against 23. Points 18
Points per game position: 14th 1.20 points per game
Best win so far this season: 2-0 v Telford in the league and 3-2 away v Gateshead in the Trophy
Manager: Adam Lakeland
Recent matches:
28th December v Boston (home) lost 0-4
Team: Farsley Celtic: Kelly, Richards, Hayhurst (Smith-Brown 46), C. Atkinson, Barton, Clayton, Lane, Johnston, Charles, Syers (B. Atkinson 65), Parkin (Walton 46). Unused subs: Bower (GK), Goldthorp.
Highlights: https://www.farsleyceltic.com/videos/highlights-farsley-celtic-04-boston-united-165502.html
26th December v Guiseley (away) drew 2-2 Hayhurst 2
19th December fA Trophy 3 v Solihull (away) lost 0-4
15th December FA Trophy 2 v Gateshead (away) won 3-2 Allan, Parkin, Spencer
5th December v Telford (home) won 2-0
Connections: Farsley include former Darlington midfielder David Syers, who scored twice in their 4-2 win over us at Blackwell Meadows before the first lockdown.
Previous meetings -- we haven't beaten Farsley in our last four meetings:
2019-20 Farsley 3 Darlington 1 (Campbell),
Highlights:
https://www.youtube.com/watch?v=FvnDjRLaGnw
Darlington 2 (Holness, Campbell) Farsley 4 (the last game before the first lockdown)
Highlights: https://www.youtube.com/watch?v=kI316cM7l6c
2014-15 Darlington 1 (Galbraith) Farsley 1,
Farsley 3 Darlington 2 (Cartman, Galbraith)
Highlights: https://www.youtube.com/watch?v=g26Rp3LvTHI
How to follow the game:
Farsley TV – here's the link: https://streaming.insightfour.com/Account/Login?returnUrl=%2Fstream%2FVWFBS0NV
Darlo Fans Radio
Official website
Official Twitter