Quakers looking for another win at Leamington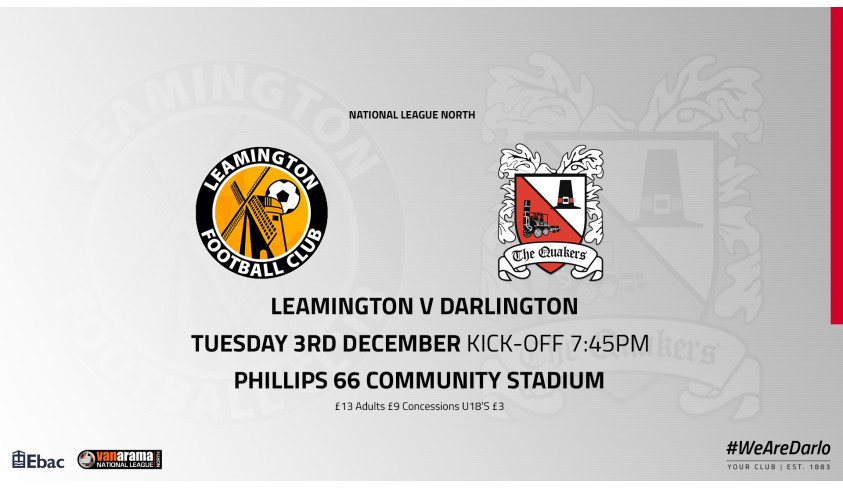 Looking for bounce back from Telford game
Quakers are looking for another victory at Leamington when we visit the Phillips 66 stadium tonight.
We won by 2-0 there in the FA Cup earlier in the season, and tonight we're aiming to bounce from a 3-2 defeat at home to Telford last Saturday.
Leamington are two places below us in the table, and have picked up seven points from the last nine.
Here's your stats pack for Wednesday's game
Darlington
National League North position: 15th
Away league form: played 7, won 1, drawn 1 lost 5, goals for 7 goals against 17, points 4 (out of 21)
Our last seven games:
November 30th Telford (home) lost 2-3 Storey, Donawa
Team: Connell, Hedley, Liddle, Wheatley, Storey, Laing, Donawa, Hatfield, Campbell (sub Rivers 65), Lambert, Thompson. Subs: Elliott, Holliday, Holness, Bascome
November 23rd FA Trophy 3QR Gainsborough (home) won 2-1 Lambert, Donawa
November 20th FA Cup 1RR Walsall (home) lost 0-1
November 16th Brackley (away) lost 1-5 Thompson
November 9th FA Cup 1R Walsall (away) drew 2-2
November 2nd Hereford (home) drew 0-0
October 30th Kidderminster (home) won 1-0 Rivers
Leading scorers: 7 Adam Campbell, 7 Tyrone O'Neill, 5 Stephen Thompson, Justin Donawa
Team News: Right back Luke Trotman, striker Jamie Holmes and defender David Atkinson are all ruled out because of injury.
Defenders Terry Galbraith and Jordan Watson both return after injury and suspension respectively.
Defenders Louis Laing and Michael Liddle are both unavailable, Liam Connell could also be missing, so Chris Elliott stands by to play in goal.
Jarrett Rivers and Omar Holness could both start after suffering from the flu bug on Saturday.
Leamington
League position 17th
Home league form : played 8, won 3, drawn 2, lost 3 goals scored 10 goals against 10 points 11 (out of 19)
Last six results:
November 30th Guiseley (home) drew 2-2 Clarke, March
November 23rd Spennymoor (home) Trophy won 2-1 Taylor, Edwards
November 16th Bradford PA (away) won 3-0 March 3
November 12th King's Lynn (away) lost 2-5 English, Edwards
November 2nd Southport (away) lost 1-4 March
October 12th Alfreton (home) lost 0-1
Manager: Paul Holleran
Goalkeepers: Jake Weaver, Ben Newey
Defenders: Junior English, Connor Gudger, Jack Lane, James Mace, Shay Nicholson
Midfielders; Joe Clarke, Kieran Dunbar, Jack Edwards, Callum Gittings, Gift Mussa, Connor Taylor
Forwards: Kaiman Anderson, Josh March, Jordan Murphy,
Last time we met
5th October, FA Cup third qualifying round
Leamington 0 Darlington 2 (Campbell, Donawa)
Connell, Hedley, Storey, Galbraith, Liddle, Hatfield, Wheatley, Holness (sub Laing 77), Rivers, O'Neill, Campbell (sub Donawa 77).
Subs: Elliott, Bascome, Bell, Holliday, Watson
Leamington: Weaver, English, Lane, Gittings, Hood, Mace, Taylor (sub Walters 72), Flanagan (sub Shamsi 86), March, Edwards, Anderson (sub Keane 81)
Subs: Dunbar, Mussa, Nicholson, Newey
Admission prices: Adults £13, Over 60s £9, Students £6, Under 18s £3, Under 11s free
If you're not going to the game, follow the match on Darlo Fans Radio, the official website and official Twitter!