Quakers looking for first away win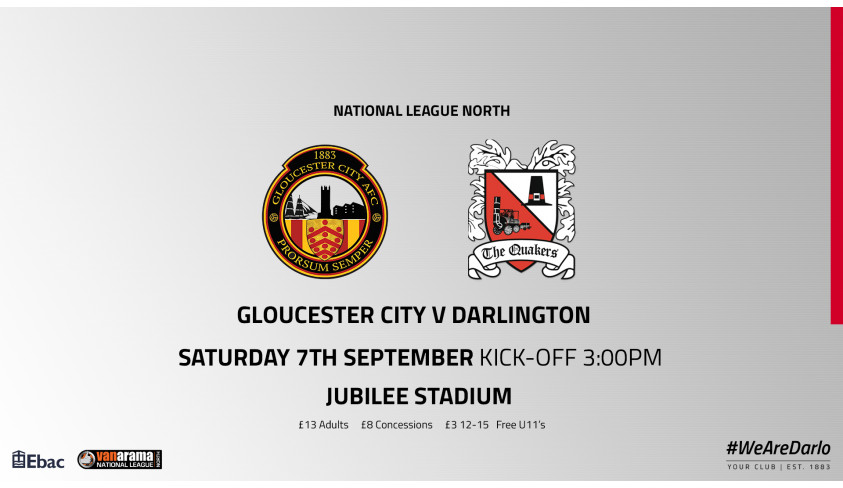 First ever game at Evesham, Gloucester's ground
We're looking for our first away win of the season when we go to Evesham in order to play Gloucester on Saturday.
It's our first ever visit to this ground -- Gloucester are groundsharing here. We previously played them at Cheltenham's ground three seasons ago.
We've collected all but one of our eleven points at Blackwell Meadows this season, our only away point so far coming in a 1-1 draw at Altrincham.
Here's your stats pack for Saturday's game
Darlington
League position: 14th
Away form: played 4, drawn 1 lost 3, goals scored 3 against 9, points 1 (out of total of 11)
Our last eight games:
September 4th Blyth Spartans (home) won 2-1 Campbell, Thompson
Team: Elliott, Atkinson (sub Holness 16), Watson, Wheatley, Laing, Galbraith, Rivers, Hatfield, Campbell, Thompson, O'Neill
Subs: Bell, Holliday, Morrison, Heaton
August 31st King's Lynn (away) lost 0-2
August 26th Bradford PA (home) lost 0-1
August 24th Altrincham (away) drew 1-1 Campbell
August 17th Southport (home) won 2-0 O'Neill, Campbell
August 12th Curzon Ashton (away) lost 1-3 O'Neill
August 10th Kettering (home) won 3-0 Thompson 2, Rivers
August 7th Gateshead (home) drew 1-1 Liddle
Leading scorers: 4 Adam Campbell, 3 Stephen Thompson, 2 Tyrone O'Neill
Team News: Right back Luke Trotman is ruled out for the season with an achilles problem, while striker Jamie Holmes is out with a cruciate injury.
Defender Michael Liddle is out for another week with a ligament injury, defender David Atkinson is out with an ankle injury. Omar Holness could play at right back.
New signing Ben Hedley is added to the squad.
Osagi Bascome and Justin Donawa are unavailable, they're on duty with Bermuda in the Concacaf Gold Cup
Gloucester
League position: 16th
Home form: Played 4, won 1, drawn 1, lost 2, goals scored 6 goals against 6, points 4 (out of total of 10)
Last six results
3rd September Telford (away) lost 3-4 Russe, Hanks, Parker
Team: Jackson, Harrison, Russe, Bradley-Hurst, Thomas, Harper, Robert, Avery, Hanks, Knowles, Parker
31st August York City (home) lost 2-3 Jackson, Hanks
26th August Brackley (away) lost 0-3
24th August Boston (home) won 3-0 Parker 2, Hanks
17th August Chester (away) lost 0-4
13th August Kidderminster (away) won 3-2 Jackson, Hanks, Parker
Here's an interview from the Gloucester website with their midfielder, Joe Hanks
http://www.gloucestercityafc.com/joe-hanks-interview/
Manager: Mike Cook
Squad:
Goalkeepers: Josh Bradley-Hurst, Zach Jeacock, Tom King
Defenders: Ross Johnstone, Tom Harrison (signed on loan from Bristol City this week), Vincent Harper, Kieran Smith, Ioan Richards, Tom Handley, Jack Spark, Jamie Bremner, Spencer Hamilton, Sam Avery, James Unwin
Midfielders: Luke Russe, Josh Thomas, Alex Hainault, Jennison Myrie-Williams, Fabien Robert, Joe Hanks, Chris Knowles, Joe Parker
Forwards: Jake Jackson, Zack Kotwica, Marlon Jackson, James Spruce,
Our last meeting:
14th January 2017
Darlington 2 Gloucester 0 Cartman, Turnbull (2 goals in last eight minutes)
Jameson, Hunter, Galbraith, Turnbull, Burgess, Brown, Syers (sub Thompson 61), Scott, Beck, Walker (sub Cartman 53), Gillies
Subs: Wilczynski, Falkingham, Saunders
Gloucester play in Evesham – postcode for the ground is WR11 2LS. Travel advice, allow yourself at least four hours' travel time, because the motorways are bound to be busy.
Admission prices: Adults £13, Students /Concessions £8, Under 16s £3, Under 11s accompanied free.
If you're not going to the game, follow the match on Darlo Fans Radio, the official website and official Twitter!