Quakers looking for first league win at Telford since 1990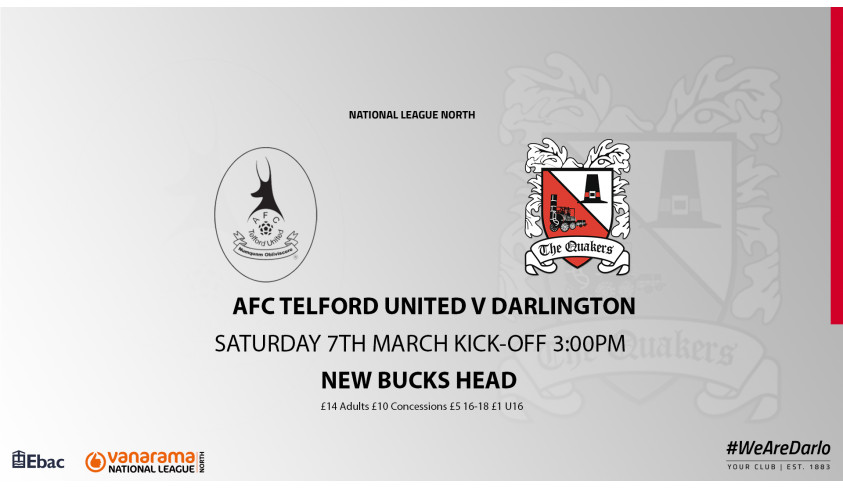 Four league visits without a win
We're looking for our first league win at Telford since 1990 when we go to the New Buck's Head on Saturday.
The last time we won here was when David Corner scored the only goal of the game in 1990, and victory on Saturday will maintain our play off hopes.
We're also looking for revenge after losing 3-2 to Telford in the reverse fixture, after being 2-0 up at half time.
We've drawn two and lost two of our last four league games at Telford, but we won 3-0 in the FA trophy quarter final in 2011.
If you're not going to the game, why not listen to it on Darlo Fans radio, or follow it on the official Twitter or the official website.
Reminder: Telford operate cashless turnstiles. Fans need to buy their tickets in advance, or at the ticket office. Check here: https://darlingtonfc.co.uk/news/ticket-details-for-the-telford-away-match
Here's the stats file for Saturday's game:
Darlington
National League North position: 10th
Away league form: played 15, won 4, drawn 3, lost 8, goals scored 16 against 30 points 15 (out of 45)
Our last seven games:
February 29th Brackley (home) drew 1-1 Campbell
Team: Elliott, Hedley, Liddle, Wheatley, Laing, Storey, Rivers (sub Thompson 76), Hatfield, Campbell, Holness (sub Reid 85), Donawa
Subs: Watson, Martin, Atkinson
Highlights: https://www.youtube.com/watch?v=iX0mX35LT3A
February 22nd Hereford (away) drew 2-2 Rivers, Holness
February 8th Kidderminster (away) drew 1-1 Hatfield
February 1st Guiseley (home) lost 0-3
January 25th Chester (away) lost 0-3
January 21st Guiseley (away) won 2-1 Campbell, Hatfield
January 18th Alfreton (home) won 3-0 Campbell 2, Donawa
Leading scorers: 14 Adam Campbell, 9 Justin Donawa, 7 Tyrone O'Neill, 6 Stephen Thompson
Team News: Right back Luke Trotman and striker Jamie Holmes are both ruled out.
Everyone else is fit.
Telford
League position 14th
Home league form : played 15, won 5 drawn 4, lost 6 goals for 26 against 26. Points 19 out of 39
Last six league matches:
29th February Spennymoor (away) drew 3-3 Dinanga 2, Daniels
Luyambula, Royle, White, Deeney (c), Lilly, Streete, Barnett, Walker, Dinanga, McQuilkin (Williams 64), Daniels. Unused substitutes: Cowans, Knights, Stenson, Jones.
Highlights: https://www.youtube.com/watch?v=myCB7ba_VR4
22nd February Boston (away) lost 0-1
8th February Guiseley (away) won 2-1 Dinanga 2
4th February Altrincham (away) lost 2-5 Dinanga , Daniels
1st february Altrincham (home) drew 2-2 Daniels 2
28th January Blyth (home) won 4-2 Williams, Barnett, Dinanga, og
Manager: Gavin Cowan
Goalkeeper: Michael Luymabula
Defenders: Zak Lilly, Theo Streete, Jon Royle, Ross White,
Midfielders: Ryan Barnett, Ellis Deeney, Adam Walker, James McQuilkin, Bendon Daniels, Matt Stenson,
Forwards: Marcus Dinanga, Aaron Williams, Darryl Knights, Steve Jones
The last time we met
1st December 2019