Quakers looking for first points of the season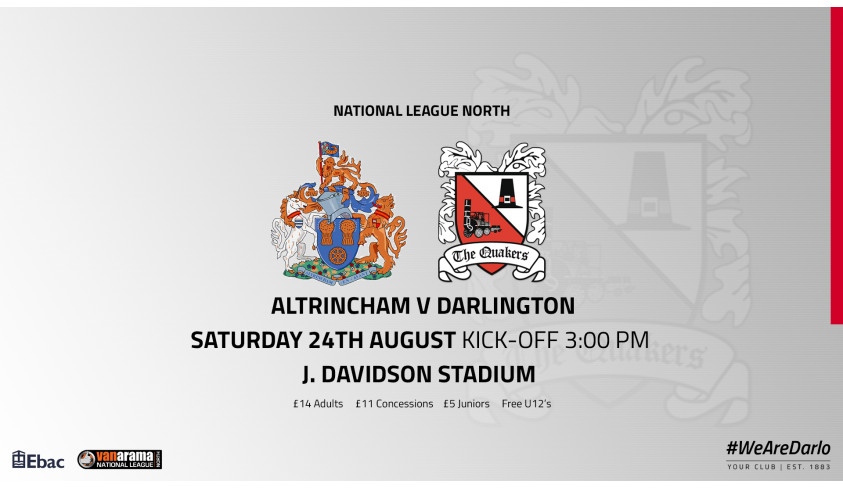 Trip to Altrincham on Saturday
We are looking for our first points away from home when we go to Altrincham on Saturday.
While our home form has yielded seven points out of nine, we have suffered setbacks at Farsley and Curzon Ashton.
Here's your stats pack for Saturday's game:
Darlington
League position: 9th
Away form: Played 2, lost 2, goals scored 2 goals conceded 6 . Points 0 (out of 7)
Our last five games:
August 17th Southport (home) won 2-0 O'Neill, Campbell
Team: Elliott, Liddle (sub Heaton 43), Watson, Bascome, (Holness 80) Laing, Galbraith, Rivers, Hatfield, Campbell, Donawa (sub Wheatley 87), O'Neill.
Subs: Bell, Atkinson,
August 12th Curzon Ashton (away) lost 1-3 O'Neill
August 10th Kettering (home) won 3-0 Thompson 2, Rivers
August 7th Gateshead (home) drew 1-1 Liddle
August 3rd Farsley (away) lost 1-3 Campbell
Leading scorers: 2 Tyrone O'Neill , Adam Campbell, Stephen Thompson
Team News: Right back Luke Trotman is ruled out for the season with an achilles problem, while striker Jamie Holmes is out with a cruciate injury.
Defender Michael Liddle is out for at least a fortnight with a ligament injury, but striker Stephen Thompson returns after missing last week's game.
Altrincham
League position: 17th
home form: played 2, won 1, lost 1, goals for 4 against 5, points 3 (out of a total of 5)
Their results so far:
August 17th Brackley (away) lost 0-1
Team: Drench, White, Hampson, Jones, Finnigan, Williams, Johnston, Branson (sub Richman 67), Hulme, Hancock (sub Harrop 57), Hemmings (sub Peers 77)
August 13th Alfreton (home) won 3-2 Hampson, Jones, Johnston
August 10th Gloucester (home) drew 1-1 Jones
August 6th Chester (away) drew 1-1 Livesey og
August 3rd York City (home) lost 1-3 Jones
Leading scorer: 3 James Jones
Squad:
Goalkeepers: Steve Drench, Tony thompson
Defenders: Andy White, Connor Hampson, James Jones, Tom Hannigan, Shaun Densmore, Toby Mullarky
Midfielders: Max Harrop, Josh Hancock, Simon Richman, John Johnston, Jake moult, Sean Williams, Dontai Gabidon, Conor Branson
Forwards: Jordan Hulme, Tom Peers, Lewis Walters, Ben Elliott, Curtis Miller
Nathan Arnold left the club this week.
Manager: Phil Parkinson
Our last meeting:
22nd December 2018
Altrincham 3 Darlington 3
Goals: Elliott (8 mins, 0-1); Hancock (10 mins, 1-1); Saunders (25 mins, 1-2), Nicholson (44 mins, 1-3); Harrop (45 mins, 2-3), Hemmings (65 mins, 3-3)
Altrincham: Thompson, Densmore, Hampson, Jones, Hannigan, Moult, Johnston, Richman (sub Williams 73), Hancock, Harrop, Hemmings.
Subs not used: Mantack, Langley, Sang, Wynne
Bookings: Richman, Densmore
Darlington: Maddison, Trotman (sub Wollerton 63), Kokolo (sub O'Hanlon 63), Smith, Burn, Galbraith, Elliott, Palmer, Saunders, Nelson, Nicholson (sub Thompson 63)
Subs: Hall, Henshall
Bookings: Nelson, Kokolo, Elliott, Thompson, Palmer
Admission prices:
Adults: £14.00, Concessions (Over 65's, Students) - £11.00, Juniors (12 to 16) - £5.00, Juniors (U12) - £1.00
Postcode for the ground:
WA15 8AP
From Altrincham FC:
Please note that on Police advice due to the ground being situated in a residential area NO drums or other musical instruments are permitted inside the ground. If any are brought with fans, they will be confiscated by Stewards at the turnstiles and returned before departure. We thank you for your cooperation with this.
Free car parking is available just 100 yards from the ground at Aecom. The address for Aecom is: 179 Moss Lane, Altrincham, WA14 8FH. It is open Saturdays from 10.30am until 7pm and Tuesdays all day until 11pm. If you could inform your fans of this, it would be greatly appreciated
If you're not going to the game, follow the match on Darlo Fans Radio, the official website and official Twitter!