Quakers looking for four in a row unbeaten away from home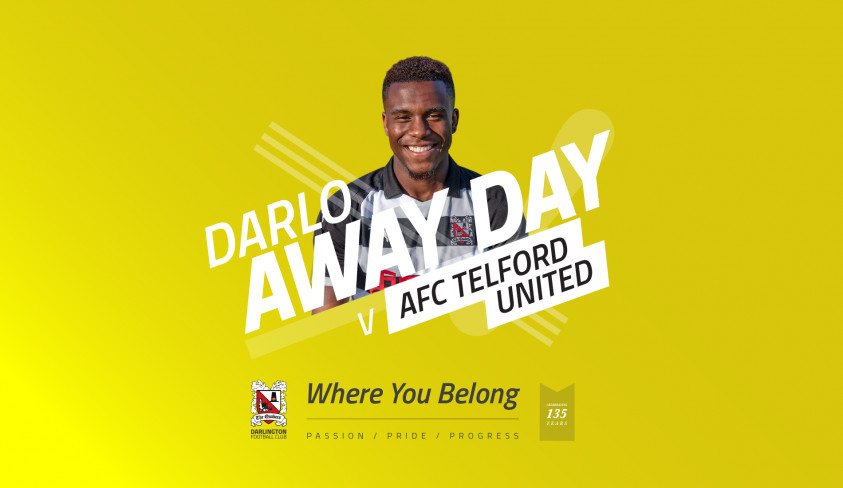 Preview of tonight's game at Telford
On Tuesday night we travel to Telford United for a rearranged game looking to move closer towards securing safety.
The game had been scheduled to be played in February, but due to Telford's progress in the FA Trophy the fixture was postponed.
We have already met twice this season, both at Blackwell Meadows. In the league we secured a 3-0 win, which was our first at home this season. However, Telford exacted revenge with a 2-0 win in the FA Trophy. They are still in the competition and have a double header semi-final with Leyton Orient to look forward to later this month.
Telford are having a good season on two fronts, they're also currently sitting in the final playoff spot as we enter the last two months of the league. It marks a drastic turn of events for the club who have been fighting to avoid relegation in recent years.
They scored a stoppage time equaliser at Boston on Saturday to earn a 2-2 draw. Despite their league position they have only won one in their last five league games.
We go to Telford in a good frame of mind after being within minutes of beating Chorley at Blackwell Meadows on Saturday, plus we haven't lost any of our last three games away from home.
Darlington manager Tommy Wright, who will carry out fitness checks on Romal Palmer and Stephen Thompson, says; "Telford are in several ways similar to Chorley, so we'll be approaching tonight's game in the same way as we did for Saturday.
"Telford are a solid side and the two forwards work very hard, so we're expecting a tough game."
The game will be covered on Darlo Fans Radio, and the club's official Twitter and official website.
If you're going to the game, then away fans need to go in the University Of Wolverhampton Stand.
Admission Prices are: Adults - £13.00, Concessions - £10.00 (Over 60), 16-19 - £5, Under 16s £1.
Stats pack
Darlington
League position: 16th
Away form: Played 15, won 3, drawn 8, lost 4, goals for 24, against 30, points 17 (out of total 37)
Team News: Stephen Thompson suffered a shin injury on Saturday and was subbed – he's expected to be fit. Romal Palmer came off with cramp, he should be ok as well.
Leading scorer: Jordan Nicholson 9, Harvey Saunders 7, Andrew Nelson 6
Position in form table of last six matches: 15th won 1 drawn 3, lost 2, goals for 14 goals against 12
Last six matches
March 2nd Chorley (home) drew 1-1 Kneeshaw
Turner, Trotman, Galbraith, Wheatley, Ainge, Smith, Elliott, Palmer (sub Henshall 84), Saunders, Kneeshaw (sub Kokolo72), Thompson (sub Nicholson 73)
Subs: Maddison, Hughes
February 20th Brackley (home) lost 0-2
February 16th Southport (home) drew 0-0
February 9th Blyth (away) won 1-0 Thompson pen
January 26th Curzon Ashton (away) drew 1-1 (Elliott)
January 19th Spennymoor (home) lost 1-2 Thompson pen
Telford
League position : 7th
Home form: played 15, won 9, drawn 4, lost 2, goals for 24, goals against 14 points 31 out of 51
Position in form table of last six league matches: 10th won 2, drawn 2, lost 2, goals 14 against 12
Team news: Keeper Andy Wycherley suffered an eye injury on Saturday at Boston, and will probably be ruled out.
Last six matches
March 2nd Boston (away) drew 2-2 Udoh, Streete
Team: Wycherley (sub Bursik 19), White, Morley, Deeney, Sutton, Streete, Barnett (sub McQuilkin 77), Royle (sub Dawson 77), Morgan-Smith, Udoh, Knights
February 23rd FA Trophy QF Solihull moors (away) won 2-1 Morgan-Smith, Udoh
February 19th Ashton United (away) won 4-3 Morgan-Smith 2, Udoh 2,
February 16th Stockport (away) lost 2-3 Sutton, Daniels
February 12th Guiseley (home) drew 1-1 Udoh
February 9th Brackley (away) lost 1-3 Dinanga
Last time we met:
FA Trophy 23rd November
Darlington 0 Telford 2 (McQuilkin, Sutton)
Hemming, Trotman, O'Hanlon (sub Henshall 66), Elliott, Hughes, Galbraith, Nicholson, Wheatley (sub Glover 79), Ainge (sub Saunders 54), Syers, Thompson
Subs: Maddison, Burn
Wycherley, White, Morley, McQuilkin, Sutton, Streete, Cowans, Royle, Morgan-Smith (sub Deeney 72), Udoh (sub Brown 86) , Knights (sub Barnett 88)
Subs: Smith, Bramley,