Quakers looking for hat trick of away wins at Leamington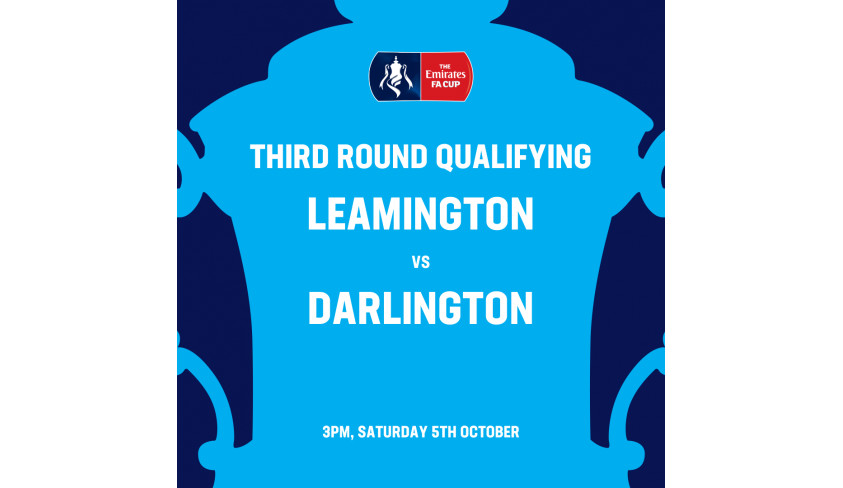 Place in last qualifying round of the FA Cup at stake
Quakers head to Leamington looking to progress to the last qualifying round of the FA Cup for the first time in the fan-owned era.
We won our first FA Cup tie in five seasons in the last round at Trafford, and confidence is high after following up the FA Cup win with a 2-1 away league victory at Alfreton.
Here's your stats pack for Saturday's game
Darlington
National League North position: 15th
Away league form: Played 6 won 1, drawn 1, lost 4. Goals scored 6, conceded 12, points 4 (out of a total of 14) – plus won in FA Cup at Trafford
Our last six games:
September 28th Alfreton (away) won 2-1 O'Neill, Donawa
Team: Elliott, Hedley, Liddle, Wheatley, Storey, Galbraith, Holness (sub Rivers 59), Hatfield, Campbell (Bascome 89), Thompson (sub Donawa 65), O'Neill. Subs: Bell, Holliday.
September 21st Trafford (away) FA Cup 2q won 3-1 Thompson, Campbell, Donawa
September 14th York City (home) lost 0-2
September 7th Gloucester (away) lost 1-2 Campbell
September 4th Blyth Spartans (home) won 2-1 Campbell, Thompson
August 31st King's Lynn (away) lost 0-2
Leading scorers: 6 Adam Campbell, 4 Stephen Thompson (who scored a hat trick v Leamington two seasons ago), 3 Tyrone O'Neill
Team News: Right back Luke Trotman is ruled out for the season with an achilles problem, while striker Jamie Holmes is out for some months with a cruciate injury – he could have an operation soon. Defender David Atkinson is out for at least two months with an ankle injury.
Jordan Watson returns to the squad after being unavailable last Saturday, Louis Laing is fit again after injury.
Stephen Thompson will have a fitness test on a groin injury, and is rated as 50/50
Here's Alex Storey, who made his debut at Alfreton, chatting about his career so far
https://darlingtonfc.co.uk/news/video-i-just-enjoyed-the-whole-experience
Leamington:
League position: 13th
Home league form: played 6, won 3, drawn 1 lost 2 goals scored 8, goals against 7 points 10 (out of 15) plus 2-2 home draw with Chasetown
Last five matches:
October 1st Hereford (home) lost 0-2
Weaver, English, Morley, Gittings (sub Lane 90), Hood, Mace, Dunbar (sub Shamsi 71), Flanagan (sub Keane 79), March, Edwards, Anderson
Subs not used: Newey, Taylor
September 28th Chester (away) drew 3-3 Anderson, March, Edwards
September 24th Chasetown (away) won 2-1 FA Cup 2QR Replay March, Lane
September 21st Chasetown (home) drew 2-2 March 2 FA Cup 2Q
September 14 Farsley (home) lost 0-3
Last meeting: 27th April 2019
Darlington 1 (Nicholson 43) Leamington 1 (Bishop 78)
Turner, Trotman, Jackson, Holness, Ainge, Galbraith (sub K Elliott 48), T Elliott, Wheatley (sub Stansfield 88), Saunders (sub Lingthep 90+1), Nicholson, Thompson
Subs: Hall, Morrison
Leamington:
Breeden, English, Hood (sub Flanagan 66), Clarke, Mace, Lane, Murphy, Wilding, Bishop, Edwards, Taylor (sub Hodge 67)
Subs: Parker, Obeng
Last time at Leamington
Leamington 2 (Bishop, Edwards) Darlington 2 (Ainge, Saunders)
28th October 2018
Darlington: Maddison, Trotman, Hughes, Galbraith, Elliott (sub Syers 60); Henshall (sub J Burn 73), Wheatley, Nicholson, Thompson, Ainge, Saunders Subs not used: Glover, Hall, Lingthep
Leamington: Breeden, English, Gudger (sub Bowen 60), Clarke (sub Flanagan 60), Mace, Lane, Dunbar, Gittings, Dwyer, Edwards, Obeng (sub Bishop 46) Subs: Taylor, James
Admission prices: £13 adults, £9 over 60s, £6 student, £3 under 18s and free for accompanied Under 12s.
If the game ends in a draw, then the replay will be at Blackwell Meadows on Wednesday 9th October, kick off 7.45
If you're not going to the game, follow the match on Darlo Fans Radio, the official website and official Twitter!