Quakers looking for revenge at Chester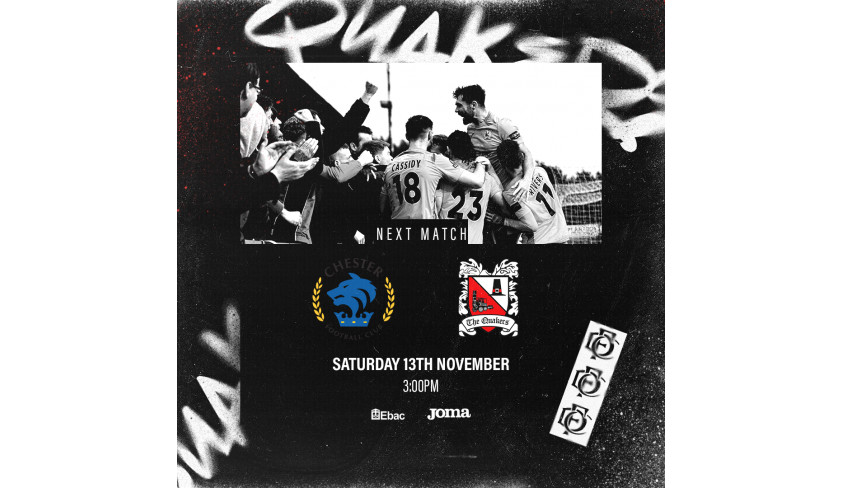 Aiming for a hat trick of wins
Chester v Darlington
Quakers are looking for revenge when they go to the Deva Stadium on Saturday.
The two sides met in the FA Cup in September, Chester scoring a late goal to come out on top.
Quakers are also looking for a hat trick of wins after beating Guiseley and Kettering in their last two matches.
Here's an interview with manager Alun Armstrong about the game:
https://darlingtonfc.co.uk/news/alun-hopefully-we-can-go-from-strength-to-strength
Team News:
New loan signing from Hartlepool Jake Lawlor is included in the squad
Danny Rose is on loan to us for another two montsh from Grimsby
Luke Charman is suspended, this will be his second game of three.
George Smith is out because of injury
Andrew Nelson is out with a knee injury
Lexus Beeden is on loan to Billingham Town until 24th November
Joey Hope is on loan to Guisborough until 21st November
Danny Ellis is still struggling with an ankle injury. Danny has signed a contract today.
Jack Lambert has signed a contract today.
Midfielder Alex Purver is suspended
League position: 12th (played 13, won 5, drawn 2, lost 6, goals for 24 against 20, points 17) Three points behind the play offs
Latest results:
November 6th Kettering (away) won 3-1 Lambert, Cooper, Hatfield
https://www.youtube.com/watch?v=L0f8iBFVSGs
October 30th Guiseley (home) won 5-1 Lambert, Cassidy, Hatfield, Mondal, Cooper
October 26th Southport (away) lost 0-3
October 23rd Leamington (home) drew 1-1 Dos Santos
October 16th Chorley (away) lost 1-2 Charman
October 9th Hereford (home) won 1-0 Charman
October 2nd Telford (home) won 3-0 Charman 2, Dos Santos
Chester have lost only once in six home games this season
League position: 13th (played 12, won 4, drawn 3, lost goals scored 22, against 22, points 15)
Recent results:
November 6th Boston (home) won 4-0 Redshaw, Williams, Jolley, Stephenson
October 30th Southport (away) lost 2-3 Dudley, Carver og
October 26th Gloucester (home) won 3-2 Dudley, Grand, Glendon
October 23rd York City (away) lost 0-1
October 9th Kettering (home) drew 0-0
October 5th Marske united FA Cup (home) lost 0-4
Recent matches between the two clubs:
September 2021 FA Cup Chester 1 Darlington 0
https://www.youtube.com/watch?v=7qc1moXGJ9M
January 2020 Chester 3 Darlington 0
December 2018 Chester 3 Darlington 1 (Wheatley)
May 2009 Chester 1 Darlington 2 (Abbott 2)