Quakers looking to break Nuneaton duck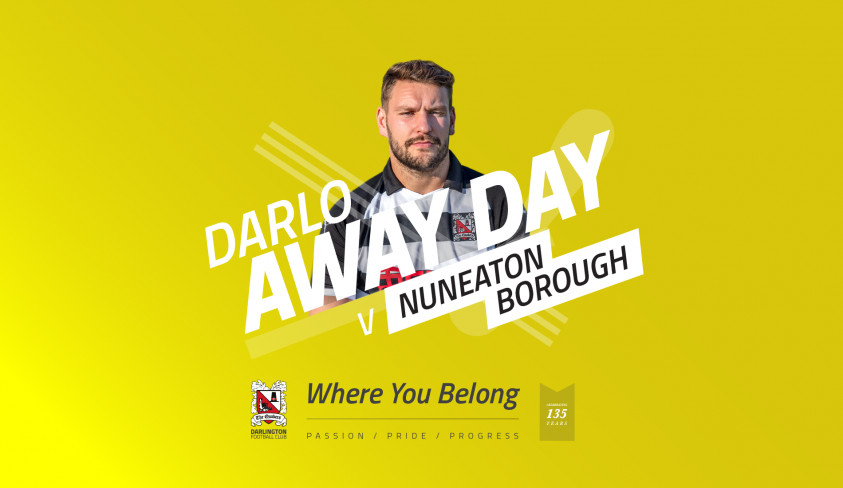 Visit to bottom of the table club
We travel to Nuneaton on Saturday looking to end our five game winless run – and also break our duck against Nuneaton.
In our five meetings with Nuneaton since we won promotion to the National North we have yet to win. Since we fell to a 4-2 defeat at Hereford two weeks ago three new players have joined the squad, Omar Holness, Kit Elliott and Ben Jackson who will all be available for the game.
Bottom of the table Nuneaton Borough had positive news off the field this week with a consortium ready to step in to try and save the club.
On the field though it appears just a matter of time till relegation from the National North is confirmed. They sit 17 points off safety with just 24 points to play for. They have failed to win in their last fourteen league games picking up just two points in the process. Nuneaton's last victory, a 2-1 success at Blackwell Meadows in December.
Saturday's game will be covered live on Darlo Fans Radio, and the club's official Twitter and website
Heads up to our travelling fans – there is a demonstration expected by HGVs on the M18 and M1, beginning at around 11.30am, and this will involve a go-slow. Fans are recommnded to plan their journey accordingly.
Stats pack
Darlington
League position: 18th
Away form: won 3, drawn 8, lost 6, goals for 27, goals against 37, points 17 out of 37
Team News: Romal Palmer is expected to have recovered from a knee injury picked up at Hereford.
Joe Wheatley missed the game at Hereford but is now fit..
New players Ben Jackson, Omar Holness and Kit Elliott are all included in the squad.
Leading scorer: Jordan Nicholson 9, Harvey Saunders 8, Andrew Nelson 6
Position in form table of last six matches: 18th
Last six matches
March 9th Hereford (away) lost 2-4 Elliott, Thompson
Darlington; Turner, Galbraith, Ainge, Smith, Trotman, Henshall (Kokolo 81), Elliott, Palmer (sub Glover 26), Kneeshaw, Nicholson (sub Saunders 70), Thompson.
Subs: Maddison, Lingthep
March 5th Telford (away) lost 1-3 Saunders
March 2nd Chorley (home) drew 1-1 Kneeshaw
February 20th Brackley (home) lost 0-2
February 16th Southport (home) drew 0-0
February 9th Blyth (away) won 1-0 Thompson pen
Nuneaton
League position 22nd
Home form: played 17, won 1, drawn 3, lost 13, goals for 13 against 41
Position in form table of last six league matches: 22nd (lost all six)
Last six matches:
March 9th Alfreton (home) lost 1-2 Edmunds (Barlone sent off)
C Belford, Obeng, Sharpe, Townsend (sub Allen 80), Addison, Calveley, Morrison-Derbyshire, Lussley, Barlone, Lundstram, Edmunds (sub Kelly-Evans 83).
Subs: T Belford, Birch, Baxendale,
March 2nd Kidderminster (away) lost 1-4 Townsend
February 26th Chorley (away) lost 0-2
February 23rd York City (away) lost 0-2
February 16th Spennymoor (home) lost 0-2
February 9th Boston (home) lost 1-5 Edmunds
Last time we met
8th December
Darlington 1 (Nicholson) Nuneaton 2 (Edmunds, Angus)
Darlington: Maddison, Trotman, O'Hanlon, Wheatley, Jonny Burn, Galbraith, Kokolo, Elliott, Saunders, Nicholson, Thompson
Glover, Aaron Burn, Lingthep, Lycett, Morrison
Booking: Jonny Burn, Wheatley
Nuneaton: Belford, Panayiotou, Kelly, Morrison, Addison, Calveley, Lyne, Edmunds (sub Leek 46), McGurk, Baker, Angus,
Subs: Kelly-Evans, Basso, Davies, Edobor
Booking: Panayiotou, Calveley, Kelly
Attendance 1064