Quakers on the Trophy trail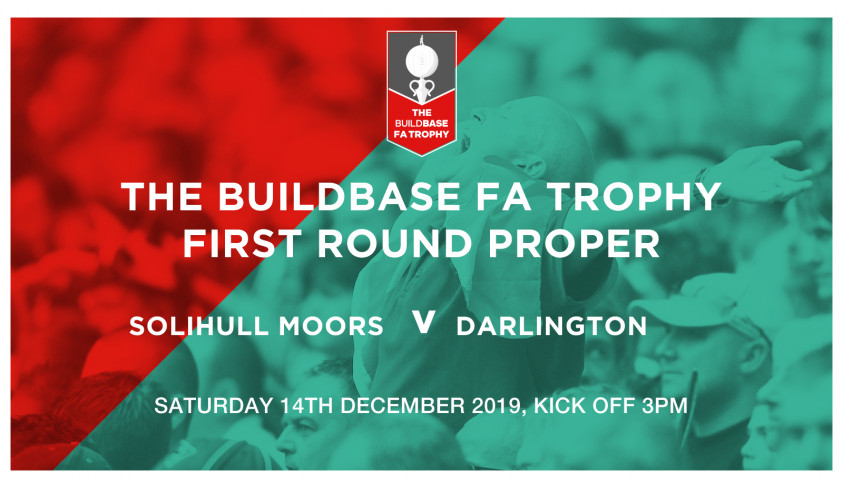 Looking to cause a Trophy upset at Solihull
Quakers head to Solihull on Saturday looking to continue our run in the Buildbase FA Trophy.
We beat Gainsborough in the last round, and now we're up against Solihull, who are flying high in the National League, and are managed by Tim Flowers, the former Blackburn keeper.
We go into the game with plenty of confidence, having beaten Chester 2-0 last week.
Here's your stats pack for Saturday's game
Darlington
National League North position: 5th
Away league form: Played 8, won 1, drawn 1, lost 6, goals scored 7 goals against 20
Away cup form: played 4, won 3, drawn 1, goals scored 10, against 3
Our last seven games:
December 7th Chester (home) won 2-0 Donawa, Holness
Connell, Hedley, Liddle, Wheatley, Laing, Storey, Rivers, Holness, Campbell (sub Thompson 76), Lambert (sub Watson 85), Donawa (sub Bascome 90+3)
December 3rd Leamington (away) lost 0-3
November 30th Telford (home) lost 2-3 Storey, Donawa
November 23rd FA Trophy 3QR Gainsborough (home) won 2-1 Lambert, Donawa
November 20th FA Cup 1RR Walsall (home) lost 0-1
November 16th Brackley (away) lost 1-5 Thompson
November 9th FA Cup 1R Walsall (away) drew 2-2
Leading scorers: 7 Adam Campbell, 7 Tyrone O'Neill, 6 Justin Donawa 5 Stephen Thompson
Team News: Right back Luke Trotman, striker Jamie Holmes and defender David Atkinson are all ruled out because of injury.
Liam Connell isn't allowed to play by South Shields, so Chris Elliott will be in goal.
Will Hatfield returns to the side after missing the last game because of suspension.
Solihull
National League position 5th (31 places between the teams)
Home league form : played 11 won 9, drawn 0, lost 2 goals for 22, goals against 9
Last six results:
December 7th Wrexham (away) lost 0-2
Boot, Vaughan, Reckord (sub Williams 78), Gudger, Howe, Ball, Gunning, Storer, Osborne, Beesley (sub Blissett 78), McCallum
Subs not used: Wright, Hawkridge, Jones
December 2nd FA Cup 2R Rotherham (home) lost 3-4 Osborne, Gudger, Ball
November 26th Stockport (away) won 4-1 McCallum 2, Hall, Osborne
November 23rd Dover (away) drew 1-1 Osborne
November 16th Fylde (home) won 3-1 Wright, McCallum, Howe
November 9th Oxford City FA Cup 1r (away) won 5-1 Ball 4, McCallum
Manager: Tim Flowers
Goalkeepers: Ryan Boot, Shaun Rowley
Defenders: Harry Flowers, Alex Gudger, Gavin Gunning, Callum How, Jamie Reckord, Lee Vaughan, Tyrone Williams
Midfielders: James Bell, Gael Bigirimana, George Carline, Darren Carter, Callum Coyle, Mitch Hancox, Terry Hawkridge, Sam Jones, Luke Maxwell, Jordan Murphy, Ryan Nesbitt, Jamey Osborne, Kyle Storer, Daniel Sweeney, Ben Usher-Shipway
Forwards: Jake Beesley, Nathan Blissett, Paul McCallum, Josh Neufville, Alex Nicholls, Matty Stenson, Danny Wright, Adi Yussuf
Last time we met:
26th November 1997
FA Cup 1st round replay
Solihull 3 Darlington 3 We won 4-2 on penalties . The teams drew 2-2 at Darlington.
Check out this match report from the Independent:
https://www.independent.co.uk/sport/football-solihulls-fightback-ended-by-penalty-shoot-out-1296588.html?fbclid=IwAR2lbxpSnrCkJhSF8eFVmN2oNqdMgvunzRHfyKqKq_2SrwcoD_E7zsGaQPo#r3z-addoor
Admission prices:
You can buy your ticket on the day from the Solihull FC box office:
Adults £12, concessions £9, Under 18s £5, Under 12s free with paying adult.
If you're not going to the game, follow the match on Darlo Fans Radio, the official website and official Twitter!