Rainbow Laces Day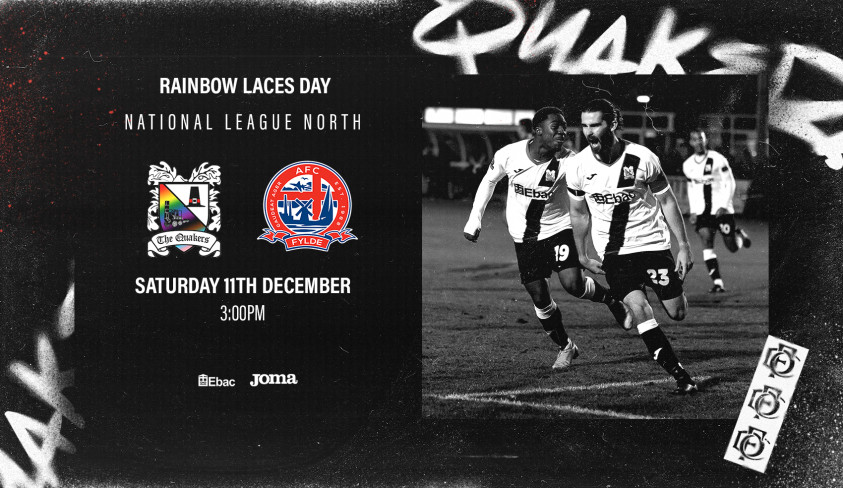 Lace up. Make sport everyone's game.

Darlington FC is delighted to announce that it will host its first ever DFC Rainbow Laces Day when we take on AFC Fylde on 11th December.
This particular game has been chosen due to its close proximity to Stonewall's Rainbow Laces Day on Wednesday 8th December.
Each year, Rainbow Laces Day celebrates the impact that sport has on LGBTQ+ people, and the impact that LGBTQ+ people have on sport, allowing us to consider how we can all play our part in making sport everyone's game.
As a fan-owned, community-based club, Darlington Football Club is committed to equality, diversity and inclusion. The role that we play in the lives of many different groups of people across the town and wider region cannot be underestimated and it provides interest, passion and enjoyment for thousands of supporters.
People are the lifeblood of the club, regardless of their individual backgrounds or personal circumstances. We actively promote equality, diversity and inclusion in all our behaviours, practices and values at Darlington Football Club.
We aim, therefore, to bring people together through football in a way that supports positive change, makes people feel valued and improves the lives and inclusive experience of our fans and wider community.
On this basis, the club is a proud supporter of the LGBTQ+ community, and the fantastic work Stonewall does in this area.
This will be celebrated through our very first event of this kind on Saturday 11th December, with a series of initiatives and events to embrace the diversity of our fan base and town at Blackwell Meadows.
This will include both the DFC men's and women's teams sporting rainbow laces that weekend, as well as respective team captains – Will Hatfield and Toni Upton – wearing rainbow armbands. Popular local drag queen, Miss Ann Bag (AKA Peter Miller), will help host the day by appearing on the PA during our half-time 'Spot to Spot' competition and handing out rainbow flags, badges and stickers around the ground with our very own Mr Q.
Local Pride and LGBTQ+ groups will be present on the day, both with stalls around Blackwell Meadows and in hospitality, to help us celebrate the day, further embed inclusivity and help raise awareness of LGBTQ+ community issues.
In the week leading up to the game, we will hear from club players and officials as well as from fans themselves, on why this event and our support of the LGBTQ+ community is so important.
The last two years have been like no other for everyone and it's now more important than ever that we raise awareness and support the LGBTQ+ community. Together or apart, online or on the pitch, we need to build on our work in the community to make football everyone's game.
You can play your part by visiting both https://www.stonewall.org.uk/teampride and https://www.stonewall.org.uk/our-work/campaigns/rainbow-laces to support the national campaign.
We're looking forward to welcoming our friends from the LGBTQ+ community to Blackwell Meadows on Saturday 11th December and giving everyone a great day!
Darlington Football Club is for anyone and everyone. For the fans, by the fans.