Ray Simpson / 18th June 2017
[caption id="attachment_33181" align="alignnone" width="960"] Nathan Mulligan (right) celebrates sco...
---
[caption id="attachment_33181" align="alignnone" width="960"]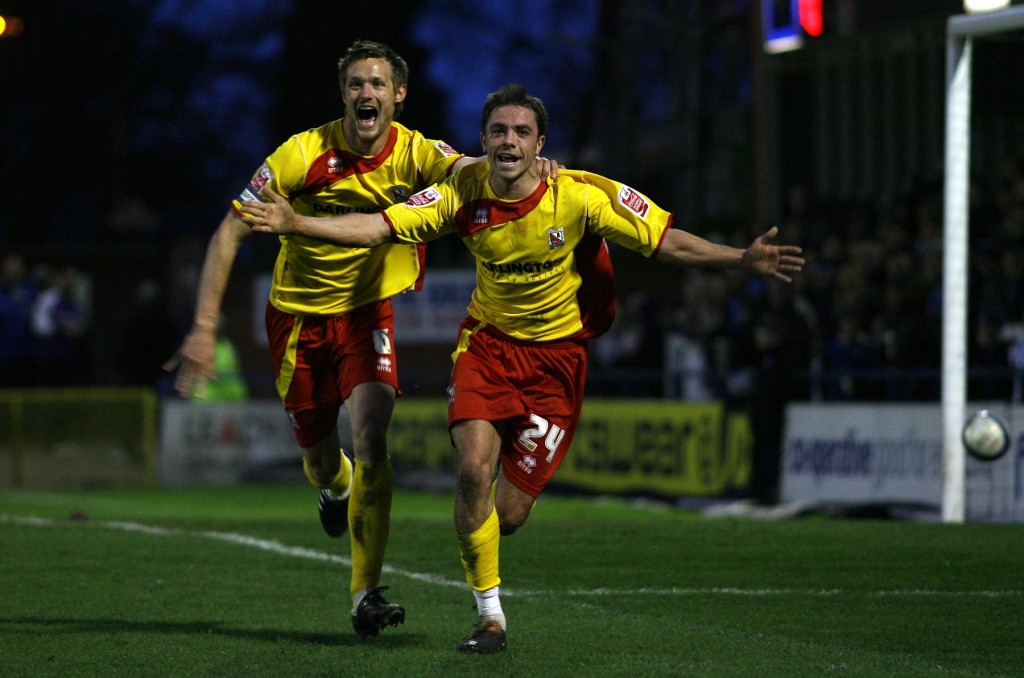 Nathan Mulligan (right) celebrates scoring for Darlington in the first half.[/caption]
Nathan Mulligan (by Craig Stoddart)
Season 2009-10 is not one fondly remembered by Darlington supporters, it being the campaign that saw the club relegated from the Football League for a second time, ultimately leading to where we are today, though it was not without its memorable moments.
Over 50 players featured for Quakers during that dismal season, but one of Steven Staunton's signings, Nathan Mulligan, helped provide one of the few highlights of the year: An away win at promotion-chasing Rochdale.
Mulligan was in and out of the side after signing from Norton and Stockton Ancients. He made his first start in 11 matches at Spotland just a few games before the end of the season when 5,371 were in attendance as Dale expected to seal their first promotion since 1969, but they were left stunned by Mulligan's first half header.
On 35 minutes, Mark Convery's corner was cleared only to Gary Dempsey who swung the ball back in for Mulligan to firmly plant a header beyond Frank Fielding.
The goal was Mulligan's first – and last - in Quakers colours. Aside from the small pocket of travelling fans, Spotland fell silent as expectant supporters digested the fact top of-the-table Dale were losing to relegation-bound Darlington.
At the scene of Darlington's heart-breaking penalty shoot-out defeat in the play-offs two years earlier, Keith Hill's side put Darlington under relentless pressure, piling forward an equaliser appeared inevitable for a side that included midfielder Gary Jones, who is now with Bradford City and played in last week's League Cup win over Aston Villa.
But an Ian Miller-led Darlington defence managed to keep out Keith Hill's side, who would eventually go on to achieve promotion.
Alas, the win was not enough to stave off relegation. Classic Quakers, that same night Darlington dropped through the relegation trapdoor due to third-bottom Cheltenham collecting a point at Shrewsbury, but with relegation having been a certainty for sometime it couldn't take the shine off Quakers' amazing victory nor could it detract from Mulligan's moment in the spotlight.
Share this