Remembering 1996 -- Simon Shaw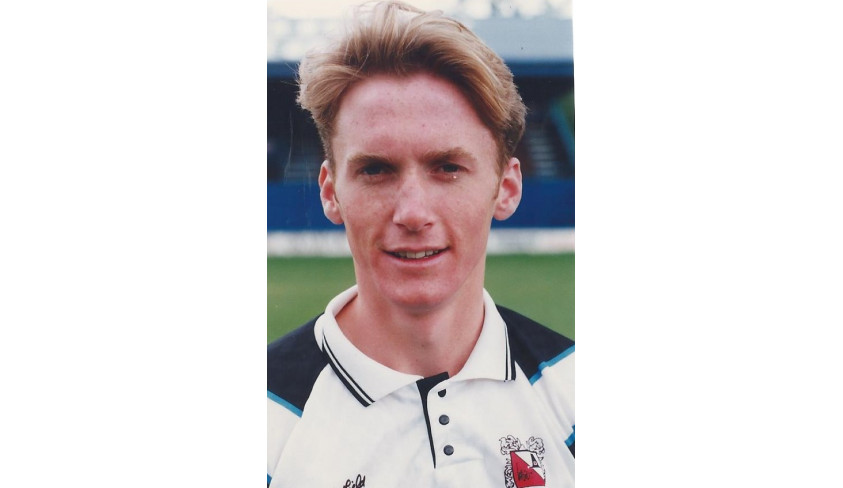 The defender who missed the 1996 final because of injury
In the latest of our series celebrating our appearance at Wembley in 1996, Andrew Wilkinson spoke to Simon Shaw in this article that was first published on our website and in our matchday programme in 2016.
When Simon Shaw stepped into Feethams to sign for Darlington, he was a timid 16-year-old straight out of school.
Now, 26 years on, rather than receiving lessons he is delivering them, for he is a primary school teacher on Teesside, at Whinney Banks School.
And even when away from work he is surrounded by children, for he is a father of four. "When I remember some of the lads I played with at Darlington, I'm sure my young pupils are more mature," he smiled. "All these years on I still miss the dressing room banter."
And Simon's 'education' at Feethams was not what a young footballer would expect these days. "As an apprentice now, the things we had to do would never be on the agenda," he recalled. "Sean Gregan and I had to paint the rusty Feethams railings and rotten wooden fencing. I can still remember the smell of the pots of blue paint.
"Another job was doing the weeding in front of the Quaker Centre. Some of the weeds were taller than me and Greegs! But there was no escaping among the weeds; not with Tony McAndrew standing behind us cracking the whip."
Simon worked hard at the chores and even harder on the training ground, and made the grade, going on to play 199 games for the Quakers, scoring 14 goals. He was a midfielder who converted to full back, and while he was a handy defender, he relished getting forward to send in pinpoint crosses and get in long range shots.
In the Farewell to Feethams book, he recalled his best ever goal, a 25-yarder at Scunthorpe that flashed into the net off his bootless foot.
"My boot had flown off in a tackle seconds earlier, but I was so confident I decided to whack the ball anyway and it few into the corner."
It was a far cry from his first goal, which came in a 3-0 win at Colchester (Ian Juryeff and Paul Dobson scored the others, each making their debut.) Simon set the ball rolling, literally, with one of the tamest shots imaginable. A defensive mix up left him with an open goal, but he hit the ball so tentatively that it just managed to trickle over the line.
His career blossomed when Billy McEwan took over as manager. The tough Scot was not a favourite of all the players but he believed in Simon, who grew in confidence and became a fixture in the side.
His fine form continued under David Hodgson, and Simon, by then a right-back, was a key figure in the side that stormed to Quakers' first ever Wembley appearance, a play-off final against Plymouth.
Under Hodgson a rebuilt team underwent a transformation. From strugglers suddenly Darlington were winners, and the momentum continued after Hodgson left and Jim Platt took sole charge.
Quakers lost only one away game in that season of 1995-6, and Simon said: "We didn't realise at the time how good that team was. If we were guilty of mistakes it was to settle for away draws when we could have won. We went into every match feeling that we were not going to lose."
And there was some strong opposition in that season, including Preston, Cardiff, Wigan and Doncaster – all teams that went on to much bigger things. Sadly the season ended in defeat at Wembley, Simon being sidelined by a jaw injury sustained before the play-offs.
But missing out on playing at Wembley was not the only bad memory of the play-offs.
"The players were desperate to win, but to this day I'm not sure that the club really wanted promotion. Some of the preparation was not ideal.
"We had to wear shabby tracksuits that didn't turn up at the hotel until the night before the final. Plymouth were suited and booted and looked a million dollars. There were financial clouds hanging over Darlington and the lads got the impression that the club could not afford the cost of going up a division."
So Simon and his teammates didn't get a winners medal, though he still has a metallic reminder. The plate needed to stabilise his jaw remains to this day, and probably for life.
"It doesn't bother me," he said. "But every time I fly I expect it to set off the airport scanner, though so far it never has done!"
Simon stayed at Darlington a couple more seasons, but then left for Doncaster, though Cardiff were also interested in him.
From there he went to Barrow, where the team was part-time but talented. "Kenny Lowe was manager – he's at Perth Glory now. Also in the Barrow side were my old Darlo mates, Steve Gaughan and Michael Oliver.
"After three years I moved to the Northern League to play for Billingham Synthonia, then Thornaby, and Bishop Auckland. I went to Synners because the pitch was great and suited me. I didn't want to play on a ploughed field."
He still loves playing over 35s, these days in a pub team where it's a laugh and a joke, and, he admits, a way of keeping the flab at bay – though he's still a winner. "We had a good over 35s team at Thornaby last year with ex-pros Willie Boland, Neil Campbell and Ian Clark (who also played for Quakers). But the manager left because of family commitments."
Family commitments also keep Simon busy these days, as does his new career. He studied for a degree at Teesside University, then worked with difficult children who had problems, many having been excluded from school.
That gave him a taste for teaching and he took a Post Graduate Certificate of Education before taking on his current role. Perhaps in future he will coach the school football team.
He still loves the game and follows the fortunes of the Quakers. "It's the first result I look for. I spent a lot of years at the club and am still in regular touch with Mark Barnard, Steve Gaughan, Michael Oliver and Robbie Painter among others."
He is in contact with some Darlo fans via the Tin Shed Facebook, and recently Simon showed his dad (who always came to watch him play at Feethams, and throughout his career) some pictures of the ground now, as a housing estate rises from the site of so many memories.
"It's a shame the club ever left for the White Elephant (The Arena)," said Simon. "The finances were not always sound at Feethams, but at The Arena it must have been impossible. I hope the club bounces back, but it will be hard to reach the Conference without going full time professional again. However I'm delighted with the two promotions and wish the club well.
"But I don't feel they should have been relegated so far. I think they were treated very badly by the football authorities especially when you consider the club's long history and all those decades in the Football League."
But at least the club is on the up again. When we return to Darlington if ever a lick of paint is needed, then perhaps Simon and Sean Gregan can resurrect their decorating double act.