Stadium advertising at Blackwell Meadows from £50 per month!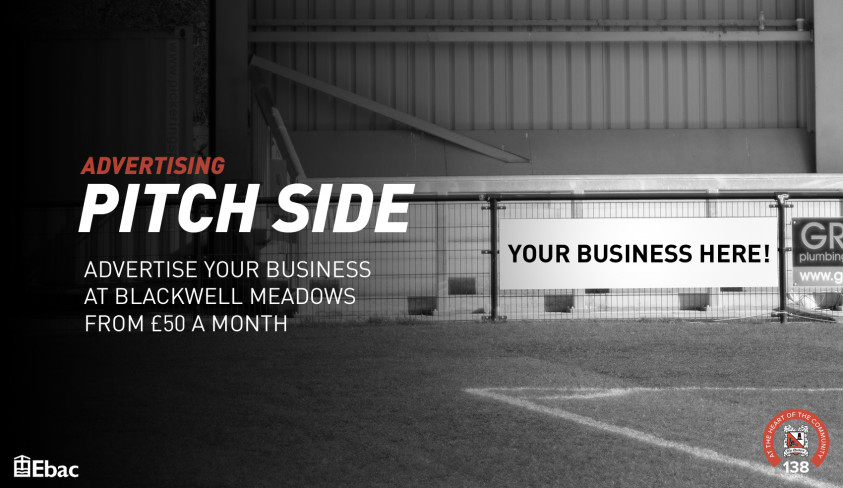 Advertise your business at a DFC match
Stadium Advertising at Blackwell Meadows for £50 per month!
Several options available around the ground.
Firstly, the Club would like to thank all those local businesses that have purchased an existing advertising board at Blackwell Meadows for their fantastic advertising sponsorship. Your support has been very much appreciated. We are very hopeful that the ongoing lifting of COVID restrictions over the next few months, will allow us to welcome fans back to Blackwell Meadows in time for the start of the 2021-22 season.
Darlington FC has been at the heart of the community since we were formed in 1883. Now as we emerge from the pandemic, we are all set for the next exciting chapter in our club's history. Under fan ownership since 2012 we have achieved three promotions, a return to the town and in each of the last two seasons we've featured live on both the BBC and BT Sport thanks to our thrilling FA Cup runs.
As we look forward to welcoming our supporters back in person, we are reaching out to the business community and inviting you to join us on the next step in our exciting journey. Under the management of Alun Armstrong, assisted by Darren Holloway, we are set for another exciting season on the pitch.
There are loads of way to get involved including our pitch-side advertising. Installed at the ground, these advertising boards are a great way to promote your business and show support for the club. They offer superb brand awareness and give your business the opportunity to reach thousands of fans, visitors and community each year! The boards also feature in media photos, TV coverage and promotional material throughout the season.
All advertising boards are purchased on a 12 month agreement and if you prefer, payments can be made by instalments spread across the entire 12 months which means the price can start from just £50 per month or one payment of £500.
Pricing:
Pitch side £500+VAT
Seated stand £750+VAT
Tin Shed £1000+VAT
All existing advertising boards around Blackwell Meadows are now up for renewal (unless the board is part of an existing, current and ongoing wider partnership deal with the Club). The deadline for the renewal of your existing advertising board is 1st June 2021. If you renew, this guarantees your advertising board will remain in situ for any home pre-season games and all home league/cup games at Blackwell Meadows for the entire 2021-22 season. Payment for advertising board renewals is due before 1st June and payment by instalments is also available. Renewal is easy and all you have to do is confirm your renewal by email to commercial@darlingtonfc.org, clearly stating your preferred payment method and you'll receive an invoice for payment to reflect this. It is also very important to inform the Club if you do not intend to renew your advertising board as soon as possible, so that it can be removed to create spaces for new advertising sponsors.
Existing advertising board holders will receive a personal email in the next few weeks, where we hold this data, to remind you of the information above regarding renewals.
Darlington Football Club again thanks existing advertising sponsors for their support and we also look forward to local businesses adverting with us for the first time, ready for next season.
Want to join us and secure your spot for next season? Email Dave Mills: commercial@darlingtonfc.org or contact us on LinkedIn.