Stat pack for Saturday's away game at Altrincham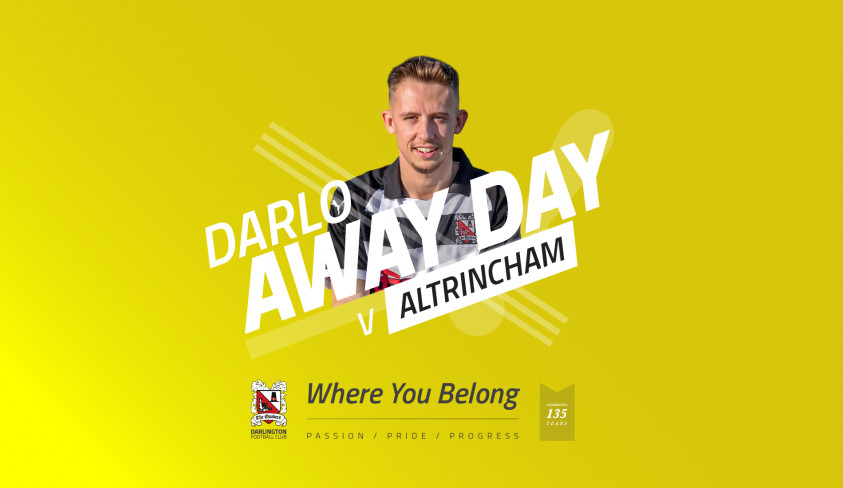 A look ahead to Saturday's game
Here are all the stats for Saturday's away game against Altrincham
Quakers will include two new loan signings in the line up at Altrincham on Saturday.
Manager Tommy Wright signed Will Smith and Romal Palmer on Friday, and they go into the squad for the tough away game at Altrincham, who are third in the table at the moment.
Quakers went down 3-2 at Chorley last Saturday, but nevertheless produced a good performance, with on loan striker Andrew Nelson scoring twice.
Striker Harvey Saunders is also in good form, having scored a hat trick in the midweek Durham Challenge Cup tie against Stockton Town.
"To score three in a game is special, especially as it's my first for the club at any level," he said.
"Jordan Nicholson set up two for me, he could easily have gone on and tried to score himself, but he set me up instead. He put two great balls through for me to score, and another his shot hit the post and I was the first to react.
"It was nice to win a game. We've been playing well recently, but not got anything points-wise."
Stats pack
Darlington
League position: 17th
Away form: played 10, won 2, drawn 5, lost 3, goals scored 19, goals against 22, points 11 out of 20
Team News:
Defender Liam Hughes and forward Simon Ainge are both out injured, Alex Henshall is fully fit.
New loan signings Will Smith (centre half) and Romal Palmer (attacking midfield) come into the squad, which means that Tommy Wright has five loan signings in his squad, the others being Andrew Nelson – who scored twice last week at Chorley – Alex Wollerton and Williams Kokolo
Leading scorer: Jordan Nicholson 6
Position in form table of last six matches: 21st
Last six matches
December 15th Chorley (away) lost 2-3 Nelson 2
Darlington: Maddison, Trotman, Kokolo (sub O'Hanlon 58) , Wheatley, Burn, Galbraith, Wollerton, Nicholson, Saunders (sub Glover 76) Nelson, Thompson
Subs: Hall, Lingthep, Morrison
December 8th Nuneaton (home) lost 1-2 Nicholson
December 1st Chester (away) lost 1-3 Wheatley
November 23rd Telford FA Trophy lost 0-2
November 17th Hereford (home) drew 2-2 Syers, Nicholson
November 3rd Guiseley (home) drew 0-0
October 30th Bradford PA (away) drew 2-2 Nicholson 2
Altrincham
League position : 3rd
Home form: Played 10, won 5, drawn 2, lost 3, goals scored 20 goals conceded 11, points 17 out of 34
Position in form table of last six league matches: top
Last six matches:
15th December FA trophy Stockport (home) lost 0-1
Team: Wynne, Richman, Densmore, Harrison, Langley, Moult, Mantack (sub Johnston 58), Williams (sub Hampson 62), Hulme, Hancock, Hemmings (sub Gabidon 79)
Subs not used: Jones, Thompson
8th December Telford united (home) won 3-1 Hancock 2, Hampson
1st December Brackley (away) won 2-1 Richman, White
24th November Bradford PA (home) won 4-0 Johnston, Hulme, Hancock, Mantack
17th November York City (home) won 3-0 Hancock 2, Moult
10th November Chester (away) won 2-1 Hulme 2
Previous meetings
2018-19 Darlington 0 Altrincham 3
2016-17 Altrincham 2 Darlington 2 (Burgess, Galbraith), Darlington 3 (Beck, Falkingham, Galbraith) Altrincham 1
On Saturday, you'll be able to bet on the game, thanks to our partnership with FansBet.
You'll also be able to follow the game on the official website, twitter and Darlo Fans Radio, with post match interviews and highlights on the club's YouTube channel.