Under 11s score thirteen in comfortable win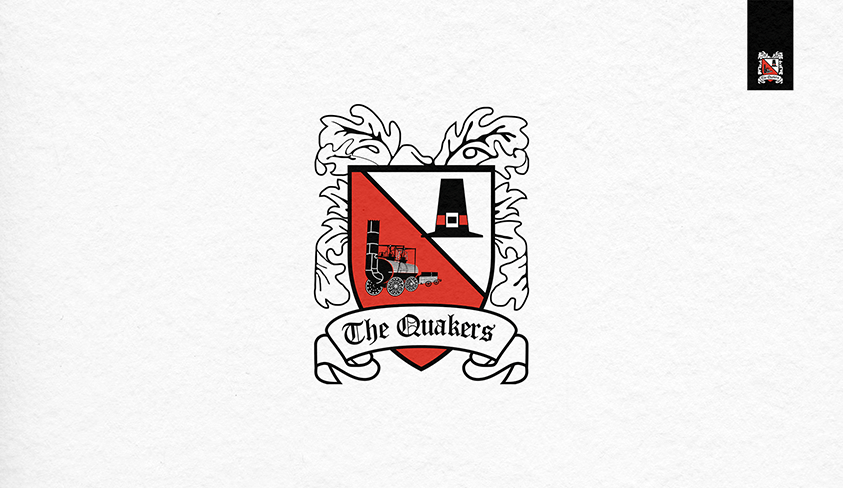 Youngsters run riot
Darlington FC Under 11s will be providing the guard of honour for Saturday's home game with Stockport County.
Back row left to right: Rudi Sartini , Tyler Smith , Jack Shaw , Luke James , Jesse Nelson , Ryan Willesden
Front row left to right: Ashton Newall , Lincon Newall , Ben Snowdon, Ellis Moss
Darlington F.C U11s match report
Match report by Warren Newall.


(Please note that because of FA rules, we are not allowed to identify the opponents of teams aged 11 and under)

It was a bit of a slow start again for the U11s with some key players missing for the league game.

On the 15th min Tyler open the scoring from a clever little pass off Rudi 1-0.
2 mins later Tyler scored his 2nd from a great reverse pass off Issac 2-0 .
On 21 minutes Rudi opens his account for the day from very good work off Will 3-0.
Five minutes later a strong run from Lynx down the right, crossing for Rudi to score his 2nd 4-0.
On 28 minutes some brilliant wing play by Ellis set up Rudi for his hat trick
5-0.
After a quick long throw off Lynx, Tyler's first time shot was tapped home by Rudi
6-0.
On 38 minutes Tyler picks up his hat trick after a goal keeping error 7-0
In between all the scoring of goals, the way the defence of Ben and Ashton controlled the game was fantastic. Whenever Luke in goal also had things to deal with he never put a foot wrong, sometimes playing as a centre half and clearing the ball out of danger.
On 39 minutes some more strong running down the ring wing from Lynx for Tyler to score again 8-0.
43 minutes Will wins the ball in a tackle, it falls to Rudi for number 9.
The 10th goal was definitely the best one. It started with Luke in goal played out to Ben then Issac into Will passed off to Ashton squared to Ellis up to Tyler and over to Lynx for Rudi to score his double hat trick.
On 56 minutes Ellis plays a great ball into Lincoln's feet, he beats his man and fires into the net 11-0.
58th min good work by Ashton results in a well deserved goal for Will 12-0.
On 60 minutes after Ellis fantastic all round play he also managed to get on the score sheet 13-0.

It was a very strong performance from the boys and we hope it continues.
Great away win for Darlington FC Feethams Under 8s
Report by Bailey Ramrekha

The Feethams were away in their second league game of the season. They started really well having most of possession and creating some great chances.
A great run from Mikey Dowson was cleared for a corner to the Feethams, Mikey took the corner himself and drilled it into Ethan Sweet who pretended to shoot but cleverly let the ball run past him for striker Jack Liddle who smashed the ball over the keeper's head for 1-0. The ball fell to Harry Faso in our half, he took his time and spotted striker Jack Liddle just outside the box, Jack dribbled the ball past his opponent and slotted the ball for his and the Feethams second of the game. A great run from defender Ethan Sweet, he started from the edge of his own box and ran with the ball skipping past 3 players, he looked certain to score but his shot just flew wide of the goal.
Half Time 2-0 Feethams.

Feethams started slowly in the second half, the lads just switched off for one moment in the game and from that they conceded. A ball over the top found our opponents' right midfielder and he smashed it past Reece to make it 2–1. Although from there the Feethams stepped it up keeping possession really well. A pass up from defender Henry Taggart to striker Mikey Dowson who straight away smashed his shot straight at the keeper, Mikey's partner upfront Jack Liddle was quick to follow up the shot into the goal for his trick for Jack.
The Feethams had restored their two goal advantage and after a few minutes the Feethams added another. Henry Taggart played a smart through ball up to Mikey Dowson who was fouled outside the box, Mikey stepped up to the free kick and smashed the ball past the goalkeeper. 4-1 to the Feethams.
The game looked destined to finish with a Feethams 4-1 win, however in the final minutes defender Henry Taggart executed a perfectly timed tackle and played the ball up to Mikey Dowson, just before the defender went to tackle Mikey he just rolled the ball past him with ease and smashed the ball through the keeper's legs to make it 5–1.
Man of the Match - Ethan Sweet
Last weekend's results were:
Under 7 Quakers won 16-1
Under 8 Feethams won 5-1
Under 8s Quakers lost 9-0
Under 11 won 13-0
Under 12 lost 2-1
Under 13 won 15-2
Under 13 girls lost 4-2
Under 14 midweek won 5-0
Under 15 Feethams lost 11-0
Under 16 lost 1-0
Under 17 won 2-1
Under 18 lost 6-3