Win £1000 and other prizes in the Darlington FC Christmas Draw!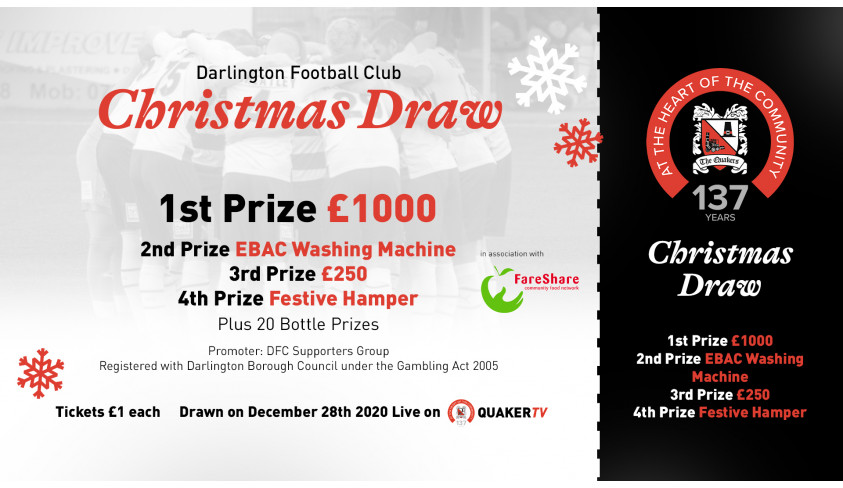 Plus loads of other prizes
Fancy taking home a £1,000 cash prize or winning a *brand new* Ebac washing machine between Christmas and New Year? Well, now is your chance as we officially launch the Darlington FC 2020 Christmas Draw!
Promoted by DFCSG and in association with FareShare, the DFC Christmas Draw is offering you some great prizes this year:
Second prize:an Ebac washing machine
Fourth prize:a festive hamper
...plus 20 bottle prizes!
Last year we sold a fantastic 5,500 tickets and, whilst times are hard this year and fans are not able to attend home matches, we are looking to smash that target this year via the sale of tickets as with the Virtual 50/50 Draw.
So, want to play? It couldn't be easier...
To enter, simply fill in the form on the Christmas Draw page on YOURCLUB (https://yourclub.darlingtonfc.co.uk/christmas-draw), select how many tickets you want (tickets are £1 each) and enter your payment details. Easy! You will then get your ticket numbers on an email by return.
Entries close at midnight on Sunday 27th December 2020. Any entries after this date shall be deemed invalid.
The Christmas Draw takes place on Quaker TV at half-time during the Blyth Spartans game on Monday 28th December 2020.
DFCSG board member Rob Duncan, who very kindly organises the Christmas Draw each year, has asked if fans could make donations to the bottle prizes. Rob will happily collect bottles from those kind enough to donate. You can contact Rob if you wish to donate a bottle prize, or if you have any further questions about this year's Christmas Draw, here: rob.duncan@darlingtonfc.org.
Please make sure you read the Terms & Conditions on the Christmas Draw page on YOURCLUB before you enter and, don't forget, you can join Rob in becoming an Owner of Darlington FC via YOURCLUB.
Fareshare, the UK's largest charity fighting hunger and food waste, will receive a charitable donation --- ten per cent of the profits -- via the draw. You can learn more about them and their work here: https://fareshare.org.uk/. Marcus Rashford became an ambassador of Fareshare earlier this year.
We want to make DFC's 2020 Christmas Draw the most successful yet, so please spread the word and send this link - https://yourclub.darlingtonfc.co.uk/christmas-draw - to as many friends, family, work colleagues, etc, as you can. Access to this page is 'Public' so literally anyone can buy tickets and take part, not just Darlo fans.
So, get buying those tickets, pass on the link and good luck!