In Memoriam
Alan Sproates was one of Darlo's best ever players. Ray Simpson, who got to know him well after the Farewell to Feethams celebrations, pays tribute. (February 2015)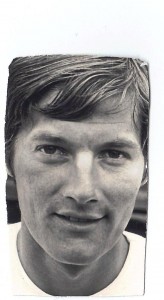 Alan Sproates, one of Darlington's best ever midfielders and nicknamed "Quick Quaker Sproates", died suddenly earlier this month at the age of 70.
Born on Wearside, Alan started his football career as an apprentice at Sunderland, and rubbed shoulders with Bobby Kerr, who famously lifted the FA Cup as Sunderland skipper in 1973. Alan played the video of that famous final against Leeds on several occasions when he had visitors at his home in California, and every time jumped with joy when Ian Porterfield scored.
Alan couldn't break into the Sunderland first team, and at the age of 19 in August 1963, he moved to Third Division Swindon Town.
But he only played five games for the Robins, one of which was a career changing game for Swindon in their 2-1 League Cup defeat at Darlington in September 1965.
Boardroom talks followed immediately after that game, and Alan came to Feethams along with £8,000 in cash, with Feethams crowd favourite Jimmy Lawton going in the opposite direction. Alan always thought that Darlington assistant manager Jack Watson, who knew north east football inside out, played a major part in bringing him back to the region.
Alan formed a strong midfield partnership with Ray Yeoman in which "Yogi" would win the ball in the tackle and then give it to Alan to get the attack going. He made an instant impression with the Darlington fans, starring in his Feethams debut in the 3-0 win over Bradford City on September 25th 1965.
"Quakers have found a winner in Sproates," was the Echo headline. Reporter Bob James told fans to forget about Jimmy Lawton. "Those fans mourning the departure of Jimmy Lawton can wipe away their crocodile tears, for Darlington look to have found a winner in Alan Sproates. Quick Quaker Sproates settled in straight away. He's a player of obvious class, and fitted in like a well-worn glove."
He was a winner all right, Alan's arrival was quickly followed by that of Bobby Cummings from Newcastle, and he provided some of the ammunition for Cummings to help fire Quakers to promotion that season.
Alan always remembered that exciting climax to the promotion season when Quakers clinched promotion for the first time in over 40 years with a goalless draw against Torquay in front of a 16,469 crowd. "That was an amazing day when the final whistle went, all the crowd came on the pitch to celebrate. That day was probably the highlight of my career," he said.
The following season in the Third Division, was somewhat different though. Manager Lol Morgan left soon after promotion was won following a dispute with the board, and Quakers struggled with the higher level of football.
Two games stood out for Alan, though, for different reasons. Middlesbrough were also in the third division then, and in the stormy game at Ayresome Park that Boro won 4-0 he was sent off for supposedly kicking Boro's Arthur Horsfield.  To be dismissed was quite rare in those days when the game was much more physical than it is now and referees were much more tolerant. Alan feared the worst when he was summonsed to an FA hearing. But to his surprise, he received an offer from Horsfield to accompany him, in order to tell the FA people that Alan's studs had got caught in his shorts, and Alan was only trying to free himself. The FA decided that the ref had got it wrong, and Alan was let off.
Later in the season, QPR, then in the third division, won the Football League Cup by beating First Division West Brom 3-2, and the week after their triumph, they played in the league at Feethams. The Londoners' star player was midfielder Rodney Marsh – who was one of the football pin ups at the time -- and manager Jimmy Greenhalgh told Alan to mark him out the game, which he succeeded in doing to a large extent, even though Quakers lost.
Afterwards, the pair bumped into each other in a bar in the town, and Marsh remarked when he saw Alan; "Blimey, are you still following me about?"
Alan was never regarded as a goalscorer, more a creator. He only scored 19 goals for Quakers in 346 appearances, but Darlo fans remembered his outstanding performances over his decade at the club, and he was voted one of Darlington's best ever all players when the club left Feethams in 2003.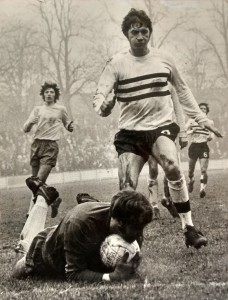 After a run to the League Cup quarter finals in 1967 – many thought that Alan had one of his best ever games in the defeat against Brian Clough's Derby County at the Baseball Ground -- and a promotion near miss in 1969, Quakers' fortunes dipped and they had to apply for re-election twice, but Alan remained loyal as the club changed its manager on a regular basis.
He once recalled being summoned, along with all the other senior players, to the home of chairman George Tait, to discuss whether the manager at the time, should be sacked.
He was also given the opportunity to become a football pioneer, playing in the USA and Australia during the English close season, and it was in the early 70s when he rubbed shoulders with several football greats, including Pele.
He left Darlington in 1974 and had two seasons at Scunthorpe, before going to live in the USA. Maybe the warmer climate and a new challenge appealed to him.
After he quit pro football, he continued playing and coaching, and still took an interest in what was happening at Darlington FC.
He returned to a hero's welcome with the rest of the 1966 promotion winning team when the club held a reunion in early 2003 – sadly Bobby Cummings who also attended that day is no longer with us – and he returned again for the Farewell to Feethams celebrations at the end of that season before the move to the Arena.
When the club endured its first administration soon after then, he and his wife Bonnie held a fundraising event for the club in California and sent the money over for the fund. I took a Darlo shirt over once, and he was well pleased.
He visited the Darlington Arena a few years later, and like many others was both flabbergasted and bemused by the size of it all. "How are they going to fill this?" he said. "We got big crowds when we won promotion, but nowhere near this big."
From my own personal point of view, the Farewell to Feethams celebrations produced a lasting friendship, because Alan and Bonnie invited me and my wife to stay with them in California. What a wonderful and kind gesture that was, one which we'll always be grateful for. I don't know how many times I've seen the Sunderland FA Cup win, but I know Alan was delighted when Darlo won the FA Trophy on that memorable day in 2011. He would have loved to have been there, because after all in his playing days the only hope a player had of appearing at Wembley was in the League Cup final or FA Cup final -- and there wasn't much chance of Darlo doing that in those dismal early 70s. They were happy then just to win a cup tie.
Alan was highly thought of by fans who can remember him playing, and several wrote some touching tributes when they heard that he had passed on.
Ian Taylor: "I can recall Sproatsy and Allan Gauden being our "flair" players at the time. Gauden on the wing and Sproatsy in an attacking midfield role.
I have grown up remembering special players over the years and Alan was one.
I think it was his golden locks that made him special!! He looked and played differently to the rest. He had that control and movement. He was as I remember always attacking defences and going round them with skill and a purpose. A real legend."
Fan for life: "I remember back in the early seventies when I was in my last year at Hurworth Secondary Modern School. We had an end of season pupils against teachers match. the school must have asked the club if they could send somebody down to play in the match and that somebody was Alan Sproates . He smiled his way through the game and seemed a really nice bloke . r.i.p"
Kentquaker: "I went to Alan's testimonial in the seventies against Middlesbrough. I remember on the front of the programme a picture of Alan with Pele. Sad loss RIP Alan."
Alan Sprouts: "My favourite player from 1967, the start of my Quaker career. Hence the name tag. God bless Alan and thanks."
Rumpelstiltskin: "Without doubt a member of Darlo's best ever 11. RIP" DickDarlington: "Sproates is from way before my time, but some of the older guys I know often go on about him. He must have been quite a player for us to be remembered so fondly."
Joe Jaques: " One of my childhood heroes, RIP Sproatsie"
Darlo Spike: "Very sad news indeed! RIP Alan."
Seaton Quaker: "The first time I went to Feethams was for his testimonial in 1974, I was hooked from then on. RIP"
Peter Stockill: "A true gent and Darlo legend,"
Steve Nicholson: "He was a member of the great side of 1965-66, the first season I supported them. A friend of mine caught Alan's shirt when he threw it into the crowd after the last game of the season, against Torquay. A great asset to the club, and one of the very few players whose name has endured over the decades."
Footifan: "A quality player. I just commented in the last week or so about him doing keepy up in the corner during a match at Doncaster in front of a massive crowd, winning free kick after free kick to help hold onto a 1 - 0 win. The last time I saw him he looked the picture of health. " Neil Johnson: "Certainly one of the best players I have seen in a Darlo shirt in 57 years of supporting the Quakers. He seemed like an ever present, who wasn't accorded star status, like the strikers, but to the fans he was a dependable attacking midfield player through some great years and times of board-induced trouble. He had a particularly good game against Derby away in the league cup 4-5 defeat."
The club would like to send its condolences to his wife Bonnie and family.