Quakers win shootout to go through in Trophy
Quakers into the last 32
FA Buildbase Trophy third round
Darlington 2 AFC Telford United 2
Quakers won 5-3 on penalties
Scorers: Rivers (5 mins, 1-0), Williams (45+1 mins, 1-1, 78 mins, 1-2) Hatfield (82 mins, 2-2)
Match sponsors man of the match: Will Hatfield.
Quakers dug deep to win their first ever Trophy penalty shootout to go through to the last 32 of the competition.
Quakers weren't at their best, especially in the first half, and it was clear that playing on Wednesday night had a tiring effect on the players.
But they held out against some strong Telford pressure in which the visitors created some good chances, and they battled back from 2-1 to force a penalty shootout.
Keeper Melvin Minter saved a spot kick in the second half, and then crucially saved another in the shootout to put Quakers into the draw for the last 32 on Monday.
The fourth round will be played on 16th January, which means that the home game against Chorley will be postponed.
Here's what manager Alun Armstrong thought of the game:
https://darlingtonfc.co.uk/news/video-alun-admits-quakers-were-fortunate
Here are the rest of today's results:
https://www.thefa.com/competitions/fa-trophy/results
Quakers took the lead on 5 minutes. A long free kick downfield by Melvin Minter was missed by a defender, and Dan Maguire squared the ball for Jarrett Rivers to control and fire past keeper Russell Griffiths for his fourth goal of the season.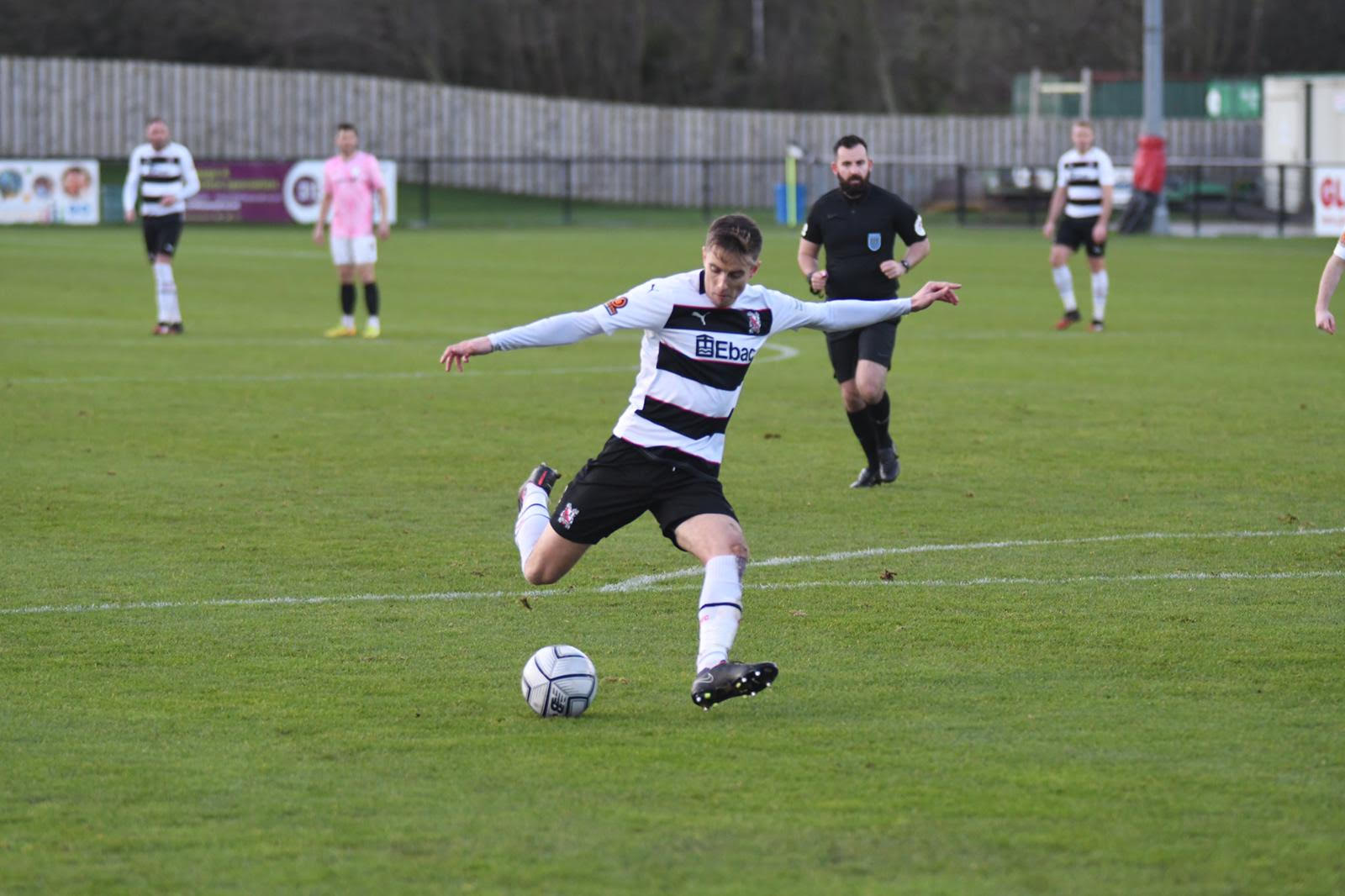 Quakers nearly got a second, with a free kick by Tony McMahon that Griffiths pushed away.
Telford nearly levelled on 11 minutes, when Aaron Williams picked up a free kick, and fired against the base of the post from an acute angle, then Minter saved low down from an Adam Walker 25 yarder.
Minter pulled off another good save from James Hardy's right foot shot from the edge of the box.
Quakers slowly weathered the Telford pressure and got more into the game with Erico Sousa prominent, and he had a penalty shout turned down when he seemed to be impeded as he went for a Tony McMahon cross.
Minter was in action again on 34 minutes, saving a low left foot shot by McHale low down to his right.
Quakers had a half chance from a corner that Sousa played back to O'Neill, who turned quickly but fired over the top.
Telford finished the half the stronger of the two teams, and their pressure eventually told. They levelled just on half time when the ball was crossed from the right and Aaron Williams headed into the top left hand corner, with Minter unable to get a hand to the ball.
Half time 1-1
Here's our half time advert roll on Quaker TV
Quakers had a great chance on 49 minutes when Maguire made a good run up the left and pulled the ball back for Sousa, who hit the post with a right foot shot.
Telford replied with a run by James Hardy, which ended with him firing past the left hand post.
Telford had another chance when McHale raced forward and struck a left foot shot that came back off the bar, with Minter beaten.
The visitors were awarded a penalty on 62 minutes when McHale was brought down, and after Quakers protests were waved away and Will Hatfield was booked for protesting , Minter pulled off an excellent full length save to his right from Williams.
Quakers broke away and Maguire set up sub Omar Holness on his left, but he sidefooted straight at Griffiths.
The game flowed from end to end after that, with the game very stretched.
But Telford went back in front on 78 minutes when the ball came into the Darlington box from the right and Williams volleyed first time past Minter.
However, Quakers fought back and levelled on 82 minutes. Hatfield was fouled just outside the box, and he smashed the free kick through the wall into the net, his first goal of the season.
Quakers breathed again with two minutes left when Williams headed wide from six yards.
However, they nearly won it when McMahon crossed from the right, and Reid's header was blocked at the far post
Full time 2-2.
Shootout:
McMahon Darlington 1-0
Williams Telford 1-1
Rivers Darlington 2-1
McHale -- saved by Minter 2-1
Hatfield 3-1
Hardy 3-2
Campbell 4-2
Jones 4-3
Hunt 5-3
Darlington
Minter, McMahon, Laing, Hunt, Watson, Hatfield, Wheatley (sub Reid 85), O'Neill (sub Holness 60), Rivers, Sousa (sub Campbell 60), Maguire
Subs: Saltmer, Atkinson, Storey, Hudson
Booking: Wheatley, McMahon, Hatfield
AFC Telford United
Griffiths, Vaughan, Jones, Walker (sub Bond 77), Byrne, Streete, Mappen-Walters, McHale, Williams, Hardy, Davies
Subs: Rawlins, Barnes-Homer, Lilly, Bowes, White, Sweeney
Stats:
Shots on target: Darlington 4 Telford 5
Shots off target: 5/6
Corners 4/8
Fouls 9/5
Offsides 0/2
Yellow cards 3/0
Red cards 0/0