Darren Holloway answers your questions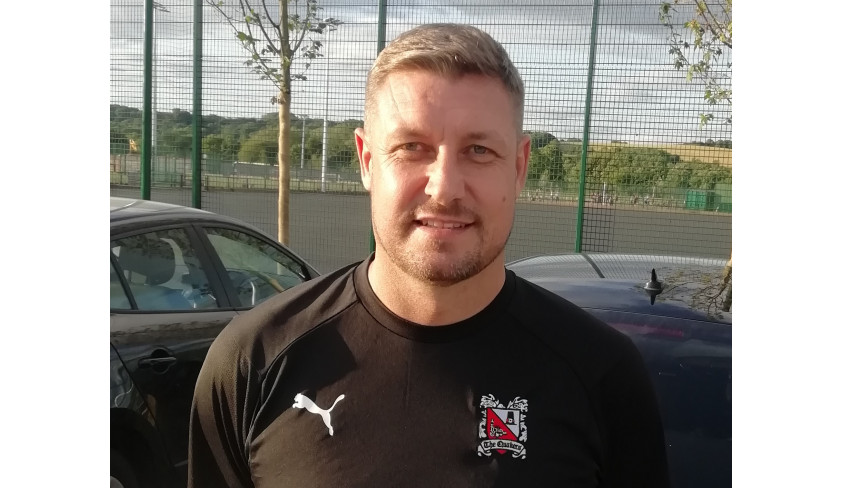 Assistant manager writes about his playing and coaching career in tonight's netcafe
Darlington assistant manager Darren Holloway answers your questions in tonight's netcafe!
Daz started his football career at Sunderland, and went on to play for Wimbledon, Bradford City and Quakers before moving on to coaching with Blyth and ourselves.
If you want to ask a question, drop us a line on media@darlingtonfc.org
Don't forget about Boost the Budget here:
https://fundraising.darlingtonfcsupportersgroup.org/pitches/boost-the-budget-20-214
What was your early football background? Did you always want to be a defender?
Oh now that does go way back! I grew up on an estate with a big green in the middle of it so I guess in my early years that is where I honed my 'skills'.
As a youngster I was eager to get on my Junior School team which happened to be ran by our Headmaster, Maurice Reed who is the father of Ex Darlo defender Adam Reed. From there it was onto the District Team and at around 10/11 I was scouted by Man Utd where I attended their Centre of Excellence for 3 years. After the disappointment of not signing for Man Utd, they advised my dad to take me to York City where I spent over a year before I ended up signing for SAFC.
All through my younger years I played central midfield or as a defender so those positions I guess stuck with me especially the latter.
=============================================================
When did you break into the first team at Sunderland? Can you remember your debut?
I was involved in the First Team at Sunderland from around 19 years old and was an unused sub at Roker Park v Crystal Palace in December 1995 but I had to wait some time until my SAFC debut which was at Stoke City in 1997/98 season.
I don't really recall too much about the game apart from we won and my debut went well which saw me have a long stint in the team.
===============================================================
How much of an encouragement was Sunderland manager Peter Reid?
Reidy was a great character, he brought about a new team spirit and his appointment saw the upturn at the club. As an Ex England International he was very well respected. He was someone that you felt you didn't want to let down when you crossed the white line. I was fortunate he gave me my first professional contract which was very rewarding to know he rated me as a footballer.
=================================================================
How did you feel about playing at Wembley against Charlton in the play off final? How did you feel though about being subbed at half time? It must have been heartbreaking to lose that game on penalties?
Wembley kinda passed me by if I'm honest, looking back it was a great honour to play there but it was obviously marred by the result and my own performance. I had no complaints about getting hooked at half time, I was struggling with a back injury and wasn't doing myself justice. I along with many others shed a tear that day after the heartache of the penalty shootout!
================================================================
Why did you move to Wimbledon? It couldn't have been much further from the north east?
It was never on the cards for me to move and certainly not move that far away from home but Reidy had accepted a bid and was adamant that it would be the move for me. We fell out at the time and I lost a little bit of respect for him in how it was handled. I would've preferred to stay but that didn't seem much of an option at the time so away I went.
=================================================================
How was your spell at Wimbledon? It must have felt strange playing home games in a ground that wasn't as good as the Stadium of Light?
Wimbledon had a good team but we underachieved and missed out on getting into the playoffs which was a blow. After that it started to show signs that the ambition was no longer there, selling our better players meant we again missed out the following season.
At the time we were playing our home games at Selhurst Park which didn't compare at all with the Stadium of Light, which was my favourite place to play football, the facilities and atmosphere were top notch, slightly different to what it's been in recent years!
--------------------------------------------------------------------------------------------------------------
Who have been the main influences on your career?
This question had me thinking. I've been very fortunate in the people that have made an impression on me in terms of football, from my dad who was a huge influence, helping me practice and taking me all over to play and train, then there's Mr Reed my old School Team Manager, Mr Blenkinsop my District Team Manager, Bryan 'Pop' Robson who was my coach at Man Utd Centre of Excellence and later coach at SAFC, George Herd & Jim Montgomery both looked after SAFC Youth Team in my first year as a YTS, Ricky Sbragia, Bobby Saxton & Peter Reid. That list of people helped me become a footballer and I'm grateful of that.
=================================================================
=================================================================You came back northwards and joined Bradford City – what was that like?
Bradford City was decent and it got me closer to home. Colin Todd was the gaffer with his assistant being Bobby Davison both hailing from the North East. I spent 2 years playing League 1 football there but we couldn't quite sneak into those playoff positions which the club were very keen for having once been a PL outfit.
===============================================================
And then you joined Darlington when Hodgy was manager?
Yeah I signed for a Darlo after my stint with Bradford and Hodgy played a big part in that. Initially I was looking to go to Carlisle United but they had a change of manager so my agent sounded me out about Darlington, I met with Hodgy, I knew a few of the lads he'd signed and saw how passionate he was and heard that training was good along with his philosophy so I signed on the dotted line which evidently brought me into contact with Alun.
====================================================
After you finished playing, what did you do?
After I finished I basically had around a year of doing things I couldn't do previously, mainly holidaying, holidays in Winter time were all new to me having been involved in football since school. I then set about doing my coaching qualifications and working in Junior/Primary Schools doing P.E. & After School Footy Clubs. I also used to coach Willington U18's which I enjoyed and they were extremely successful which was a bonus.
================================================
part 2 coming soon
Don't forget to Boost the Budget!
https://fundraising.darlingtonfcsupportersgroup.org/pitches/boost-the-budget-20-21
Did you always want to be a coach?
Coaching was always on my agenda after my playing career finished, my initial ambition was to be a coach at a Pro Club coaching U18/19's. Coaching now is very different than what it was years ago, having worked in Academies it gives you an insight into what that role might entail and it's not as appealing as it once seemed but I like the idea of seeing the big improvements around that age. I really enjoy my role here at Darlo, it's not suffocated with any unnecessary paperwork, I get chance to coach, have an input and help to develop and improve individuals and the team
=============================================================
What was your reaction when Alun asked you to be number two? Did you know him from the past?
As mentioned before Al and I met playing for Darlo many moons ago, we used to travel into training together so got to know each other pretty well. We crossed paths again at Boro Academy which is when Al sounded me out about joining him as his number 2 up at Blyth, initially I was thinking I had too much on but told him once he'd got his feet under the table to get in touch again, luckily he did and I said I'd attend a game to get a feel for it which I did. We had great success so when he mentioned Darlington I was excited for the new challenge and I'm very much looking forward to continuing with the challenge.
================================================================
What were your highlights?
There's been many highlights, away at Alfreton, York, Telford and of course the Walsall game to name a few. Football is all about the highs and lows, we'd obviously like it to be more highs and that's what we're all working towards.
If I had to single one out it would have to be that last minute equaliser to keep us in the cup, beauty of the cup!
================================================================
What do you think we can improve upon as a team?
There are lots of things we can improve on as a team and we're hoping we can put that into practice in the very near future. We know we need to be more ruthless in both boxes, scoring goals and not conceding is something we'll continue to try to achieve along with being consistent throughout games.
===================================================================
From Richard Matthews
Many thanks for your efforts together with Alun's over the last season.
Are you confident we can compete for honours next season especially considering how well we have done following the horrendous injury issues suffered last season ??
The league is very very competitive with full time clubs involved which makes it extremely difficult to compete but we've proven we've got together a strong group of players that would've had a chance of playing in the playoffs this season so with hopefully keeping these lads and adding a few to them we'll be knocking on the door again next season. You as supporters are playing a huge part in hopefully enabling all this with your ongoing efforts regarding boost the budget.
-------------------------------------------------------------------------------------------------------------
From Andy Clarke
How did you and Alun come around working together? How is he different to other managers that you have worked with?
Alun is the first manager I've worked with in this current context. Al to be fair has taken to it like a duck to water. If you'd asked me when we were together playing if he'd be a manager I'd have said no but if I was a player I'd enjoy playing for him and that along with our philosophy and how successful he's been is why his stock is rising.
Which outfield player would you trust the most to go in goal, if needed!
Reidy would be the obvious outfield player to go in goal if needed but I'll choose not to use the word 'trust!'
He goes in goal odd times in training but I think that's just so he doesn't have to run about!!
--------------------------------------------------------------------------------
From Andy Hadrick
Does the club/you work on any team physiology like the performance equation or the visual realisation of 'a moment in time' during training and /or team briefings. Or are all training sessions physical and set play based.
It's very very difficult to work on different methods/techniques when we get the lads for a few hours twice a week if we're lucky. In general, we do lots of passing drills (important lads cos you need to be able to pass the ball!) possession games and transition games ending with small sided games. It's important we do our best to get the balance right with regards to information, tactics, techniques/skills, demand and enjoyment as most of the lads have been at work all day before we get them to train.
=====================================================
Have you played any other sports such as cricket?
I used to be quite good at various athletic events when I was at school and represented the school on many occasions, Cricket was one of those sports and I played outside of school as well but I was just above average so something I never put too much time into. In truth I was football mad so everything just played second fiddle to that but I guess I was a bit of a sport Billy!
===================================================
From Michael Barrass

You played under Peter Reid as a manager and he was known to drop players after just one bad game , how do you and Alun as a team decide on whether a player should be dropped after one bad game of after a few without destroying their confidence?
Different managers have different ways of managing, some very different to others. In reality you try to pick a team to get you a win but obviously we take into consideration players feelings. All footballers want to play but these days more than ever it is very much a squad game so it's imperative to make all feel important as they are. We chat about what we think may be the best decisions to benefit the team/club, sometimes we'll get them right and sometimes we'll get them wrong. Alun will sometimes go with his instinct which may be slightly different to mine but that's what managing is all about. We both place lots of emphasis on trying to retain confidence throughout the squad.
===================================================
From Pete Ashmore
Can you describe what a typical week during the season involves for both the management team and players?
If there is a typical week it may comprise of us speaking and reflecting on previous game possibly on the Monday and then Tuesday we'll chat about what we'd like to do in training, Gaffer will be liaising with Danny getting feedback regarding players, who's injured, who's in need of a rest etc which he'll then relay back to me. We train on an evening so have a few hours with the lads, some might spend a bit more time with Mark after warming up then join in the session when they're ready, session will be dependant on personnel and a theme if we're working on something specific. We'll chat afterwards reflecting on how it went and similar will be the case leading up to Thursday's session. Friday Alun might run a few thoughts by me which we'll discuss then we're into game day Saturday where again we'll chat knowing hopefully we've got all available information regarding fitness/mindset of our lads ready to announce the team/squad.
Then it's chat with the lads about their roles and expectations before they head out to play. We try not to complicate things too much and very rarely do we speak about opposition to a point of making them sound like they're spectacular even if they might be, we try and concentrate on what we are going to do. Players will have their individual routines during the week and do vary.
Apart from the obvious full-time v part-time scenario, what are the particular challenges during a season for the squad and management team?
Like any clubs the challenges are trying to keep the squad fit and hungry to succeed, confidence plays a big part in football so we try to instil that along with playing how we'd like them to play. Injuries happen in football and there's no getting away from that, as it's proven it gives others an opportunity which will always be the case. We know budgets of other clubs are way in excess of ours but we tend to concentrate on the US and getting US to the level we're content with, not that we'll ever be content tho! The minefield of contracts and other clubs interested in players etc is difficult but mainly falls on the Gaffer's toes and not mine although I am involved to some extent with regards to my opinion and speaking about different scenarios.
What sort of off-field and on-field technologies and personal plans does the club use for things like the monitoring of fitness levels / recovery, etc., and how effective are these?
We have our very own Fitness Coach Mark at the club but in terms of monitoring etc I'm very much old school, I speak with the lads and gauge their intensity levels during training and games. It's very easy to get lost in technology and stats, you've got to understand it's still part time so you can't do everything that the top clubs are doing, for example professional clubs might have their players in the day after a game for a recovery session in the pool, some of our lads might be grafting at work the next day, it's just trying to get a balance that works which we'll continue to try and do.
===============================================================
What sort of relationship / contact is there between the management team and the football club / DFCSG board?
I know Alun liaises but it's not something I actually get involved with at first hand as such, I'll speak with Alun regarding meetings/decisions/thoughts etc and give my views. The club is quite unique and we are both aware of the fantastic support it has from the fans which is why we are determined to get things right.
===============================================
From Andy Futers
With Chris Elliott moving on and the news Tommo has gone too.
Have Alun and yourself discussed who will be replacing them and how hard is it going to be given the current situation we find with covid-19..
Connell has mentioned in the media he would be available completely now, so is he the likely option for Chris's replacement and will you be looking for someone to take Tommos place?
They are big boots to fill, do you have anyone in mind...again media speculation is Cartman is moving on. Is he on the radar or can you drop a few names who you maybe looking at..
I'm not one to name any names regarding possible signings. We talk often regarding who might be available but we're not in a position to throw money at it so signings have got to be right for the group and the club. We're hoping we can retain the rest of the squad and add a few more to it in an ideal world.
Tommo was great and we were hoping to retain him but it wasn't to be so again it gives others the opportunity to step up.
With regards to the current situation it makes things very difficult as there's no specific timeframe to plan for.
================================================================
From Adam Cattell
Given the uncertainty surrounding Football at the moment and the longer term financial implications for many clubs, what is your opinion around a possible regional north/south split in the lower leagues? Do you see it being a viable option?
--
I've heard lots and lots of different ideas floating around but it's not worthwhile speculating until we hear of a plan. It's an interesting format but I'm not convinced it'll change if I'm honest. I understand everyone is wanting to see football reappear but it's got to do so in a safe correct manner where fans can attend without concerns about health. Hopefully that's sooner rather than later.
==================================================
What's the best XI of the players that you have played with?
This is a ridiculously difficult question! I've been lucky to play with some exceptional footballers having been involved in England B & U21's squads as well as very good SAFC squads, I've tried but can't pick an 11. Best I can do is list some of those players.
Thomas Sorensen
Paul Robinson
Wes Brown
Michael Gray
Ledley King
Steve Bould
Nicky Summerbee
Kieron Dyer
Frank Lampard
Jamie Redknapp
Gavin McCann
Don Hutchinson
Julio Arca
Allan Johnston
Nick Barmby
Niall Quinn
Kevin Phillips
John Hartson
Canny Squad!
================================================
From James Smith
Last pre-season there was a lot of talk about the how the club was pleased to reach an Academy status, this looked like we had a bright future with young players coming into the team, but unfortunatly we saw very few make the squad last season. What is the outlook on the academy? and are we expecting to see any new young prospects from the academy breaking their way into the 1st Team Squad this season?
We see the Academy as a great opportunity for young players to further their football development whilst gaining academic qualifications also. We did happen to use a few Academy lads earlier in the season and some then went out on loan which again is a vital for their development. The step up from Academy level to ours is quite significant so players will need to work hard and prove to staff they are capable of that step up. Unfortunately there's no magic wand!
================================================
From Will Shevels
Evening Darren, is there any news on additions to the team.
I'm not in a position to state any news but we are working hard to bring in a few new faces. It's very competitive out there especially in our area the North East.
====================================================
From Paul Cooper
Can you explain the situation with Stephen Thompson and why he left?
Thommo left because he felt the offer he got elsewhere was something he couldn't turn down, it's unfortunate but it happens lots in football. We had very capable lads who stepped in to their shoes when both didn't play so we don't feel like we are desperate to go out and find replacements as such.
How are management going to replace Trots and Thommo? Are there anymore outgoings expected?
We would like to retain the remainder of the squad and all have been offered contracts.
How is the recruitment of players going so far?
Recruitment is difficult, as mentioned it's ridiculously competitive in our area and many of us may be looking for the same type of player so it's just a case of touching base with players and try to get a feel if they're in our capabilities budget wise then hopefully we can tie them down.
Can you give us an idea of how things differ now in terms of player recruitment in comparison to how things work in normal circumstances?
This time around it's strange simply because of the whole unknown when things will be starting up again. I'm guessing in next few weeks it'll be hectic with most clubs getting deals done.
Tell us about how our recruitment policy may change, during this times given that travelling especially is restricted at the moment in the U.K.
Primarily we've targeted lads who we believe can get to training etc without any issues, logistics have got to work otherwise you lose that sense of togetherness if some don't make it in for training and of course it makes it impossible to work on specific things.
We are already seeing some clubs act now to secure signings despite having no idea when football will resume. Will we be one of those clubs or will we wait until a football restart date has been announced?
We are currently active trying to sign players, contracts might be tweaked to acknowledge late restart but apart from that it'll be business as usual in terms of signings/deals.
How key are local football clubs like Newcastle, Sunderland and Middlesbrough going to be next season in regards to recruitment / loaning of players?
We speak with our local clubs and they at times ring us to offer loans so yes it can be important if we can get the right players in to help and improve us as we did with Tyrone previously.
============================================================
From Danny Godfrey
What advice would you give to a young coach aspiring to work at semi pro/pro level?
Any coach regardless of age should watch other coaches coach, you can pick up many good things to aid your development.
=====================================================
From James Smith
Just wondering if Alun and yourself see any players from our youth teams breaking through in the near future and anyone we should keep our eyes on
Fingers crossed there will be a few that make the step up but as I've said it will be down to the efforts of those individuals willing to prove how good they are in every training session and games. We must remember that some players that come out of Professional Academies aren't actually capable of playing at our level, it's a big step believe it or not.
===============================================================
Us fans certainly enjoyed it but how would you assess yours and Alun's first season with us.
It's been good to a point, we'd have loved to have seen if we could've sneaked into those playoffs but I think as a transitional season it was a big ask. It's been enjoyable, well it is when we win!
What do you think we can look forward to next season... when this madness finally ends.
I'm hoping we can recreate some of the football we played at times on a more consistent basis. With that I'm hoping we can look forward to many wins!
How have you been coping with this lockdown?
It's not been too bad, I've probably exercised more than I have in last 8 years so I've probably lost a little weight which was much needed! I think we are all craving now for normality but I'm not sure it'll come just yet. I did have a lockdown haircut which I'm keeping on top of!
To unwind is it a bike ride or motorbike ride... we hear you might be a bit of an Easy Rider!!!
I do have a motorbike which I venture out on occasionally but I've just started to cycle which I'm really enjoying to be fair.
How would you sum up your management style and what are your ambitions?
Difficult question, I think I've mellowed with age so I tend not to fly off the handle at every given opportunity. I'd like to think I'm honest and always happy to share little details which I think may benefit certain individuals. I still take losing really bad but I guess that's just my winning temperament shining through. Ambitions are to do well in the role and continue to develop which will hopefully see us/me climbing the ladder.
======================================================
How is Wilson Kneeshaw doing after his injury, as he was training with us last year?
Wilson was coming along great with Danny but then disappeared a few months back without explanation so no idea what his plans are or if he's recovered fully.
In terms of recruitment, do you and AA sometimes get players who contact you once they've been released asking for a chance to play for Darlington.?
Yes there'll be a few themselves ask the question and agents also doing similar. We've had some at our previous club where we invited them in to train and thought to ourselves this must be a wind up, we actually had a lad this season train with us claiming he was a lad in a video Alun got who looked brilliant, it definitely wasn't the same lad who trained with us!
How did you find playing in the Arena given that we 'might' be going back there one day?
It was a lovely stadium, lads enjoyed playing and spending time there. I've not been in donkeys years so not sure what it's like at present but it was a proper football stadium.
==============================================
A closing note from Ben Pearson
Not a question as such, I'd like to thank Darren & the rest of the management team for putting together a Darlington side that - I think we can all agree - fans can be proud of. Before the new management team came in, there was a real disconnect between the fans, staff & players. That issue has become less & less apparent the more yourself & Alun have moulded this side it to your own.
It's also a testament to you & Alun that we saw an increase in the average gate last season, after two seasons of decline.
I understand that there must have been some difficult decisions surrounding player contracts recently with perhaps (at the time of writing) more to come. However you & Alun have the full backing of the fans behind you in these decisions.
Thank you for your time.
=====================================================
We'd like to thank Darren for taking the time and answering all the questions, and we'd also like to thank everyone for their interest.
We hope to organise another netcafe in a fortnight's time.