David Johnston: We are very excited about the opportunity to press ' reset' and start afresh.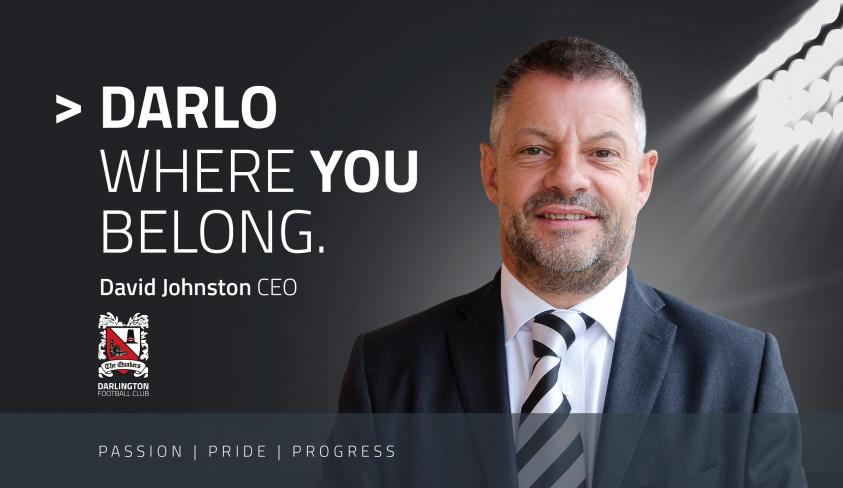 DJ's address to the annual awards dinner
Chief Executive Officer David Johnston addressed the annual awards dinner on Friday night -- here's the address that he gave to a packed Dolphin Centre.
Good evening and welcome,
Many thanks for coming it is great to see so many people here tonight – and can I say the event gets better each year so congratulations to the organising team with Craig and the Dolphin centre staff – you've done a great job.
I would like to give a thank-you to all of our sponsors without whose support we would struggle to exist as a club……..special mention to John and Ebac for their backing, it is gratefully appreciated.
Just a few words from me regarding the season and our plans for the future.
ONFIELD
This was a season of great expectation – we came out of the 17-18 season with a run of form over the last 15 games that placed us 3rd in the form table.
We then were backed superbly by the fans with BTB and strengthened the squad with a competitive budget.
Sadly we have had a disappointing season, finishing 16th and with no cup runs yet again. Poor results led to lower crowds and reduced revenue forcing me to cut the budget to maintain good financial diligence and this meant selling players mid season. I just want to mention here – the financial plight of many clubs in a perilous condition – look at Gateshead, Nuneaton, FC United of Manchester, and even the likes of Bolton, Notts County….…..I could go on and on ……clubs are spending beyond their means ….FFP does not exist in the lower leagues, ……just take a look at Salford's accounts £2m loss last year!! Crazy but in existence whilst they have rich benefactors who remain interested……god forbid what happens if that interest and investment wanes…….we will not risk this happening to DFC again hence our actions.
Our performance as a club has not come up to the standards we had hoped
We have to take COLLECTIVE RESPONSIBILTY for this; Myself as Chairman, The Board, Management and the players – Quite simply we have not performed well enough.
We therefore need to restore the fans' confidence in us and we must improve in the new season.
OFF FIELD
Off the field I do think we have had some development
We have established our own Academy – this is vital for the future to identify, recruit and train talent that can develop into our first team and I'm delighted to say the early results are promising and our new season intake will have increased numbers. Our academy should then start to provide both income and talent.
To our younger players (I am looking at you now), I expect nothing but hard work from you both in the classroom and on the field. It is your future and only you can make the most of it – we will support you but I demand and expect high standards. Make the most of it gentlemen.
From a pedagogical perspective we are relocating the Academy classrooms to the Dolphin Centre. Centrally based, easier transport links and a better learning environment for our students. This can only be positive.
We have also created a new commercial role to drive revenue and Craig joined us mid season to fill this position. We will be pushing harder next season for increased commercial income as this is vital to us and our cash flow.
We have also stabilised and strengthened the Board.
Can I just take this opportunity to thank John Tempest for his tireless work in supporting the club and me personally – but I fully understood his decision to step down…..and so we move on.
John Woolnough has joined us as CFO and is now managing the club finances taking over from Chris Stockdale who I think had his eyes opened during his spell in charge! John brings with him a wealth of experience and his creditor management skills are certainly being utilised daily!
Chris obviously remains as Director as Chair of the DFCSG and can I say it's a pleasure working with him and we talk daily on all matters.
John Vickerman sadly could not make this evening due to a family commitment but John brings with him significant Board experience from FTSE top 100 companies and he has proved already in his tenure to be a superb appointment. As a Human Resources Director he is currently running the manager recruitment process with utmost professionalism.
Jonathan Jowett also remains as our legal counsel and again is a FTSE top 100 Director with Greggs PLC and is someone I refer to frequently as we plan our way forward.
Thanks to all of the Board – can I just comment that DFC at Board level now has three Directors from major blue chip organisations providing direction, support and advice together with the other professionally qualified members. This is significant and I can guarantee you many Football League clubs do not have this level of cover and experience.
This augers well for the future and the monthly board meetings bring a level of diligence and control that probably most clubs do not possess. We now need that experience to bear fruit and move the club forward.
FUTURE
Where will we be playing Blackwell Meadows or the Sporting Village? – This is still under discussion but we are making good progress. It remains clear however;
We do need greater commercial revenue
We do need to create income generating assets
We do need greater community involvement and many thanks to our new trustees Steve Rose and Brian Boggin -- your support is welcome and greatly appreciated.
The location discussions are mearing a conclusion so we will update you when we have a preferred option.
PLAYING STAFF
To our players – some of you will stay some will leave but can I say thank you for your efforts this season. For those who will remain we must improve collectively and as individuals – I expect and will demand more
The model we have been running with will become more prominent next season with a blend of contracted and loan players. We have and will develop closer relationships with League clubs and the north east clubs in particular.
We will also be reviewing our training, looking at fitness levels, improved strength and conditioning, physiotherapy and injury recovery.
MANAGERIAL STAFF
It's obvious to say Tommy has gone – can I say many thanks for his efforts. We discussed next season and agreed it was in the best interests of the club that he moved on. I wish him and his family well and I know he has huge affection for this club and I am sad to see him go but change was necessary.
Alan remains with us and can I say thank you to him and Dave Watson for handling the reins whilst we look at options.
As mentioned we have started a process to look for a new manager and as expected we have had over 60 applications for the role. There are some very interesting candidates in there and we have been interviewing all day today to produce a short list for the final selection. It is going to be a difficult choice!
We will hopefully be making a quick appointment but trust me this will be done diligently and we will follow a detailed process
SUMMARY
Many thanks to all of our volunteers for their contribution this year – without you we could not operate – from match day support, Quaker Retail, hospitality 50:50 ….everyone a huge thank-you!
A special mention to the Media team you have done a great job so thanks to Ray Simpson, Simon Hahn, Kevin Luff
And also to Michael, Stuart, Andrew, Karl and all the crew at Darlo Fans Radio for connecting us so much better with our fans - people really appreciate the effort
We are very excited about the opportunity to press ' reset' and start afresh.
The managerial appointment gives us that opportunity to put in solid foundations but please remember - we are on a journey, not just a run of the first ten games.. give the manager your support and give them time
The club is supporter owned and we have done a great job to get back to debt free, well run and this is a massive achievement - just look around you at what is going on in football and we have every reason to be proud. We may not be the richest club yet, we may not have celebrity owners, but we will be here next month and the month after !
Digging in and getting behind the time is vital - we saw that at the end of last season, players and managers are human ( hard to believe I know !) so motivate, encourage, believe in them and you will get that back on the pitch.
So let's remain positive – I am – I fully believe DFC will get back to the football league it's just a question of when…..
We do however need to continue to develop as a club in all areas and rest assured the Board are 100% committed to help achieve this vision.
LETS PULL TOGETHER TO MAKE THIS HAPPEN
THANK-YOU