Ray Simpson / 14th February 2018
 How long have you supported Darlington?My father shared his footballing affections between Mid...
---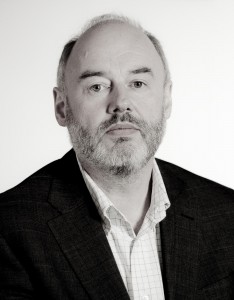 How long have you supported Darlington?
My father shared his footballing affections between Middlesbrough and Darlington. He mostly attended Boro games but also went to the occasional Darlington match. I remember him telling me about Ron Greener's Darlington  4-1 cup win over Chelsea at Feethams in 1958, the year I was born. When I was deemed old enough, he started taking me to watch Middlesborough. But the terraces at Ayresome Park were no place for a youngster and I didn't enjoy it at all. Probably as a result of a young child's whinging, he relented and started taking me to watch Darlington in the 1968/69 season.
Can you remember your first game, who was it against?
The first game I remember was the 5-0 win over Lincoln City in August 1968. I loved it! Feethams was a much more child-friendly environment with unrestricted views and you could move around freely. And here was a team that was obviously unbeatable! I was completely sold and I became a life long Darlington supporter on that day.
Who have been your favourite players over the years?
There have been so many Darlington players over 50 years that it seems unfair to single players out. However the following players stand out in my memory; Lance Robson from my earliest years, Eddie Rowles the top goal scorer in 76/77, our record goal scorer Alan Walsh in the late 70s and early 80s. I think the most skilful home grown player we have ever produced in my time is Robbie Blake. Marco Gabbiadini in the late 90s and in more recent times Paul Heckingbottom and of course Craig Liddle all stand out in my memory.
What have been your most satisfying moments as a Darlo supporter?
My most satisfying moments are (fairly predictably) Gary Coatsworth's goal at Welling in 1990 that confirmed Darlington's promotion from the Conference and of course Chris Senior's last gasp goal to win the FA Trophy final at Wembley in 2011.
What have been your most memorable matches?
There is one match that stands out in my memory above all others and that is the home game against Hartlepool on Easter Monday in 1982. Darlington came back from 2-1 down at half time to win 5-2 with four Alan Walsh goals.
Other matches that stand out in my memory are the two play off final defeats at Wembley against Plymouth and Peterborough, the FA Trophy Final win against Mansfield and of course the 1-0 win away at Welling to clinch promotion from the Conference in 1990.
What are your favourite away grounds?
I have lived in Cheshire for over 30 years and as member of  DAFTS (Darlington Away Far Travelling Supporters), our favourite grounds are dictated by the quality of the real ale at nearby hostelries. On that basis, Macclesfield is high on the list as DAFTS have enjoyed some excellent trips there, and it has the added advantage of being not too far from my Cheshire home!
From the Football League days, which trips do you miss the most?
I don't miss visits to any league ground in particular. If anything, I think I enjoy away trips more these days because they take me to some very pleasant towns and parts of the country that otherwise I probably wouldn't get to visit. Some of them even have some very decent pubs. Whilst I was very unhappy with the way Darlington FC were relegated, like many of our fans, I have very much enjoyed our non-league odyssey over recent seasons.
Which Darlo occasions are the ones you would prefer to forget?
The good news about supporting a team like Darlo, is that when something good does happen, it feels extra special because of its rarity value. Bad Darlo occasions should never be forgotten because it is these that make any Darlo success feel so special and memorable. I don't think I could support a top premiership team because the reverse is true. Success is expected and  even the most minor hiccup seems to spread doom and gloom amongst the fans. I laugh my socks off when I hear premiership clubs' fans bemoaning their lot.
However, if I have to pick such an occasion, I suppose my darkest day as a Darlo Supporter, and the only time I can remember shedding tears of despair at a football game, was at the end of the 1989 season when I drove from Manchester to Scunthorpe, dog tired after working all night, just to see us thrashed 5-1 and have our relegation from the Football League confirmed. But just contrast that with the scenes 12 months later at Welling. Boy did that feel good!
Then there are all the non-footballing occasions with the club fighting for its future which seem to have happened all too frequently over the last 50 years. I would very much like to put all these behind us by building a stable, financially secure community football club.
Do you enjoy games more or less than say ten years ago? Why?
I don't think I enjoy games any more or less than I did 10 years ago. I would say I enjoy games differently.
Firstly as a DFCSG board number I guess I look at things differently. Whilst winning games is important, there are other equally important factors if we are to be successful in the long term. We need to encourage disaffected fans to start going to games again as well as attracting new supporters particularly those from younger generations. We need to do that by improving all aspects of the match day experience and playing attractive football. At the end of the day, football clubs are in the entertainment business.
Secondly, as I get older going to football games is as much about meeting friends as watching football, and win or lose, I invariably enjoy the whole experience in the company of good friends.
Why did you decide to join the DFCSG board?
I am a big believer in the fans' ownership model as advocated by Supporters Direct and being on the DFCSG board gives me the opportunity to play a more central part in making it a success at Darlington Football Club.
A football club is nothing without its fans, and in the past too many fans of too many clubs have been badly let down by some of their clubs' owner-benefactor(s). Darlington, Wrexham, Chester, Portsmouth, Coventry, Wimbledon to name but a few. I believe that fans should have a big say in how their club is run and I never again want to see a situation where Darlington Football Club's future rests on the whims of an individual. I believe we can deliver a more successful and risk-free long term future for Darlington Football Club through the collective goodwill and support of 100s of committed fan-owners than would be possible under any other ownership model. There are a number of opportunities afforded by the fans' owned model that we have only just started to exploit. I am excited about our future, although we are still at the very early stages of our fans owned journey. By being on the DFCSG board I can apply some of the skills and knowledge I acquired from my years in industry to help us on that journey.
What are you doing voluntarily for the club at the moment?
Because of where I live, I mainly focus on stuff I can do remotely. My main interest is in Governance, Strategy and Planning and have done quote a lot of work in these areas. I have also established links with directors of other fans' owned clubs near where I live such as Wrexham, Chester and Northwich Victoria so that we can learn from their experiences. I have also been fairly closely involved in putting together the various Community Share Offers and the initiate to increase DFCSG ownership of DFC through the share exchange scheme.
Where do you see the club being in five/ten years' time?
The most important thing that we will achieve over the next 5/10 years is to grow the club so that we are financially sustainable and playing at the highest possible level given our level of income. I also think we will have made good progress to securing a permanent home for Darlington FC beyond the current 20 year arrangement with the Rugby Club.
I believe that if we continue to invest in the right projects to grow our revenue, and with the support of all our committed fans, the FL is a realistic target within this time frame. However, we all need to be realistic and recognise that competition for FL places is a great deal stronger than it was in 1990 when we last regained FL status. Then there were possibly half a dozen non league teams with realist aspirations to be promoted to the FL. Today there are probably 25 or more teams in the top two tiers of  Non League football competing for those valuable FL promotion places. So we have quite a task on our hands and it will need a monumental effort from all our fans to achieve this. But the important thing is that now our destiny it is in our hands, and recent history has proved that our fans really pull together when we have targets to achieve. So my responsibility along with my fellow DFC and DFCSG directors is to deliver a Strategy and Plan with clear targets for our fans to aim for.
Share this