Memories of the 1990-91 season by Andrew Matthews (part 1)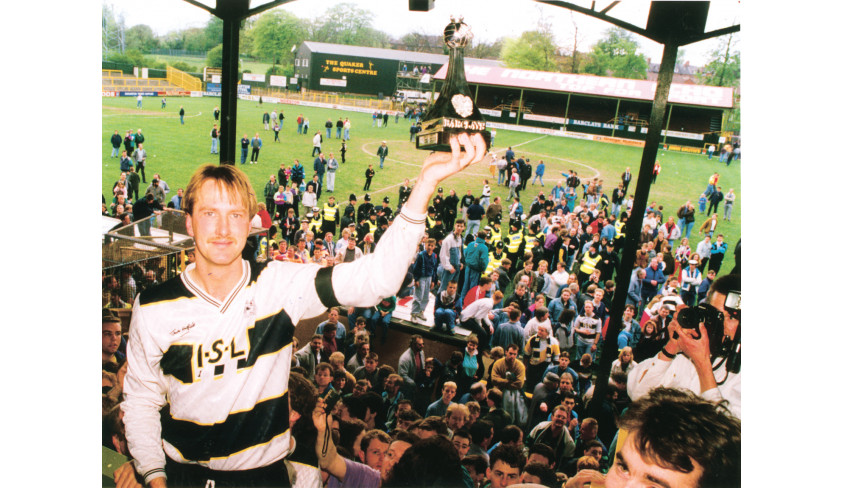 Our Fourth Division title win recalled
Season 1990-91 saw Darlington's return to the Football League after winning the Conference the previous season.
Here, in the first of two parts, Andrew Matthews recalls that season.
After the fantastic promotion from the Conference the previous season, I was so happy to be watching my Darlo play in the Football League again. I knew we had a good team, however I did not expect what was to follow. A winning season would have done me. To be in the upper echelons of Division 4 would have been sufficient after many, many years of fighting re-election to the league and then finally ending up being relegated to the Conference.
I attended four home pre-season games : two in the Durham Challenge Cup against Bishop Auckland and Billingham Synthonia, and two friendlies. St Johnstone and Notts County being the opposition.
The first League fixture of the season was an away game at Gillingham, a ground I had not been to and a team that Darlington didn't come across to often. I decided that I had to see Darlo's first game back in the Football League.
A question I often ask fellow Darlo supporters is 'Who was the first Darlo player to kick a ball in the Football League after our return from the Conference?'
I remember it so well as I made a mental note of it as I was just so overjoyed to see us back.
The answer is David Cork. We had kick off for that match and David Cork had the pleasure of touching the ball first.
The next game was in the Rumbelows Cup (League Cup). Again it seems like nothing, however this cup is for league clubs only and we were not allowed to take part the previous season. We were back! Taking our place in the League Cup was another sign that we were back and I was overjoyed at that fact.
I remember going to the away tie at Blackpool after a 0-0 draw in the first leg. What was memorable was that the game kicked off at 5pm due to Blackpool's floodlights not being available. When we got to Bloomfield Road you could see why. The tall pylons that accommodate the floodlights had been cut down to about a third of their normal height. Apparently, they were a safety hazard and had to be cut down before they fell down. Bloomfield Road looked a very shabby ground and it looked like that the ravishes of time and lack of funding had reduced the ground to a shadow of its former glory, which I am happy to have witnessed on a family holiday back in 1971, when Blackpool had just been relegated from the old First Division.
In between the two Blackpool games, we had a home game against Burnley. Again, Burnley were a side that I had never seen play against Darlington as they were more of a second or third division side. We won that day 3-1. What I remember about that day is our first goal. We were attacking the Polam End where I was standing. A corner came in and the referee blew for a penalty to Darlo. The Burnley players all looked perplexed and most of the Darlo fans around us were asking what that was for. However I was watching the Burnley keeper and just as the kick was being taken, he gave a Darlo player (John Borthwick, I think) a massive shove in the back. By the time the ball got into the middle and everyone's eyes had followed, everything looked fine. Well done referee for spotting this and setting us on our way to a fine win. (As my mates know, I always praise referees!!!!!!)
After another couple of league games we were due to play Swindon Town in the second round of the Rumbelows Cup. Swindon were one of the bigger teams back then and were managed by Ossie Ardiles.
The atmosphere was fantastic that night in Feethams and we witnessed one of the best footballing nights I had ever seen a Darlington team give. We dominated and passed the ball around. We won 3-0, a result that I would never have expected against a side that should have been playing in the old First Division if it wasn't for 'financial irregularities'. This was one of those magical night games at Feethams, under the floodlights, that I will always remember. Since I was a child of five, going down to Feethams; night games always seemed more special. One 'sour' note from this game was that Swindon's Dave Bennett (ex Man City) broke his leg in a challenge with Gary Gill. This I believe was a pivotal moment. Not in this game but the second leg, as I will mention later.
I traveled down to the second leg at Swindon on the 9th October. I was very optimistic after our first leg 3-0 victory that we would progress in the competition. The Darlo fans were situated behind the goal to the left, as you see it from the TV cameras. This stand now houses the home fans these days.
It was evident very early on that the Swindon fans had it in for Gary Gill. They gave him abuse from his first touch as they felt that he was responsible for Dave Bennett's broken leg. In the home game, I had not seen anything malicious from Gary Gill and it was one of those unfortunate incidents, where a player is injured.
However the Swindon fans (who had not been at the first leg), made sure that Gary Gill knew that they were not going to give him an easy ride. I am positive that this had an affect on Gary, as his game wasn't up to his usual standards. Brian Little must have thought so also and substituted him very early in the game. In fact it may have been as early as 15 minutes in. I remember looking over to my right and Gary was receiving a pass as he stood on the touch line in front of the home supporters. The booing was deafening and Gary looked very uneasy.
We lost the game 4-0 which put us out 4-3 on aggregate. I still say that the Dave Bennett incident had a greater impact on Darlo than it did on Swindon.
A bit of trivia now. My very good friend, Gary Souter, whom I travel around the country with watching Darlo, once told me that he was watching an episode of Morse on the tele. In one of the scenes there is a TV playing in the background with a football match on. That game was this one: Swindon Town versus Darlington, Rumbelows Cup Second Round Leg 2.
How many of us knew that?
Four days later and we were away again at Blackpool. My second trip to the seaside. I remember that my friend, Dave Young and I took our wives across to Blackpool for a day out. Dave and I, of course, made our excuses and left them whilst we went to the match.
We won 2-1 with a John Borthwick goal and a last minute header from Gary Gill. I celebrated wildly when the header went in. Three more points. I was particularly pleased for Gary after our exploits at Swindon a few days earlier.
The following week we were away at Maidstone who had taken our place in the Football League when we were relegated to the Conference. Maidstone played their home games at Dartford. I travelled on the supporters' bus to this game and we arrived early as usual. I was one of the first off the bus and went straight towards the turnstiles. I was straight through and I made my way onto the terracing, which was completely empty. It then occurred to me: I was the first Darlo fan to step on the terraces of a game involving Maidstone and Darlington in the Football League. Would this be a lucky day? It certainly was! We won 3-2 with Andy Toman, I recall, getting the winning goal.
The second part of Andrew's memories will be tomorrow.