Ray Simpson / 11th May 2018
Good evening everyone, and welcome to our latest netcafe with the club's chief executive officer, Da...
---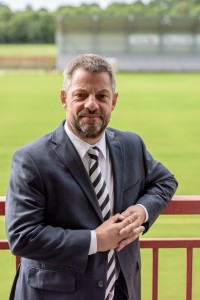 Good evening everyone, and welcome to our latest netcafe with the club's chief executive officer, David Johnston.
If you want to ask David a question – we're on line from 6.30 pm to 8pm -- then please send an e mail to media@darlingtonfc.org.
From Ben Pearson
Q1: Unfortunately, our average league attendance is 16% down on last season. Has this created a financial shortfall over the previous few months and, if so, has this had an impact on TW's budget for next season? 
Yes it has – we had hoped to have cleared the legacy debt but whilst this has reduced some still remains (once we wrap up the end of season accounts we will communicate this). Gate shortfalls do create both cashflow and profitability issues but I am working closely with Chris from the DFCSG to provide a sensible but competitive budget that will enable us to compete at the top of this league. There has also been a slight overspend on the new stand which the club has to cover as our plans for disabled and family viewing became firmed up. Tommy is happy with his budget however and by holding admission prices I hope to see improved crowds next year that can provide not only sustainable cash flow and profitability but also enable us to finally clear the legacy debt.
Q2: With perhaps the above in mind, how beneficial has it been to secure £20k through the MarathonBet competition plus a potentially lucrative pre-season friendly in July for our finances?
The £20k was a great boost for the club and the legends game should also drive key revenue for us. I met with MarathonBet last Friday with Julio Arca and George Boateng to go through the club's history, the goal celebration and the fans support in clearing the pitch etc to enable the game to go ahead. I am hopeful that we can get 3000 fans through the door that day and with tickets at £10 adults and £5 children please encourage all of your family and friends to come down for what should be a great day. I know the fans love a challenge so how about we set a target of 3,000 in the ground that day?
(The game against the Legends kicks off at 2pm on Sunday 29th July, admission is £10 adults and £5 for concessions. Keep an eye on our website for further details)
Q3: What is the current debt position of the club looking like at present? 
Please see Q1 above as we are still sorting season end figures – apologies I can't be clearer at the moment.
============================================================================
From Steve Bishop
What's the latest on Darlington FC's involvement in the Sporting Hub?
Hi Steve:
We have been involved in discussions as the plans have emerged and we will continue to do this – there are a number of key players involved including the developer, the council, Mowden Park and other sports clubs. As with any major development there are huge complexities and I have to ensure that whatever the outcome (and this is not just financial but political as well as council policies will undoubtedly dictate a part of our future) that we secure the best financial deal for the long term security of our club. I will communicate more when and if plans develop.
Can you see a medium term path to sourcing external investment to turn the club full time & play in our own self-contained football ground? Are we actively looking to source local external investors?
At the moment we are not seeking private external investment as our articles are based around fan ownership. For those of you who attended the awards dinner and heard my speech, I spoke about the fan owned model.
Last season (2016-17) only 10% of our attending fan base contributed to our Boost the Budget scheme which is insufficient. The Boost the Budget is a key part of our financial model at present but for a fan owned model to truly work we need more involvement.
The recent BtB scheme was excellent with £86k being raised through around 29% of our attending fan base. This is a great step forward and thank-you to everyone who contributed but quite simply we need to see more.
I would love to see this figure at over 40% next season and for it to continue to grow if we are to progress higher up the league structure. Naturally we are looking to see how we can perform better commercially as we need wider revenue sources but these next two leagues are where we have the key funding challenges.
Returning to the Football League sees the benefit of Sky money and academy support which does provide a sustainable level of income for a professionally managed football club with player selection, recruitment, tactics and management the key issues in retaining league status. We have to fund this gap until we can return to the league.
Co-incidentally, the Early Bird season ticket numbers also increased by over 30% for next season which again is great progress as we now have around 800 season ticket holders – let's get that above 1000 next season and once again – thank-you!
===========================================================================
From Adam Sutcliffe
Firstly, a fascinating interview on the website about the season in which you state that 'It gives you 12 months to work on all aspects of the Sporting Village' which strongly implies that there has been some movement regarding our involvement in the project. Is there much that can be said which is not subject to an DNA?
Please see my earlier response to this question.
Secondly, And it may be related to the above, regarding future revenue streams, you've previously quoted a ballpark figure of 400k that we could potentially turn over with our own 4G pitches and clubhouse. Has any of this been costed yet and if so then what ideas might there be to raise the money to finance this key infrastructure development.
At this point we are more actively involved in discussions about the Sporting Village and as such the 4G etc is on hold as council policies etc will apply to any planning application and issues such as current level of facility supply (4G) are considered. In essence until we clearly understand the full detailed plan for the SV, it is difficult to position how any such DFC application would be reviewed. The Council however does understand our requirements and we are working closely with all parties as plans develop. That said, this does not change my view – I still want these assets for the club but we have to respect the current discussions, plans and options that the SV brings and ensure that any deal is in the best interests of DFC.
=======================================================================
From Roy Elliott
Great news about winning the Marathon bet competition – once again the fans have delivered more income.
Can you detail where this £20,000 will be spent in the forthcoming months.
Also, I would expect a full house at the legends game on the 29th July which should provide further revenue for the club will this be used for the same purpose..
Hello, Roy.
The £20k and the receipts from the game will both go towards creditor and debt repayment . I want to be clear of all debts by the end of next season as we will then know more about our future location and our plans for the 4G and clubhouse . If we then need to borrow , we are in a strong position from a P/L and cash flow perspective . This will show potential lenders that the club is being run on a strong financial basis.
=================================================================================
From David Earle
Firstly, I would just like to say how pleasing it is to see the club progressing off the pitch. Since our turbulent mid-season drama I am now very confident we are making strides and would like to thank yourself, the board and the supporters group board for their commitment in this regard.
My question, I am sure will be a popular one. I am aware that you are limited to what you can say by NDA's, but do we have a timescale on when we expect to hear anything on the sports village, positive or negative?
Cheers
Hello, David.
Thanks for your kind words - much appreciated .
It is difficult to say to be honest but discussions are ongoing. We will communicate as soon as we have something to discuss with the DFCSG Board and the wider fan base. I would however anticipate that we will know more inside the next 6 months.
================================================================================
From Ben pearson
Hi,
Just another question for this evening's Netcafe please:
Q1: We have recently seen a number of departures from the squad. Chris Hunter transferring to South Shields has been a surprise for a few as he was announced on the retained list only a day prior to his departure. Was Chris in contract and have we received a fee from South Shields for the transfer?
Q2: Are TW & AW close to making any new signings over the coming weeks?
You are right Chris was on the retained list but we receive interest in players on a daily basis. When the approach was made we discussed it as a management team and with Chris and he has decided to move on. With all transfers, we look at the strength of the squad and as a club we will not be commenting on whether we receive any fees as this is sensitive commercial information that makes signing players more complicated. We do wish Chris every success in the future and I can say that he called me personally yesterday to thank me for his time at Darlington and in the manner in which we have supported him through what has been a difficult season for him through serious injury. That for me showed the quality of the man and we had a great conversation and I wish him well for the future. Likewise on another note, I took a call this morning from Tom Portas who rang just to say thank-you for his time at Darlington and the way we have looked after him. Tom understands football and Tommy has been honest in what he is looking for and as such Tom is moving on. Another class bloke who wants to play football and his call showed me what a great person he is. As Chairman, it is great to receive such calls and it shows the professionalism, dignity and class of the players and the affection that they have for DFC.  I spoke with Browny, Leon and Marrsy at the awards dinner - again the message was the same from all of them - thanks for the time and the manner in which DFC has looked after them all. They were all extremely grateful and top blokes all of them!!! Their love for this club shone through and we wish them all every success in the future as they have all certainly played a huge part in DFC over recent years.
On the subject of new signings, we are in conversation with a number of players but these things take time….rest assured there will be new players coming in but we are also balancing the books with a reduction in the playing budget.
Boost the budget was obviously a brilliant response so if we can now get an extra 200 fans through the gate each game we will be able to invest further during the season but obviously we have to manage the club professionally on a financial basis.
========================================================================================
From Andrew Foulds
Re: Chris Hunter.
Being included on Tommy's retained list, it is assumed he was under contract.
I have read today that he has signed for South Shields.
Was he under contract, has he signed for S.Shields, and did we get a fee for him ???
Please see the answer above
=======================================================================================
From Andrew Park
Hi Dave,
Is there anything in the pipeline for the fans to raise funds/donate over the coming season? The Boost the Budget was fantastic and I am sure other fans will be wondering if we have a 'season off' from fundraising or if we have anything else that needs to be completed?
Hello, Andrew.
At present no as I am still working through the Sporting Village concept to determine where we will ultimately be based and what facilities we will need . Once this is sorted I can then let everyone know what will be the next fund raising challenge. Obviously I need answers on this soon as we have to start planning now for season 2019/20.
==================================================================================
George Mitchell
Are we close to announcing any new signings?
We are working on a number of players. Once we have confirmation and everything has been agreed and signed, then we will let you know
===============================================================================================
From David Holland,
 Great news on the establishment of an Academy for next season! I was wondering now that there is provision to bring in 16 - 18 year olds, do the club have any plans to run youth teams or an Academy for the younger ages, like Sunderland and Boro etc.
Hi David
That will be down to Tommy and Alan to be honest. We want to establish the Academy and then we can look at future development. We already run youth teams who have had some great success in the TJFA and Russell Foster Youth Leagues this season. Hopefully, they will feed into the Academy in future.
Thanks
D
===================================================================================
From Ben Pearson
Just another question: Q: What is the future of the reserve side which we currently have in the Wearside League? Are there plans to abandon the set-up?  Ben
Thanks, Ben.We're still reviewing the reserve set up, and the decision on its future will be left to Tommy.
=====================================================================================
From Andrew Hadrick
 Do we have a goal keeper???
Thanks, Andrew
Tommy is looking into several goalkeepers with our support and backing, and is reviewing several options.
===================================================================================
The last question of the evening comes from Andrew Foulds
Speaking about the Sporting Village concept, if it is based on the Arena site, what will happen to the infrastructure (stands/tin shed, etc) that the fans have provided at BM ?
Hello, Andrew
We can move them to the Sporting Village if necessary. The stands at Blackwell Meadows are the property of Darlington FC, so we may look to relocate the stands to an alternative pitch at the Sporting Village, but that is the subject to confirmation of the proposals and the layout of the Sporting Village.
Thanks to everyone who has asked a question tonight, they were much appreciated, and thanks also to David for answering them.
Keep an eye on the official website for news about signings and the Legends game on 29th July.
Share this