Pay Monthly Season Pass - A new way to follow your club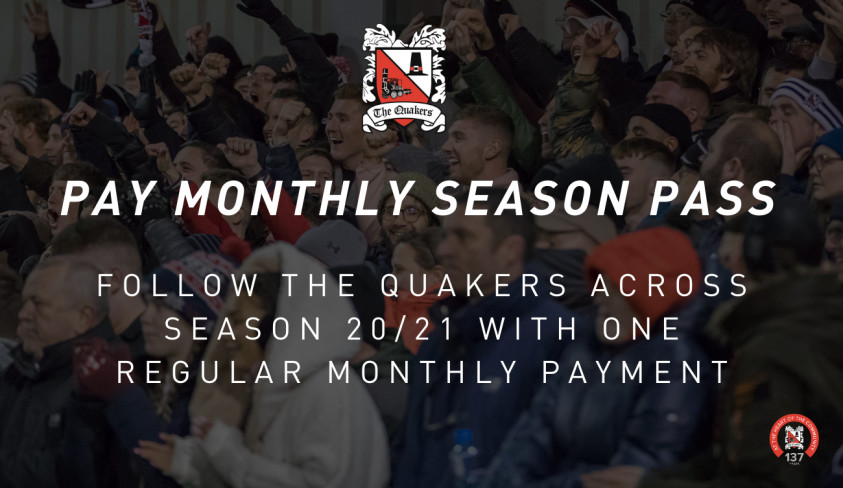 Darlington FC are delighted to launch a new way for you to follow your club
Darlington FC are delighted to launch a new way for you to follow your club.
Pay Monthly Season Pass - Get a year's worth of football, starting whenever suits you.
Whether it's the excitement of the first games in August or the thrill of a promotion chase, our Pay Monthly Season Pass means you can get involved at any time of year and get twelve months of home league games at a fantastic price and with the benefits of being a Season Ticket holder too.
These days many of us are used to paying for bills and services via monthly direct debits which allows us to schedule payments and forget about them – why should supporting your club by attending games be any different? If you're a regular attendee paying match-by-match then paying monthly means that you can equally spread the cost across 12 months rather than the usual 9 months of the season and not feel the burden of multiple home games in quick succession – all at a significantly lower price than paying on the gate.
An adult can watch all the Quaker's home league fixtures from as little as £21.75 a month, whilst Concessions start at £16 per month and Juniors at just £8 per month.
What's more, whilst you have to commit to subscribing for at least 12 months, you can join at any time.
That means that, if you get the Quaker's bug after the season starts or can't start coming to games until later into the fixture list, you can still commit to watching the team by paying for games monthly.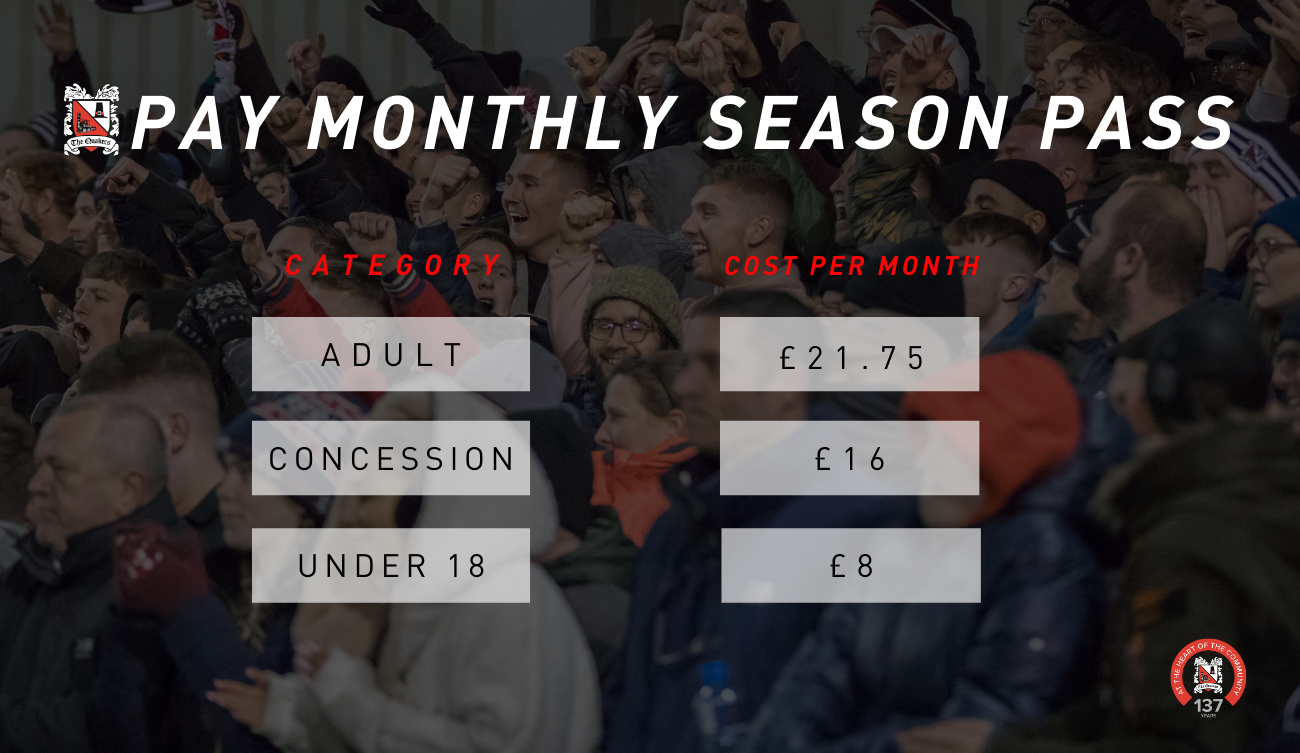 With the Pay Monthly Season Pass you'll always know where you are financially when supporting your Club.
How it works – the detail
You can purchase your Pay Monthly Season Pass only online via our website.
You pay a deposit equivalent to one month's Season Pass cost upfront via your credit/debit card.
We then send you a link to setup a direct debit payable monthly. This will start approximately 5 days from your setup date.
Once you've setup your direct debit we will issue you with your Season Pass card. This gives you entry to all our home league games. You'll access home games via the Season Ticket turnstiles with your Season Pass card.
At the end of your first year, you will receive a reminder 30 days prior to the anniversary of your purchase. Annual Subscriptions will auto-renew, unless cancelled before the end of the renewal period meaning it's easier than ever to keep backing your club.
If you decide not to renew your subscription then we will refund your initial deposit to you within 14 days.
Full terms & conditions can be viewed on our darlingtonfc.co.uk website HERE.