Season Card Collection 19/20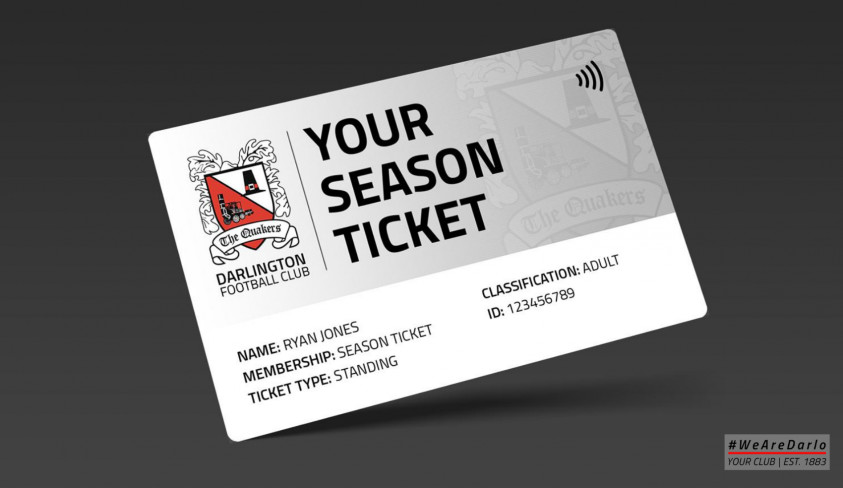 Season cards available for collection from Saturday July 13th onwards
As the new season fast approaches, season cards and car parking permits for the 19/20 season are currently being printed and will be available for collection from Saturday 13th July at our Open Day which is being held at Eastbourne Sports Complex between 11am and 5pm.. Should you not be able to attend on Saturday then you can also collect your card directly from Quaker Retail during normal opening hours from 15th July onwards or at the forthcoming friendly game versus Middlesbrough U23 on Saturday 27th July at Blackwell Meadows.
Important: If you are a concession ticket holder please bring proof of ID when collecting your season card. We need to verify ID before we can release your card.
If you can't pick up your season card before the start of the season it will be available for collection before each home game, but we do urge you where possible to collect in advance in order to speed things up at the turnstile for all fans, especially with our first home fixture is a mid-week evening game against local rivals Gateshead (Wednesday 7th August)which we're expecting to be busy.
We will once again be using contactless technology on the turnstile which will enable us to scan your season card and log your attendance. This approach has many benefits; chiefly fraud prevention and allowing us to offer tickets on a structured basis such as the new Pay Monthly tickets and the FlexiTickets introduced last season with good success.
If you're a 500 Club member there is no need for a new card as we have re-activated your old card for the forthcoming season to make things much easier - not to mention better for the environment! If you have already disposed of your existing card we will replace the card for free as a goodwill gesture – please contact us on seasontickets@darlingtonfc.org as soon as possible and we will have a new card ready to collect.
From this season we're also going to be re-using season cards in future seasons and only issuing one card per person (more on that later) in order to reduce the amount of admin, plastic and to avoid confusion between different cards.
Due to a large number of lost cards last season we have introduced a £5 admin fee for any lost or stolen cards that need to be re-printed after the beginning of the season. Damaged cards will be replaced for free.
If you've not yet purchased your season ticket for the forthcoming season then you can still do so – you can purchase online or visit Lynn and her team at Quaker Retail. Our new Pay Monthly option means that you can now spread the cost of your football fix over 12 months just like you do with your other household bills. Looking at the fixture calendar this is great for when we have glut of games as you'll pay the same amount no matter how many games we have in that month.
Season ticket sales are vital to the budgeting the Club must undertake each summer so your commitment is appreciated - thanks again for your support and let's make it a season to remember.