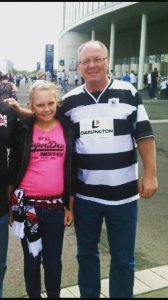 The club was recently very sad to learn that Anthony Smith, who had followed the club for over 40 years, recently passed away at the age of 55. Here, his brother, Phil, pays tribute to him.
Anthony was a life long supporter of Darlington Football Club; he would stand in the Tin Shed as a young lad cheering on the Quakers. To my recollection his most memorable occasions were games like beating Fulham in the League Cup in 1978, winning the Conference in 1990 and then the Fourth Division in 1991. His favourite manager was Brian Little; however David Hodgson would be a very close second. His favourite players included, David Speedie, Marco Gabbiadini, Kevan Smith and Frank Gray to name a few. I believe Fred Barber was in the same year at school.
He attended the 1996 play off game against Plymouth Argyle at Wembley and again in 2000 where once again we were beaten in the final against Peterborough United. His trips to Wembley finally having a happy ending that day, "In the dying seconds" we won the FA Trophy. He always said that was his best ever day as a Darlington supporter.
Obviously his favourite ground would be Feethams, he loved the place, the atmosphere, the games against Hartlepool etc. He never agreed with the move to the Arena, "How can a town the size of Darlington with three surrounding top division teams fill a 25000 seater stadium" he used to say. He really enjoyed going to Bishop Auckland, playing back in a smaller ground more suited to our support base after the events of 2012. He felt that the atmosphere and support of the fans helped carry the team through its most successful period. He, like all of us, knew that being back in Darlington would be essential to the club's very survival and although Blackwell Meadows is not Feethams, the fact that the old Tin Shed stands again is a significant reminder of the club's long history and a symbol of the future for the club saved financially by every supporter who now stands in it today chanting "Come On Darlo".
Anthony managed to get to a few games at Blackwell Meadows, enjoying on occasion the hospitality packages, although he preferred to stand in the Tin Shed with his son Dave, cousin Geoff and me (his brother). By the end of the season his condition was at the stage at which he was unable to attend any more and although he wished to go to the Legends game pre-season it was simply not possible. He would listen to Darlo Fans Radio whenever he couldn't attend, the last game being against Spennymoor Town. We would text each other continuously throughout the commentaries about how the games were going. After listening to the Blyth game with phone in hand, I still texted him the final score.
Anthony died peacefully at his home on Sunday 12th August aged 55 years old with his wife beside him, his 15 month battle against pancreatic cancer finally at an end.
Rest in peace
Everyone at Darlington FC would like to pass on our sincere condolences to Phil, and his wife and family.