When Push comes to Shove -- Chapter 5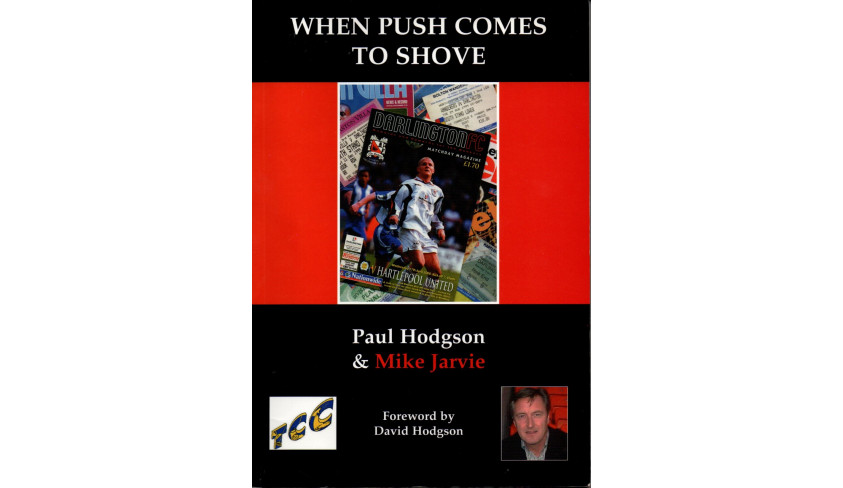 The latest instalment of Paul Hodgson's book.
Paul Hodgson has kindly given us permission to reproduce his book When Push comes to Shove on the official website -- here's chapter 5.
And here's a link to the previous chapters:
https://darlingtonfc.co.uk/news/when-push-comes-to-shove-4
Our first match in November 1998 was at home to Brighton & Hove Albion, courtesy of some hard work by the groundsman, Andrew Thompson, who ensured that the pitch was playable. Although I wasn't really feeling too well, I still went to the game with Mike and Ian.
I gave the Dalesman a miss with me not wanting to have a skinful, instead heading straight to the Centre Spot at two o'clock. I then had one half there before going to my regular place in the disabled area with Mike.
Before the game, Marco Gabbiadini was presented with an award, marking his 150th career League goal which he had scored at Torquay. However, I thought that Darlo were terrible. We seemed to miss the now departed Jason De Vos at the back and certainly looked very weak in that department.
At half time, with Darlo leading 1-0 through a Glenn Naylor header, we went back to the Centre Spot where we met Roger Martin. He like us just couldn't believe how badly we were playing. He also said that he'd heard that some of the De Vos cash had gone to pay the staff's salaries as they hadn't been paid for at least a couple of months. It was now looking as though the club's debts were worse than I'd anticipated.
Anyway, back to the game. On sixty-eight minutes, Lee Ellison was harshly sent off for elbowing Brighton defender Ross Johnson. From the resulting free kick Brighton equal-ised. Then, two minutes later the referee, Trevor Jones, awarded the visitors a dubious penalty, which Jeff Minton converted. To be truthful, I was pleased when it was all over!
The following week Mike and I decided to go and see our youth team play Grimsby Town at Shildon's Dean Street ground.
We caught the train from Bank Top station at half past nine, arriving in Shildon thirty minutes later. Met by a bitterly cold wind, we decided to head straight for their Social Club. Since it wasn't opening time yet we each had a coffee instead of an alcoholic drink.
With some amusement, I noticed a sign over the bar saying, "Please refrain from using obscene language." I sniggered at the thought of me not swearing. Mike later informed me that in one of the toilet cubicles it also said: "Please refrain from cleaning football boots in the toilets." Shildon obviously liked the word "refrain" I thought to myself.
We watched the match from an old rickety wooden stand. Stuart Gibson, the Darlington Youth Team Coach, kindly wrote the team details for me on a yellow post-it as there were no programmes or team sheets to be had for love or money.
The referee proved to be an attention-seeker, who soon started to get some stick from the small crowd. "He's the ref from Kes" shouted a spectator of the portly, bald man in black. "You just watch, he'll award them a penalty next and take it himself."
It was Michael Carter who broke the deadlock for the Quakers. Then, right at the death, Grimsby equalised. Carter, Craig Skelton (his strike partner) and David Wells (left-back) all had really good games that day. Goalkeeper Keith Finch also saved a penalty. So you see, the man in the crowd was right after all – the referee did award a spot kick. Fortunately, he didn't take it himself!
Before the second half started, Mike and I decided to go for a hot drink in the canteen, located in the Main Stand. Like the one at Horden, this also resembled the interior of a domestic kitchen. As we waited for our two coffees, the old woman who was cooking the food, which was then served by her husband, burned someone's burger. To compound her blunder, she then came out with the most surreal piece of dialogue as she sliced the bread in half: "I'll have to complain to Paul – these buns are inconsistent in size."
After the match I chatted with Stuart Gibson about the youth team. As he spoke to me he munched on a burger (surprisingly not burned!). In between mouthfuls, he told me that he felt Michael Carter was close to a first team call up.
On leaving the ground, we went for a drink in the Red Lion where the two of us consulted a copy of The Northern Echo. Interestingly, they were doling out free soup in the pub – you could help yourself from the bar. However, when we saw a customer leaning over the tureen with a dewdrop dripping from his nose, Mike and I decided to give it a miss, ordering a sandwich instead from behind the bar.
After we'd finished our food, we decided on the spur of the moment to order a taxi to Bishop Auckland to see them play Altrincham. On arrival at Kingsway (Bishops' former ground) we went to their Social Club, where I spoke to several Altrincham fans who seemed pleasant enough to talk to. One recalled the FA Cup tie against Darlo in season 1983-84 when we won 2-0 at their ground after drawing 0-0 at Feethams. The Altrincham fan said that Darlo were lucky on that night all those years ago. However, I held a different opinion, so we agreed to disagree!
Anyway, back to the present. Bishop Auckland won 2-1 with goals from David Bayles and Jason Birch. I sat in the bar for the whole of the second half – I don't mind freezing my arse off for Darlo, but for Bishop Auckland I think not!
After the match we went to Hogans in Bishop town centre. Much to our amusement, it was exactly the same as the premises in Darlington. Not only that, the clientele seemed pretty similar as well! After a couple of pints, Mike went to the station to check the train times, leaving me to read the Bishop programme.
Eventually we ended up in a pub called the Outback, where Mike bumped into a girl he used to work with called Susan.
It was at this point in the evening that we decided to get something to eat from the chippy up the road from the pub. As well as the chips I bought myself a fishcake, which soon ended up on the pavement. Failing to see it in front of me, Mike pushed my wheelchair through it. As a result, one of the wheels on my chair and the sleeve of my denim jacket were caked with the bloody thing. Well, at least it wasn't dog shit, so I suppose I had to be grateful for small mercies!
One final comment about that fishcake. It's surprising how far some flakes of processed fish and mashed potato can go.
Once we had scraped the remains of the fishcake from my person and my wheelchair, we headed back to the station where we caught the ten past nine train to Darlington. On the way I drank a can of lager, which I bought from a fellow passenger. By the time I'd consumed it we were pulling into Bank Top station.
Before heading home, we decided to stop off in the Dales-man for one last pint. Unfortunately, mine ended up over Mike's knees, soaking his trousers. Luckily, he saw the funny side of this accident but at that point I knew I'd had enough to drink, or rather spill! We then decided to book a taxi home, thus bringing the curtain down on a most entertaining day out.
Due to the state of our pitch, which was getting worse by the day, we had to play our FA Cup tie versus Burnley at Middlesbrough's Riverside Stadium. One home match had already been called off, so it came as no surprise to me when the decision was made to switch the fixture.
Mike and I made the short journey with Ian in his car. Also with us was Ian's brother, Graeme.
It was cold outside. The foggy weather hampered our trip and the traffic was really sluggish. Our journey there-fore took over an hour, whereas you can normally get to Middlesbrough in only thirty minutes.
On arrival, we parked at the side of the Navigation Inn, a pub near the ground. It was just a muddy field. This time my wheelchair was plastered with the stuff rather than fishcake! Incidentally we were charged £2 when we left – obviously I'm in the wrong business!
I managed to get in the West Stand with Mike. On look-ing around, we were amazed to see how big the stadium was. There were over 5,000 people there that night, but the ground looked really empty.
Whilst waiting for the game to start, my mind went back to my last visit to Middlesbrough's Ayresome Park, this time in the old Third Division. Despite being almost certainly relegated, Darlo put up a spirited performance drawing 1-1, with former Boro player, Alan Roberts, scoring our goal. I just hoped that we'd play as well in this match.
Mike and I weren't to be disappointed – Darlo won what can be only described as a brilliant game of football. Goals from Brian Atkinson, Mario Dörner and Mark Barnard sealed a well-deserved 3-2 victory. Our reward for the win was a second round tie at home to Manchester City, which was to be screened live on Sky Television.
We headed straight back to Darlington after the game. As a matter of interest, it took a good thirty minutes to get away from the area surrounding the ground.
On arrival back in Darlington, we went to my local pub, the Springfield for a few drinks to celebrate our magnificent victory. Ian and Graeme left the pub after a pint as they had to get back to Catterick, where Ian lived at the time.
Mike and I only had two more pints with it being work for us both the following day. At around a quarter to eleven Mike pushed me the short distance to my house – thus ending an exhilarating evening.
Our last match of the month was away at Cambridge United. I went on my own, having booked assistance in advance from GNER. Since this was the first time that I'd travelled unaccompanied on a journey that involved changing trains, I was a bit wary.
I caught the half past eight train from Bank Top and a railway official met me on the platform at Peterborough with a ramp. As I had a good half hour wait before catching my connection, I decided to go for a coffee in the snack bar.
When the train arrived, the same station official put me on board to complete my journey to Cambridge. During the trip, I bought two cans of lager which I drank in order to whet my appetite for the day ahead.
On arrival at Ely, Stephen Lowson got on board and we both continued our journey on to Cambridge.
We arrived in Cambridge at about eleven thirty where we then met up with John Wilson and Mark Trenholme. We had a few pints in pubs in the high street, including the Green Man, the Haymakers, the Dog & Pheasant and the Five Bells.
Whilst on our pub trek, we bumped into John Gray, and Richard Jones. Richard regaled us with the fact that Cam-bridge's heaviest defeat and indeed heaviest win were against Darlo – both 6-0 scorelines! "Even Nick Hornby saw Darlo play and lose 4-0 against Cambridge in his book Fever Pitch" I retorted. Richard seemed genuinely surprised by this fact.
Speaking of Richard, I have known him for over twenty years and in that time he has taken me to several away games and also the odd Durham County cricket match. Like John and myself, Richard also enjoys a good drink, which is why we seem to get on so well.
For a change we arrived well before kick-off – a first for John! After buying some programmes, we all took our places in the away end. Incidentally, this was the first time that the new yellow fluorescent balls were used in the Nationwide League.
At half time, with Quakers leading 1-0 through a peach of a goal from Glenn Naylor, Stephen kindly decided to treat me to a burger, but I soon wished that he hadn't. It was one of those tinned specimens, which had been boiled rather than fried or grilled. After just one bite I quickly disposed of it by dropping it on the end of Stephen's boot! Fortunately, the remains ended up well away from my wheelchair and denim jacket, unlike the notorious fishcake incident I mentioned earlier in this chapter.
During the interval, defender Steve Tutill, who had been bleeding profusely, had six stitches inserted in a head wound. As the teams re-emerged I expected to see a further battle if we were to come away with a result.
Even when John Taylor levelled on fifty-seven minutes, the game looked to be heading for a draw until Adam Reed headed past his own keeper on seventy-nine minutes. It was a carbon copy of our match against Brighton.
After the game, Stephen and I said our goodbyes to the lads and then set off on a pub-crawl around Cambridge, once again visiting the Green Man and the Haymakers.
At around seven we left Cambridge by train, and on arrival at Ely, we went to McDonalds for our tea.
On leaving McDonalds (which was much better than my previous visit to the one in Doncaster mentioned ear-lier) we decided to stay in a pub called the Prince Albert in the middle of Ely where we talked at length about the game – and about Glenn Naylor in particular. We both agreed that he was an underrated player who would always reach double figures during a season. He joined Darlo in 1995 from York, and since then had been a fairly regular goal scorer.
Stephen, despite moving away from Darlington in 1986, has always kept in touch with me, which is really good. If anything, our friendship has become stronger. Whilst chatting and reminiscing, we downed several pints.
On leaving the Prince Albert, we decided to get a taxi to Coveny where Stephen lives. Unfortunately, with us both being rather the worse for wear, I slipped whilst being put into the car and banged the side of my head on the taxi door. In next to no time there was blood everywhere and my shirt resembled Steve Tutill's!
It turned out that my ear had been nicked and that accounted for the amount of blood. To compound things, due to the shock of the fall, this triggered off a spasm attack, which involved me shaking from head to foot. Stephen immediately panicked and insisted on taking me to a hospital, but I refused point blank.
Once we arrived at Stephen's house, he cleaned up my ear and eventually my spasms ceased.
On Sunday morning we read the papers in leisurely fashion and left at twelve-thirty, Stephen putting me on board the train at Ely. I then changed at Peterborough and bought four cans of lager from the buffet, which I drank whilst reading the Cambridge programme.
I arrived in Darlington at ten to five and got a lift bus home, ending quite an eventful weekend.
We ended the month with a home match against our local rivals Scarborough. Rather than going to the Dales-man before the game, Mike and I decided to have a change.
We ended up going to the Pennyweight instead, which is in the market square in Darlington, and when I told Mike about the spasm attack in Cambridge he admitted that he too would have panicked like Stephen!
We eventually left the pub and made our way to the Centre Spot where Ian was waiting for us.
The news filtered around that young Michael Carter was making his debut for Darlo. So Stuart Gibson had been right when he said at Shildon a couple of weeks ear-lier that Carter was on the verge of being called up to the first team. I wasn't surprised because he'd scored regularly in the reserves and in the youth teams and deserved his chance.
I sat in the disabled area with Mike and Ian and we saw a far better performance than I'd been unfortunate enough to witness the previous week. Carter certainly didn't disappoint and scored in our 3-0 victory, the other goals coming courtesy of Mark Barnard and Marco Gabbiadini.
After the game, all the talk in the Centre Spot was about Michael Carter. Everyone thought he should have played weeks ago when the team was struggling to score goals. Mike and I decided to reserve our judgements.
As Mike pointed out to me, Lee Ellison, now back with the club, had burst onto the scene some years earlier from the youth team, scoring a few goals in the process. Unfort-unately, after unsuccessful stints at several league clubs including Blackburn Rovers and Leicester City, he ended up in the Unibond League with Bishop Auckland, from where Darlo re-signed him.
Maybe too much pressure is put on young players by managers and some of them just can't hack it, I suggested. We both hoped that young Carter wouldn't end up the same way.
With me still recovering from my spasm attack, I didn't over indulge on the lager and ended up going home much earlier than usual, at about half-past eight.