When Push comes to Shove -- Chapter 7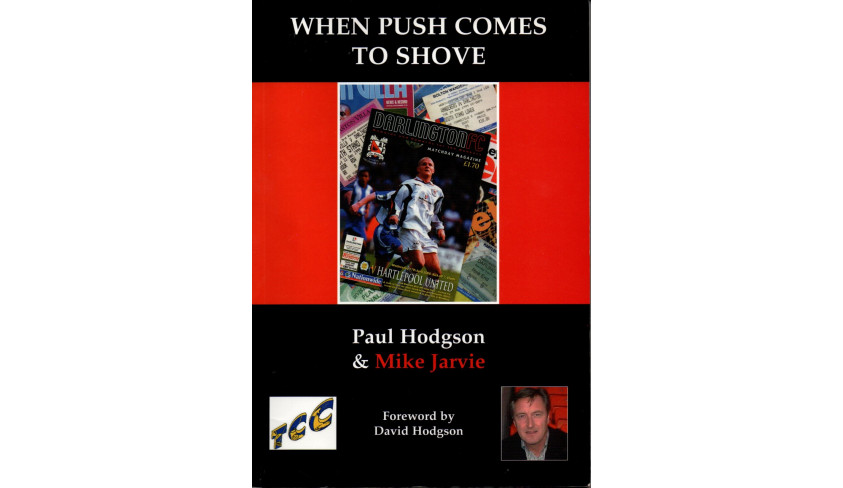 The latest instalment of Paul Hodgson's book.
Paul Hodgson has kindly given us permission to reproduce his book about his life and times as a Darlington supporter -- here's chapter 7.
Here's the link to the previous six chapters:
https://darlingtonfc.co.uk/news/when-push-comes-to-shove-chapter-6
Our first game of 1999 was at home to Rochdale. You will recall that I had fallen out of my wheelchair after the Orient match at the end of last month. Well, I managed to repeat that performance and injure myself even more severely on New Year's Eve.
Mike was pushing my wheelchair down Victoria Road when he failed to see the curb at the junction with Clifton Road. I therefore hurtled forwards like some demented ski jumper, with both arms at my sides, self-preservation not being one of my strong points!
Anyway, after Mike had managed to get me back into my chair with the assistance of some passers-by, he wheeled me to the Dalesman where one of the barmaids wiped the blood from my face with a towel.
It soon became obvious, though, that I had gashed my head open and that the wound would require stitches, so the barmaid rang for an ambulance. When Mike and I arrived at Darlington Memorial Hospital I was suffering from concussion. In fact, I was so delirious Mike later told me that I had kept asking to see my mother, who had been dead for five years. Eventually, a nurse put three staples in my head wound and I began to regain my wits and was allowed to go home.
So, although I wasn't feeling one hundred per cent after my second fall, I still met Mike, Ian, Brian and Trevor in the Dalesman before the match.
Most of the talk that day was about the state of the pitch, a factor which caused the game to be in doubt. Kevin Seed, a Darlo fan of many years, had been to the ground to buy his programme and informed us that the ground staff were busy strewing sand in the goalmouth and indeed other areas of the pitch.
According to Kevin, the pitch and drainage had been installed on the cheap. He also said the pipes weren't of a sufficiently large enough diameter to bear off the excess water. Finally, he mentioned that rubble from the new stand had just been left to form the foundation for the pitch. Quite interesting information, I thought.
At two o'clock we headed for the ground to find out that the game was definitely on.
After purchasing our programmes, the five of us went to the Centre Spot. Again, I was only drinking halves. With it being cold and me not feeling very well, I decided to watch the game from the viewing gantry. Jamie Dennis, a disabled Darlo fan, and his brother Adam were already there and Jamie predicted a 3-0 Darlo win.
On looking down on to the pitch, we saw that as Kevin had stated earlier it had been heavily sanded and had a "rice pudding" texture in places. To be honest, it looked a disgrace and the treacherous nature of the surface meant that the Dale keeper kept losing his footing at goal kicks.
It was a very poor first half. However, things brightened up when Phil Brumwell tried a shot, miskicking in the process, and the ball then trickled to the feet of Darren Roberts who netted from twelve yards out. 1-0 to the Darlo.
The second half was much better. We scored two more goals through Mario Dörner and Glenn Naylor to complete the drubbing. Jamie had been spot on with his prediction.
After the match we returned to the Centre Spot and sat with John Gray, Andy Munro, Richard Jones and Roger Martin. John again got ribbed, this time for his anti-Christmas attitude. Apparently, he doesn't buy presents, not even for himself, according to Richard. John just laughed along with everyone else at this slur on his character. Not that he had much choice in the matter!
At half past six Mike and I left the lads and headed to the Dalesman for tea. Since I was in a generous mood after our victory, I bought one of the barmaids called Jeanette a Tia Maria for which she thanked me by giving me a peck on the cheek.
After our meal, we decided to go to a pub called Busters for a change. It's a big pub with a dance floor. That night there was a disco on but, since I wasn't in the mood and my head was in bits, I got a taxi home at half past eight.
Despite not feeling well, it had been a good day. They are always good days when Darlo win!
Our next fixture was an away trip to Barnet. Again I went on my own, booking assistance in the usual manner, catching a train to London at half past eight.
I found myself sitting next to a rather attractive young woman and quickly sussed out her Spanish accent. She told me that she was a doctor, working as an eye specialist at Middlesbrough General Hospital and was originally from Barcelona. She was going to see her husband who worked in London.
She also said that she supported her home team and she clearly remembered Steve Archibald, Gary Lineker and Mark Hughes playing at the Nou Camp. Later, she went to the buffet and bought me a coffee. Before I knew it we were in London.
At Kings Cross Stephen Lowson, John Wilson and Mark Trenholme met me off the train. After saying goodbye to my Spanish friend, we went to Coopers Bar to wait for Brian and Trevor who were travelling down from Sheffield. Shortly afterwards they arrived and all six of us then headed for Barnet on the tube.
On arrival, we went for a drink in the Supporters Club bar and to my surprise I was able to buy a programme there. While we were drinking, Roger Martin turned up – he thought we'd lose as he'd heard that the players hadn't been paid again and obviously they weren't very happy with this situation. I hoped he was wrong.
We all managed to get into the away end, which was tatty to say the least. Stephen and I both agreed Barnet's ground – Underhill – wasn't up to league standard. To us it looked like a typical non-league ground.
Darlington played shockingly and lost 3-0. I tackled manager David Hodgson head on, saying that the fans that had travelled down to Barnet deserved better. He accepted what I had said and even apologised for the performance.
After the game we all returned to the Supporters Club bar. A Barnet fan told us that in his opinion Quakers were the best footballing side to play them that season! Stephen and I looked at each other and just laughed.
Whilst we were drinking, I got talking to a disabled Barnet fan. He was a wheelchair user, but with far worse disabilities than me.
He told me that he was a self-confessed Barnet fanatic and went to every home game, as well as most away ones. He struck me as being a really nice guy and also very intelligent to boot.
After saying our goodbyes, we all left the bar and headed back to Kings Cross. En route we met Roger Martin, who sat with me on the return journey. Roger was really hacked off with the defeat. We both agreed that something urgently needed to be done, as the team didn't appear to be strong enough to achieve promotion.
To drown our sorrows, we bought four cans of lager and shared them. I read my programme whilst slurping my lager. Before we knew it we were back in Darlington.
On leaving the station, Roger and I decided to go to the Dalesman, where we had a couple of pints. However, I wasn't in the mood for guzzling lager and decided to call it a day at half past ten when I booked a taxi back home.
Overall it had been an interesting day, apart from the result that is. I'd certainly met some intriguing people; the disabled Barnet fan that I'd met in the Supporters Club bar for instance stuck in my mind as I went to sleep.
Our next fixture was away to Chesterfield in the Auto Windscreens Shield.
Again, due to work commitments, I couldn't attend. However, John Gray made the trip to Saltergate. He said that Darlo were "pitiful" and he wished he hadn't gone. For all the ribbing he gets, I still really admire John for his love of Darlo. He hasn't missed a game home or away for around ten seasons. Now that is real dedication!
Anyway, for the record, Darlo lost 2-0, and, yes John did get me a programme!
The following Saturday Darlo were supposed to play Hull City at Feethams.
It came as no surprise to Mike, Ian or me that the game had to be called off due to the state of our pitch. The three of us decided to go and have a look for ourselves. The middle near the centre spot was just a bath of mud. We could therefore understand why the referee had no other choice but to postpone the match.
Since we were at Feethams, we decided to go to the Centre Spot for a pint. John Gray was there with Richard Jones. John said that the club was becoming a laughing stock because of the state of the pitch and easily had the worst one in the whole of the Football League. To me he was right in what he said.
Unfortunately, the groundsman, Andrew Thompson, got some stick that day, but it wasn't his fault. As mentioned earlier, the drains just couldn't cope with the volume of water, making it almost impossible to tend the pitch. So, in my opinion, the criticism of "Tommo" was totally unjustified.
On leaving the Centre Spot at around five o'clock Mike, Ian and I went for a few drinks in Darlington Town Centre. None of us were really up for getting drunk and we headed home at half past eight – quite a boring day really.
For Darlo's next game away at Cardiff I went with Ian in his car.
The two of us left Darlington at seven in the morning. On the way we talked about Flipper's Side and how it had changed since the first manuscript. Originally, Mike and I had constructed the book under different subject headings – for example we had all the football in one huge chapter. Ian, who had read the first manuscript along with several other close friends, concluded that the book should be written in the order that the events in my life actually happened.
Now that it had almost been completed, Ian said that he was amazed at how much better the book read.
We made really good time, and got to the Ninian Park Pub at half past one. The place was heaving with Cardiff fans, so we just sat quietly in a corner and drank our pints. Interestingly, neither of us saw a single Darlo fan in the whole place. In the past there had been trouble in there, but Ian and I weren't bothered by any Cardiff fans at all.
The game ended up being quite exciting but Darlo were still beaten again, this time 3-2, with Glenn Naylor and Marco Gabbiadini scoring our goals I thought that we deserved a draw, since the Quakers had had as much of the game as Cardiff, but hey that's football.
After the match we headed straight back home – we weren't in the mood for drinking, and Ian had a long drive ahead of him.
We did have one stop on the way back for fish and chips at the "Wetherby Whaler" then we continued our journey to Darlington.
We arrived at about eleven o'clock, which was good going. I was really tired after a long day and went practically straight to bed, pondering yet another defeat before falling asleep.
Our final match of January was yet another long away trek, this time to Leyton Orient.
I travelled to London on my own, catching the half past eight train. After a somewhat uneventful journey, I arrived at Kings Cross where John Wilson met me, since he was taking me to the match.
I have known John for around fifteen years and always meet up with him when I go to games in the south of England. He was born in the Darlington area and like Stephen Lowson he moved to London in the 1980s.
Although in the past I had met John on numerous occasions, he had never actually pushed me before. We went for a quick pint in Coopers Bar then the two of us went on to another pub in the Kings Cross area.
We booked a cab from the pub and headed for Leyton – the fare was £20. John and I both thought that it was expensive but he would have never managed me on the Tube on his own, going up and down escalators and stairs. It would have been dangerous and anyway John wasn't an experienced wheelchair-pusher, as mentioned earlier.
As arranged, we met Stephen Lowson, John Gray, Richard Jones and Roger Martin in a pub called the Birkbeck Tavern in Leyton.
On leaving the Birkbeck Tavern, we all went round a few more pubs and then headed for the ground.
I also got talking to a disabled girl called Debbie who was a big fan of Leyton Orient. John thought that I fancied her. I explained that at the tender age of twenty-two she was far too young for me. However, she was an interesting person to talk to and also very knowledgeable about Leyton Orient. In addition, she was quite attractive, but don't tell John though!
The game ended in another defeat for my beloved Darlo, again 3-2. We played quite well but were poor in defence and Marco Gabbiadini and Craig Liddle scored our goals. Three away defeats in three long distance away games was a very disappointing statistic.
John Wilson, Roger Martin and I left Leyton at around half past five. Roger helped John to get me onto the Tube. It's a lot easier with two people rather than one, and also a lot cheaper than getting a cab! We were back at Kings Cross in no time at all.
Roger and I then caught the seven o'clock train to Darlington. En route, we consumed three cans of lager each – kindly bought by Roger.
I like Roger. He has taken me to many matches over the years and we seem to get on really well. I can remember a few years ago, he took me to Carlisle. I got that drunk that shortly after the start of the match I fell asleep. After the match had finished Roger asked me if I'd enjoyed the game, to which I said that I had. He then replied that he'd known that I'd been asleep all the time!
One other interesting footnote to this event was that a member of the St John Ambulance Service gave me a blanket to keep me warm. While I was in the land of nod, Roger pinched it from underneath my nose because he was so cold. I didn't know until he confided in me later.
Neither of us were very happy on the journey home. We had both spent in excess of two hundred pounds to see Darlo lose three away games on the belt at Barnet, Cardiff and Orient. The money that we had spent included train, tube and taxi fares, programmes, as well as food and drink. Even though I went with Ian in his car to Cardiff, we still split the petrol costs between us. Roger and I both agreed that it was a hell of a lot of money to spend, but once it's in your blood, it has to be done!
We arrived back in Darlington at a quarter to ten. We then went to the Dalesman for a couple off pints, and at eleven o'clock I got a taxi home.
It had certainly been an expensive month with not much to cheer about. I hoped that February would bring an up-turn in the club's fortunes.