Buy an FA Cup match pass for Quaker TV on Saturday!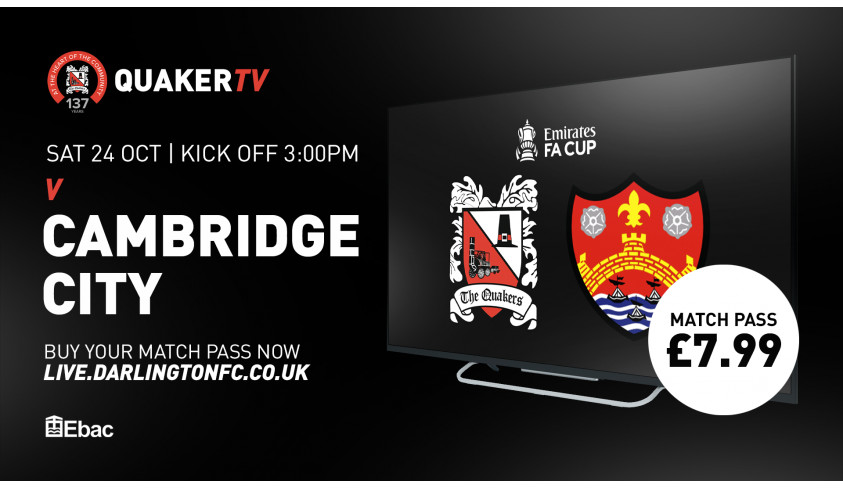 Buy your pass for Saturday's FA Cup tie against Cambridge City
We play Cambridge City in the fourth qualifying round of the Emirates FA Cup on Saturday behind closed doors, and here's your chance to watch the lads in action on Quaker TV!
For £7.99, you can watch every kick of Saturday's big FA Cup tie on the superb coverage by Quaker TV, beginning at 2.45pm.
Unfortunately for Saturday's FA Cup tie, we can only stream to the UK, FA rules do not allow us to stream internationally.
But Darlo fans around the world, no matter where you are, can still listen to Darlo Fans Radio for free, using the link on Twitter!
Quaker TV is run entirely by Darlington FC volunteers, who have done a terrific job in making sure that the popular Darlington FC You Tube channel and Darlo Fans Radio have achieved a high standard and reached a worldwide audience over the last eight years.
You can buy a match pass for Quaker TV here – please note that for FA Cup ties, Darlington FC season ticket holders must still subscribe.
https://live.darlingtonfc.co.uk/
Season ticket holders will see league games for free as part of their package whilst games are held behind closed doors, but unfortunately not FA Cup ties.