Darlington Rugby Club and Darlington FC pledge to work closely together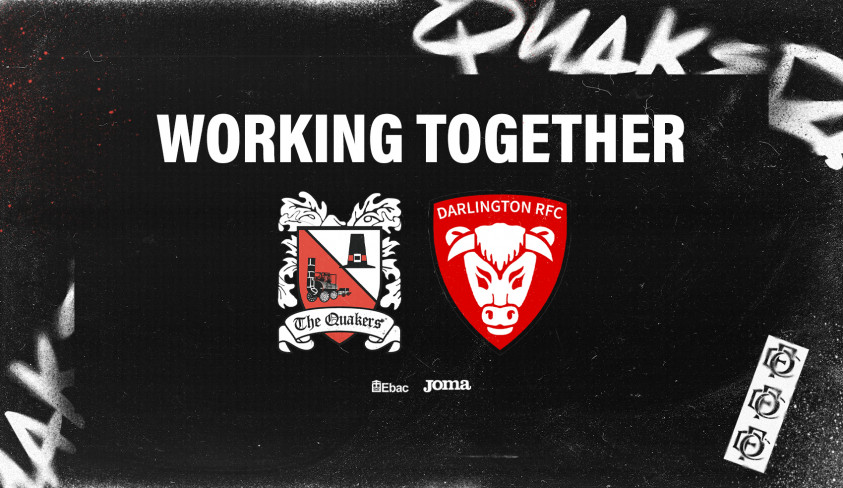 Both clubs want a more positive working relationship
Joint announcement: Darlington Rugby Club and Darlington Football Club pledge to work closely together
Following several productive meetings in recent months, Darlington Rugby Club and Darlington Football Club are working closely together on developing a much more positive relationship.
Representatives from both clubs have met on a regular basis in the last three months to discuss the way forward, and both organisations are committed to improving relationships and developing ideas for the benefit of both clubs. Indeed, some ideas are already being worked on.
Darlington Chief Executive Officer David Johnston said; "It has been very refreshing to work with the new Rugby Club officers who have been very transparent, just as we have been with them. It has become clear to us that they want to draw a line under the past – just as we do -- and make our relationship work to the advantage of both clubs. We have suggested some ideas to improve the DFC matchday experience, and the rugby club has been very receptive to them. Consequently, we are hoping to bring these to fruition in forthcoming weeks ahead of the new season. I'm sure that Darlington fans will see this as very good news.
"We are grateful to the Rugby Club officers for their diligence and professionalism – we are very keen to see our relationship continue to improve."
Darlington Rugby Club board member Andy Robinson said; ""Over the last year since becoming a board member at DRFC I have been impressed at the professionalism and the proactiveness of all at DFC and this has further highlighted how we can work together to make Blackwell Meadows a better experience for all. I have listened to the comments received from past experiences of fans and understand that there have been shortcomings in the past, but together we are addressing these in the hope that every experience in the future is both positive and enjoyable.
"I extend my thanks to all at DFC who have given up the time for us to talk and ensure we move forward together and cement the future of all sport at Blackwell Meadows."
The Rugby Club is screening the England v Croatia Euro 2020 game on Sunday in the downstairs lounge, and Darlington FC fans are invited to come along and watch the game on TV, along with all the other games involving England, Scotland and Wales. Opening times for the later games will be announced nearer the day.