Farewell to Feethams 12 -- Ron Ferguson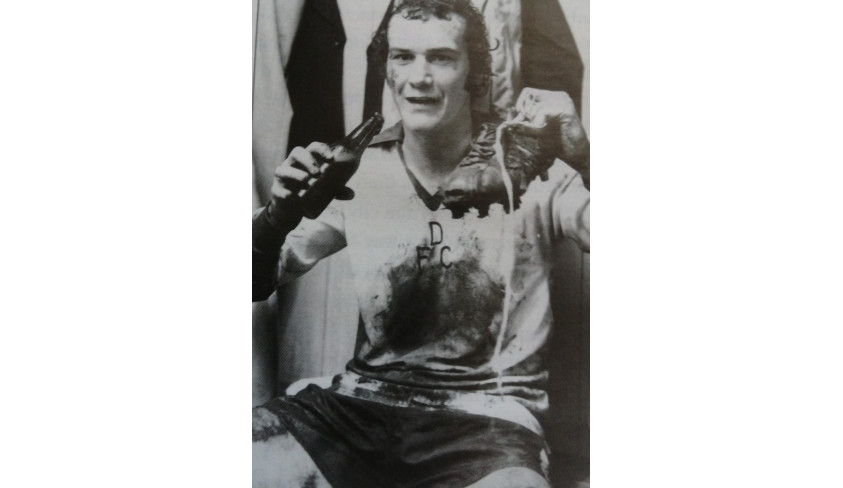 Memories of the goal that knocked Sheffield Wednesday out of the FA Cup
We continue our Farewell to Feethams serialisation with the memories of striker Ron Ferguson, who played for us in the mid 70s
Ron Ferguson will be remembered for one of the most memorable goals at Feethams - a thunderous 35 yarder that knocked his former club Sheffield Wednesday out of the FA Cup. But while the striker revelled in glory that night, he cringed when he saw the next day's newspapers.
"I'd just met a new girlfriend," he recalled: "Manager Peter Madden had said I looked older than he was. I remembered that and told her I was 22. We had been together only a few days.
"Then every paper I looked at had the story of 19-year-old Ron Ferguson's wonder goal."
But while Ron bent the truth, he also bent the ball in that memorable moment. "You couldn't plan it," he said. "The hand of God was on that goal. To draw your former club the season
after moving, then score a winner like that against them was incredible. In those days it was amazing for Darlington to reach the third round of the FA Cup under any circumstances!"
The Owls dominated much of the second round Feethams clash of December 15th, 1976.
Late in the game, Ronnie moved into the Wednesday half with no team-mates near. "I remember going past one player, and then heard Eddie Rowles shout from some distance: 'For Christ's sake hit it, and hit it well, we're all knackered.' That's what I did, but I wasn't far from the bench, and I heard them shout: 'What's he doing. for crying out loud...he hasn't has he? Then I remember time standing still."
The crowd of 7474 were spellbound as the ball swerved this way and that, and then dipped over keeper Chris Turner and into the top corner of the net in front of the Shed. There is no video evidence, but 35 yards is a conservative estimate.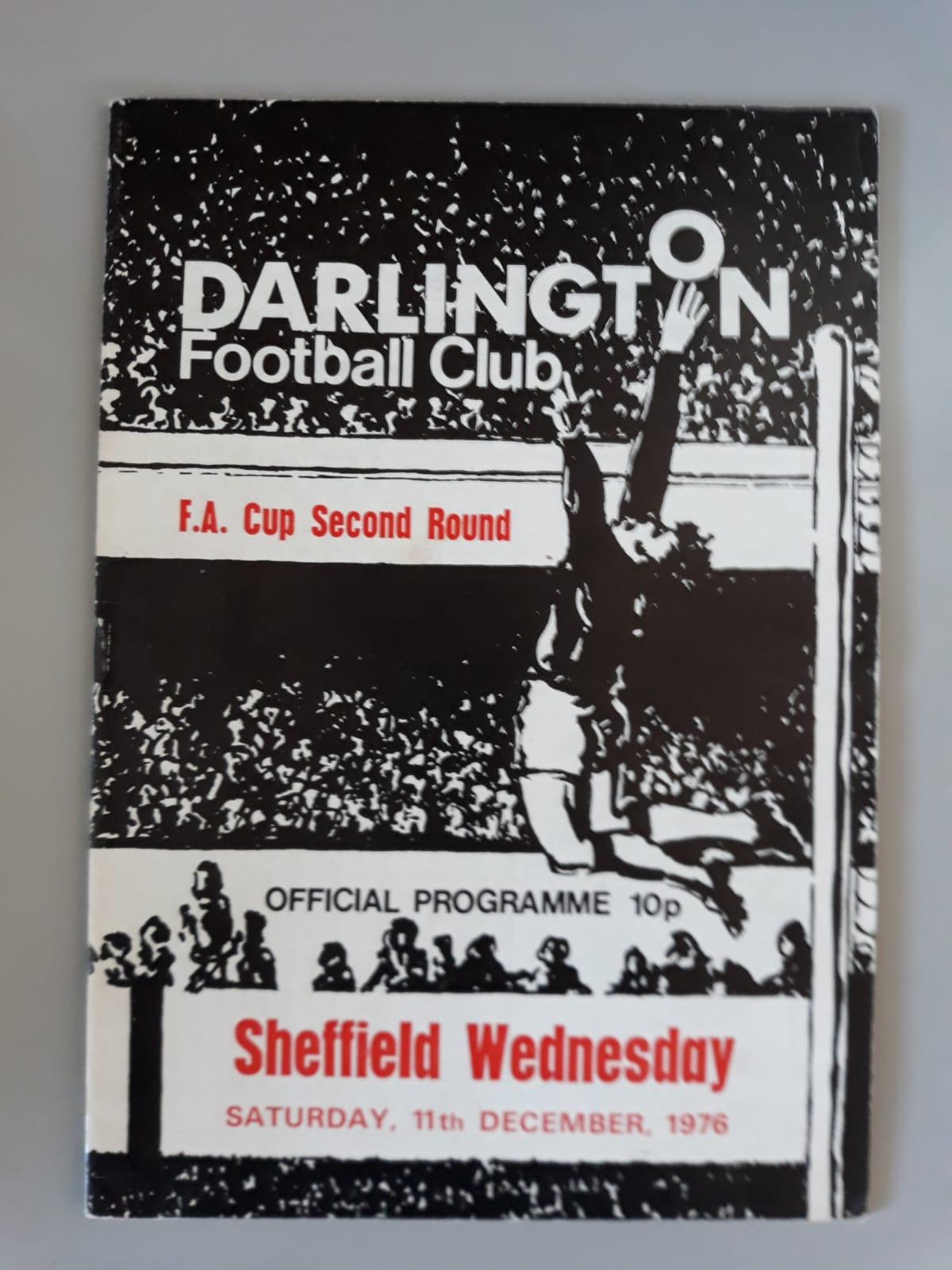 Sadly the cup run ended in despair for Ronnie. Quakers drew Second Division Orient, complete with then wonder boy Laurie Cunningham, at Feethams.
A 2-2 draw and a 0-0 replay draw followed. But in the second replay at White Hart Lane, Ronnie was sent off in the first half of a 3-0 defeat. "Somebody tapped my ankle and I turned and swung a boot at him. It was stupid. We had outplayed Orient. It still hurts. To this day I look back and wonder why I did it."
On another occasion Ronnie was sent off against Stockport when his old Wednesday teammate Alan Thompson riled him in similar fashion. "Like a fool I had another swing. Barry Lyons was sent off shortly afterwards for the only time in his career. I felt guilty because Barry was a footballer not a fighter."
Ronnie, a robust centre forward and scorer and creator of goals, was what Darlington needed. They had some neat and tidy players, and Ronnie complemented them.
He had played in the old Second Division as a 17-year-old and admitted: "It was too much too soon. You think you have made it, but you haven't. I got injured, and Wednesday went down. I was loaned to Scunthorpe, and then signed for Darlington. But I didn't get a good deal. I was young and Madden and chairman George Tait took advantage."
Only 1313 saw Ron's debut against Torquay at Feethams. He scored the only goal. "The ball hit my chest, bounced down and I hit it," he recalled.
Darlington were scrapping to avoid having to apply for re-election. Colin Sinclair hit a purple patch of 12 goals in 12 games, several created by Ron, who scored in the second last game of the season, at home to Bournemouth which Quakers won 2-0.
They got the point they needed in the final game, and Ron said: "Madden respected me for what I did towards the end of that season. I have mixed feelings about him because my contract was so poor, but he was fair to me, and gave me another chance when I was ready to quit the game."
He has vivid memories of the way Madden left him out of the side for the cup tie at Everton in 1978.
"We stopped at motorway services, as always, for a pre-match meal. It was steaks all round. Then Peter said to me: 'You can have chips with yours.' I knew straight away I wasn't playing."
Ron laughs at the time tough midfielder Dave Crosson was in trouble with the manager. In a game against Huddersfield Crosson stamped all over winger Lloyd Maitland, who later played for Darlington.
Crosson claimed it was an accident. But videos had just come out and Madden sat the players down to watch it.
It soon became clear that the violence was deliberate, and all the players gave Crosson some stick.
Tragedy was not far from Ron when he played in Belgium. He was with a Brussels club that trained at Heysel stadium, and on the night of the ill-fated European Cup final between Liverpool and Juventus, was watching on television in his top floor flat not a mile from the ground.
"I could see over the city, stadium included. I remember helicopters flying low over the flat on their way to help. Parts of the ground were used as a makeshift mortuary.
"It was awful. The nucleus of our side had been together six years and we were great mates, but after that the Belgians were a bit strange towards me. I was English and they were appalled at the Liverpool fans who behaved like animals."
Ronnie had gone to Belgium after Darlington boss Billy Elliott made it clear he was no longer wanted at Feethams, Ronnie being out of the side for a year before he left.
Footnote: Andrew Wilkinson spoke to Hartlepool boss Chris Turner the day after talking to Ron and mentioned the conversation.
"I bet I know what you were talking about, and yes, it was every bit as a good a goal as Ronnie Would have told you. It was so good; you could hardly exaggerate it."