Farewell to Feethams part 6 -- Harry Robinson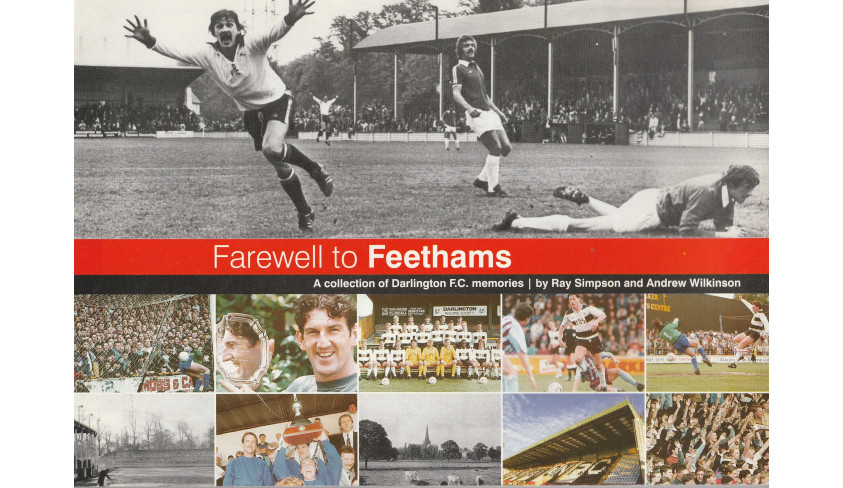 More memories from the best selling book
Throughout the lockdown, we're serialising the popular book Farewell to Feethams, which was published in 2002.
The book featured memories of former players, fans and club officials, and today we have the memories of former chairman Harry Robinson.
Here are the previous parts from the website:
https://darlingtonfc.co.uk/news/farewell-to-feethams-part-5
Don't forget about Boost the Budget:
https://fundraising.darlingtonfcsupportersgroup.org/pitches/boost-the-budget-20-21
Harry Robinson
Harry was chairman of the club in the mid sixties after taking over from John Neasham, and was a member of the board when Quakers drew 3-3 at Chelsea in the FA Cup fourth round in 1958.
"Chelsea were very hospitable. They invited us to lunch before the game in the boardroom - it was silver service, and we were waited on hand and foot, " he said. "But when we came in at half time with the team in the lead, the Chelsea directors didn't want to know us.
"Before the match, our secretary, Charlie Brand, announced that he had the replay tickets. Chelsea thought that we were being arrogant, but they had to accept them in the end,"
In part of the build-up for the Chelsea game, the team spent a few days on the south coast training at Brighton, and manager Dickie Duckworth asked for another seaside trip before the next game at Wolves after that great 4-1 replay win at Feethams.
Here are the highlights:
https://www.youtube.com/watch?v=lf89ggAO1U4

"Normally, we would have thought twice of spending that amount of money, but we thought that since we'd won at Chelsea, we might as well do it again.
"Mind you, when Dickie first asked me for a trip to the seaside, I thought he meant Skegness!
"Dickie knew every train connection that mattered. We went to a game at Gillingham once, and we took the train to King's Cross, where we had hired a coach.
"With the coach, there was a team of outriders, who escorted us across London to Gillingham. The lead rider said when he got us there: "I've done well there, Mr Duckworth."
Not many teams got a police escort in those days.
On another away trip to Colchester in the sixties, we took a wrong turning when we got to Colchester town centre and ended up going down some very narrow streets.
It was one of those situations where we had to back up, inching out of the tight streets.
A policeman came up and asked where we'd come from - and goalkeeper Tony Moor replied "Woolworths!
Harry was chairman when Lol Morgan was appointed manager, and took the team to promotion.
But Lol left, claiming that he should have been offered a better deal. "We had no right to stop him moving on if he wanted to get on in the world. He made a good name for himself at Darlington."
Harry gave this interview shortly before his death in 2002.