Memories of the 1980s -- Andrew Matthews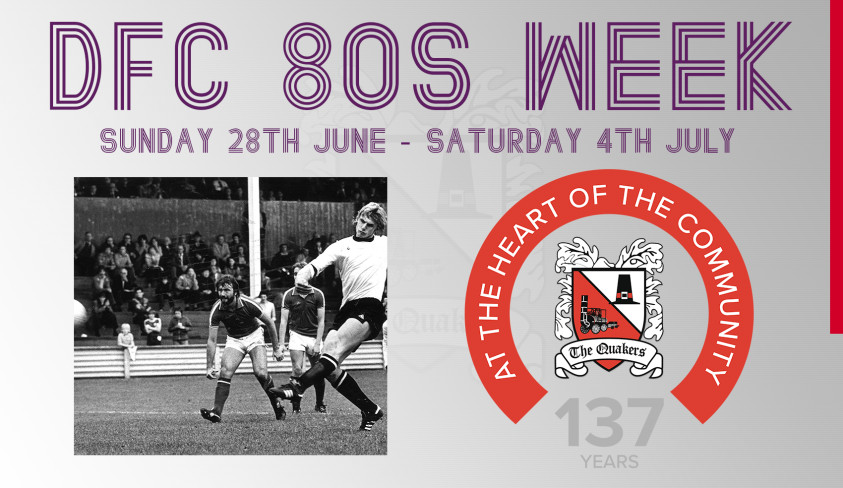 The memories of Darlington fan Andrew Matthews
As part of our 80s week on the official website, we're printing memories from fans and players of that era.
Today, Andrew Matthews writes about that season -- his memories were originally published in the Darlo's Going Up book.
A magic moment in the motorway services
1984/85 was a season I will never forget. My first game at Feethams was back in 1968 as a five year old, so I never saw the 1966 promotion team as I was far too young. I had watched Darlo through the seventies as a teenager and got my first season ticket when I was 16 and started work. Therefore up to that point I had watched Darlo through thin and thin.
1984/85 season was like any other. I didn't expect too much from the team, however I was always hopeful. I was particularly 'miffed' at losing Alan Walsh, my boyhood hero, to Bristol City for £18,000; a fee set by a tribunal. We brought in Carl Airey from Barnsley. I was always happy to see a signing from a team higher up the divisions. I just didn't realise at that time that we had bought a 'new' hero for Darlo.
I remember we had a pre-season friendly against Japan under 23's at Feethams. We actually had a game against an international side!! We won 4-2.
I attended 26 league and cup games at Feethams that season and another ten away games. We had another fantastic FA Cup run, getting to the fourth round for the second consecutive season after not getting past the third round in my lifetime previously.
As the season moved into its latter stages, I actually thought that I might see a promotion season. All games became even more exciting and also more nerve-wracking.
I particularly remember an away game in April at Wrexham. We were getting beat 1-0 and the game was entering the last minute. We had a corner and Darlo were attacking the away end towards the Darlo fans. Wrexham had a keeper by the name of Mike Hooper (of Liverpool fame and Newcastle for a period). Hooper jumped higher than everyone else to punch the ball away from our corner. Unfortunately he mistimed his punch; got there too early, and the ball hit the back of his fist and ricocheted into the net behind him. The Darlo fans celebrated, of course, with laughter amongst the joyous cheers. We came away with a point, which I thought was not coming. On the way home we talked about the game and I said that maybe, just maybe, this was going to be our year.
A couple of weeks later we played Blackpool, one of our promotion rivals, on a Wednesday evening. This was unusual as Tuesday was our designated home night. A packed Feethams (over 7,000 that night), saw Darlo taken apart by a very good Blackpool side. What I also remember about this night is that Marie, my girlfriend (she had the pleasure of becoming my wife the following year), came along to the game. She doesn't really care for football; however she thought she would come along to see what all the fuss was about. The one comment I remember her coming out with was; "That lad being arrested by the police – I work with him!"
Move forward five days to Bank Holiday Monday, May 6th 1985. Darlington were due to play Crewe Alexandra at Gresty Road. I knew I had to go to the game, even though in my heart I knew we were unlikely to gain promotion. We had to win the game to have a chance of going up, however our closest rivals Hereford were playing Exeter that same night, and they were bound to win that game. Anyway I thought that if I didn't go, we would go up and I would have missed it; and if I go, then I will just see another game and await Saturday's game against Stockport to clinch promotion.
On the Friday before the Bank Holiday weekend, Marie asked me if she was going to see me on Bank Holiday Monday. I replied with 'Only if you will be going to Crewe, as that's where I will be'. She said she would come along and I booked two seats on the supporters' bus. In those days we went to Gay Flowers in Grange Road to book through Barry Wetherall. Monday came and I remember on the way across to Crewe, thinking, will this be a special night?
I remember it being a very fine, sunny evening when the game started. Carl Airey put us in front (our new hero) and we all went mad behind the goal. Crewe equalised; I can't remember if it was a cross from open play or a corner (I seem to think it was a corner), right in front of the Darlo fans, Kevan Smith rose majestically and headed the ball off the side of his head into the back of the net. Unfortunately, it was in his own. 1-1.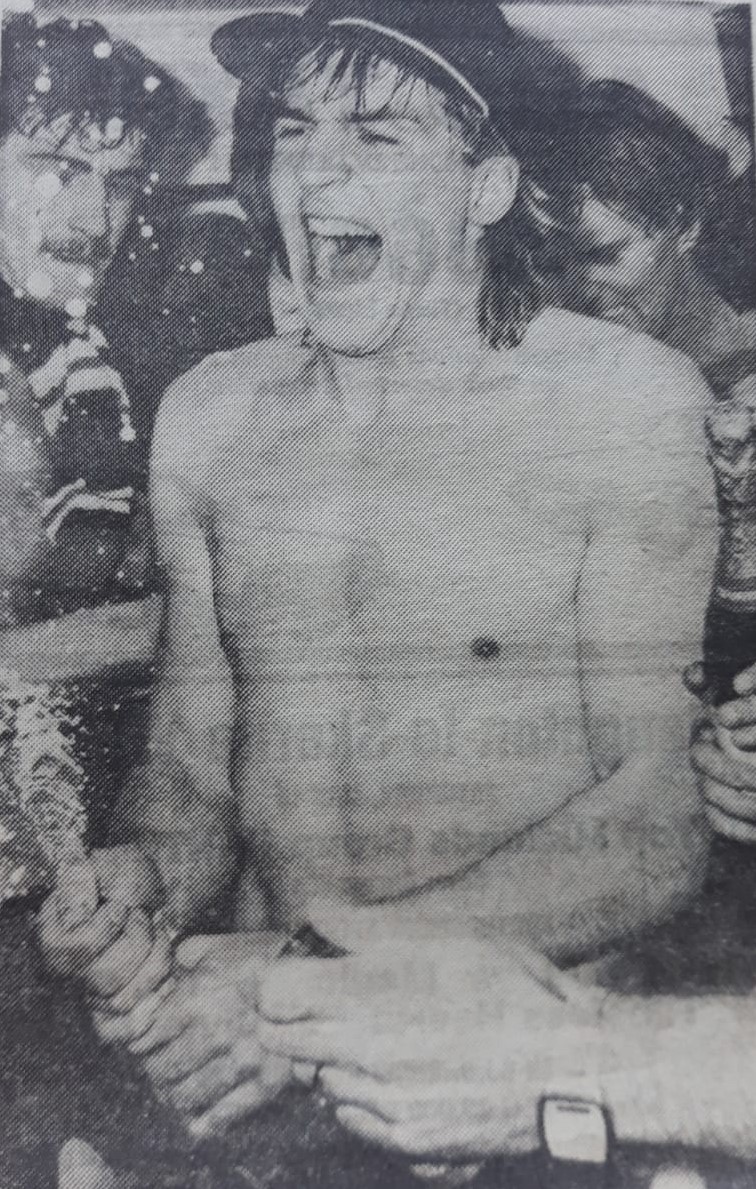 We went back in front through our new hero, Carl Airey. Only for Crewe to equalise again. 2-2. Oh never mind. We will have to go up on Saturday.
We didn't leave the ground immediately after the final whistle as we were listening into someone's radio to hear how Hereford were doing. Then it came through -- Hereford 1 Exeter 2. We went ballistic. I had experienced my first promotion with Darlo and I was going to see them play Division Three football. I couldn't stop smiling. We sang our way back to the bus.
What happened on the way home from Crewe will live with me forever. Thirty years have passed and I may have rose tinted spectacles, however this is how I remember it.
The supporters' bus in those days was not the executive luxury we enjoy these days. I think we used Scotts Greys and the buses were, well just say, they were well-used. We stopped off at a service station; I believe that was on the M62. We sat and enjoyed a coffee whilst the bus had a rest.
I was sat facing the counter and towards the entrance to the café. As we were about to leave, I noticed someone familiar coming through the doors and lining up at the counter. I took a double take and then I realised it was Dave McLean (another hero of mine). Following behind was the Darlo team. Well, I just rose up and started applauding. I was so, so proud of my Darlo. The tables around me realised what was happening and everyone rose to join in the applause of our heroes. I remember looking around the room and seeing couples who had stopped for a cuppa, with expressions on their faces of 'What's going on here?'
That moment was pure magic. Had I decided not to go to Crewe that night and wait for the next 'promotion' game, I would have missed out on one of the most precious moments of my life supporting Darlington FC.
We had two more home games after that; against Stockport County and Torquay United. The atmosphere in both games was brilliant. All Darlo fans had massive grins on their faces. We just enjoyed the fact that the pressure was off and we were watching our beloved team play their last games in Division Four.
There are more memories and features to follow through 80s week.